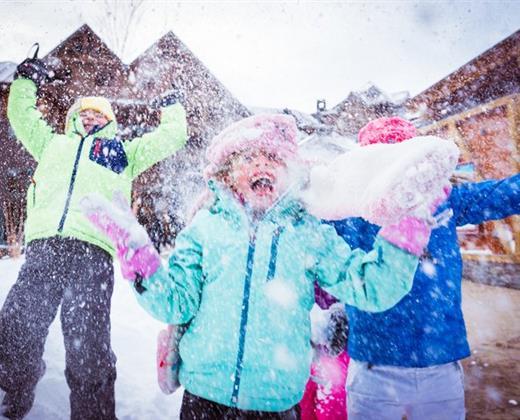 01
Winter Preview 2022/2023
It's time to celebrate another fun-filled, snow-packed, unforgettable winter season at Spruce Peak. Whether you're looking forward to spending the day on the slopes, gliding across our pristine ice rink, sampling the flavors of Vermont, or simply relaxing by the fire, Spruce Peak is your basecamp for an ultimate winter escape.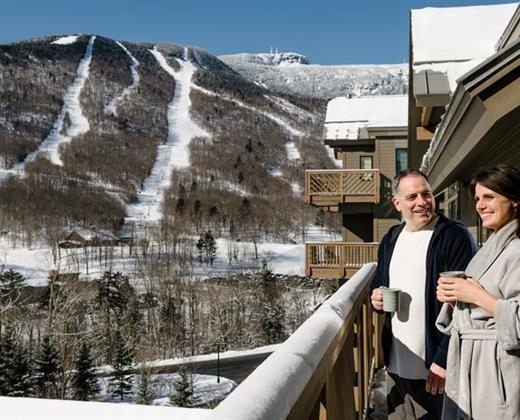 02
Book Your Winter Getaway
Located steps from the slopes, The Lodge at Spruce Peak is Vermont's only ski-in, ski-out luxury lodging destination. With over 250 warm and welcoming guestrooms, suites, and residences, The Lodge offers convenience, comfort, and unforgettable experiences with every stay.
We are also proud to welcome any and all canine members of your family at The Lodge. There is a Dog-Fee of $125 per stay, which includes welcome amenity of a dog bed and chew toy at check in. We ask for owners to be respectful of other guests and make sure your four-legged friends are properly supervised and not in areas where food is served. (The Penthouses and Luxury Residences cannot accommodate travelers with dogs)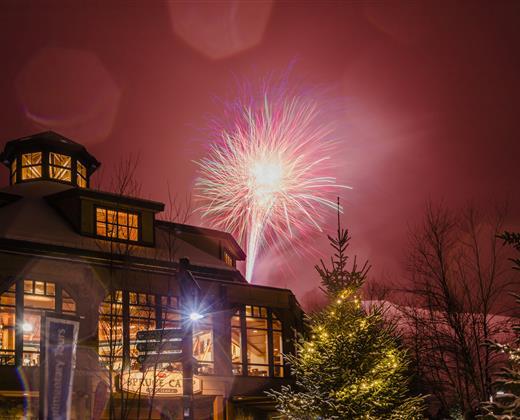 03
Spruce Peak Lights Festival
December 17, 2022 - Spruce Peak Lights Festival
Celebrate winter and the festive holidays with a day full of beautiful performances and family-friendly activities, all capped with a firework display and tree lighting ceremony.
Featuring special performances by Ice Dance International:
Celebrate the Spruce Peak Lights Festival with IDI with a joyful mix of holiday and pop music with the IDI cast and Olympic Bronze Medalist and 2-time National Champion, Ashley Wagner!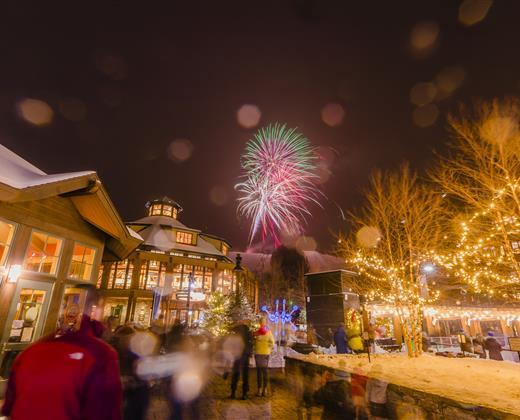 04
New Years Eve Village Celebration
December 31, 2022 - New Year's Eve Celebrations
Spruce Peak's New Year Celebration is a family-friendly event for all ages! Take a skate on the ice rink, sample some sugar-on-ice, or warm up with s'mores by the fire.
Fire On Ice by Ice Dance International
An Ice Dance International house party featuring Themistocles Leftheris and the IDI cast. Fire on Ice will turn into a dance party. Celebrate the New Year with an ice show rave that will amaze and truly light up the ice.
The Lodge at Spruce Peak is Stowe's only slopeside ski-in ski-out destination at the base of Stowe Mountain Resort, part of the Vail Epic Pass System. From family-friendly beginner slopes to expert black diamond runs, there's a ski vacation for everyone – just steps away from your room.
Trail breakdown: 16% Beginner, 59% Intermediate, 25% Expert
While Spruce Peak Strives to provide the best winter vacation possible, we are independent from Stowe Mountain Resort's management, Vail Resorts, and are unable to assist in purchasing EPIC passes, day passes, or lift tickets. Please visit Stowe.com directly for information.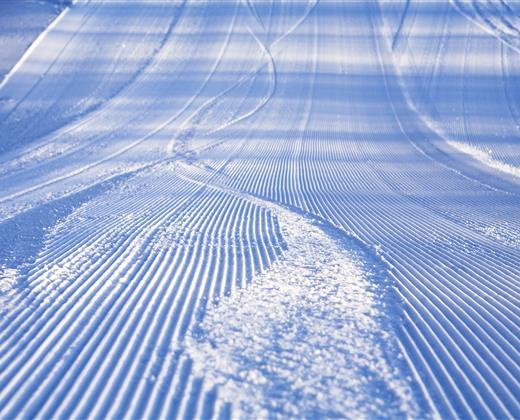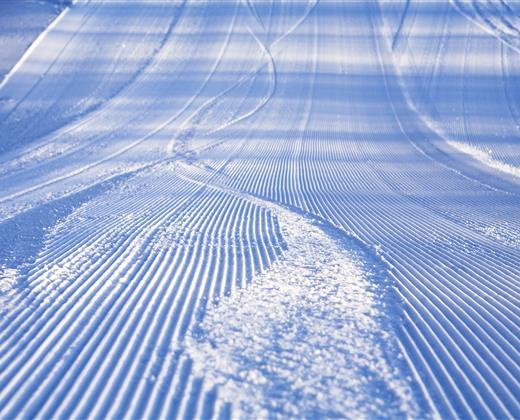 Please Note: Lift Tickets Limited This Year
If you're planning on skiing Stowe this year please be aware that lift tickets will be limited by Stowe Mountain Resort this year. Please plan ahead by buying your lift tickets or EPIC pass in advance.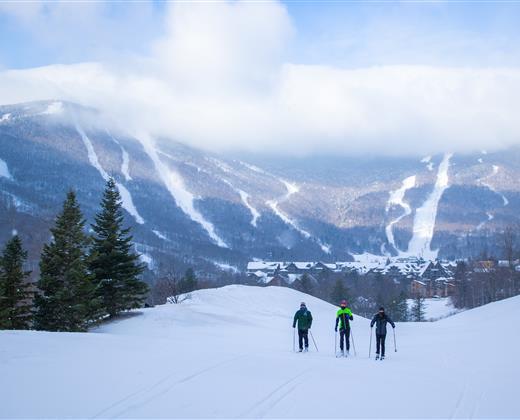 06
Adventure off the Slopes
Surrounding Spruce Peak is over 2,000 acres of preserved wilderness, just waiting to be explored. Our adventure experts at Spruce Peak Outfitters plan authentic winter experiences fit for every skill level.
Preview our Winter Schedule (November 13-March 11)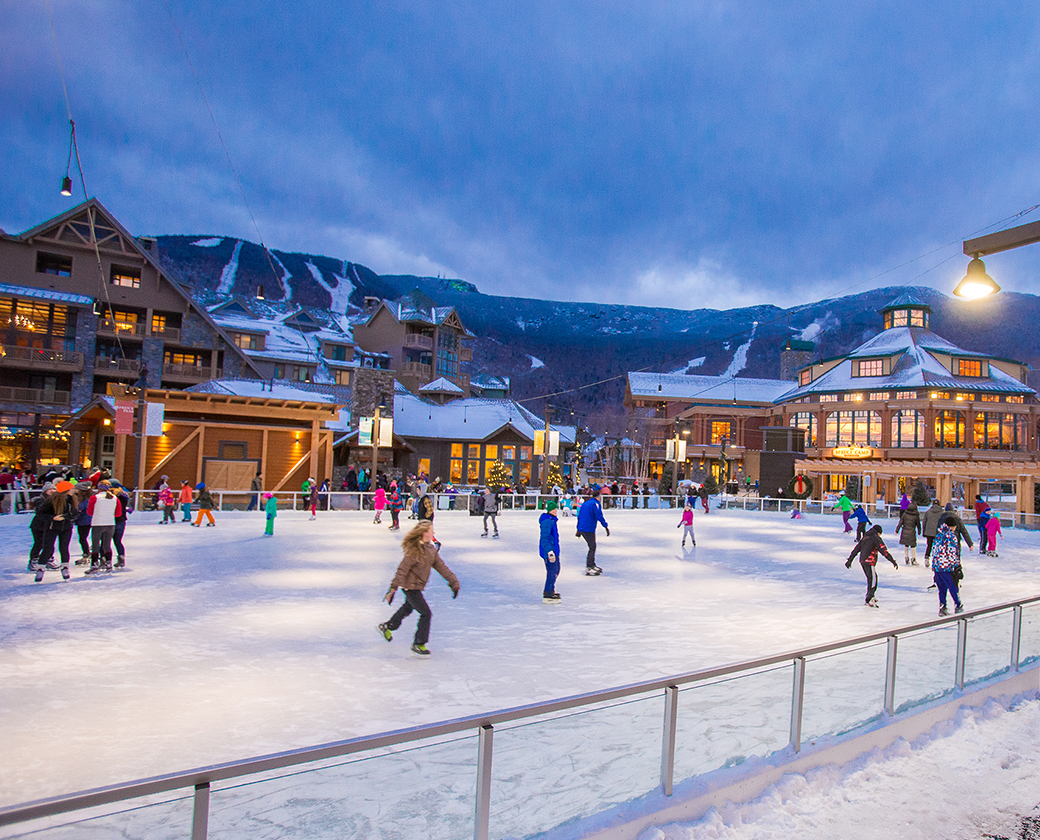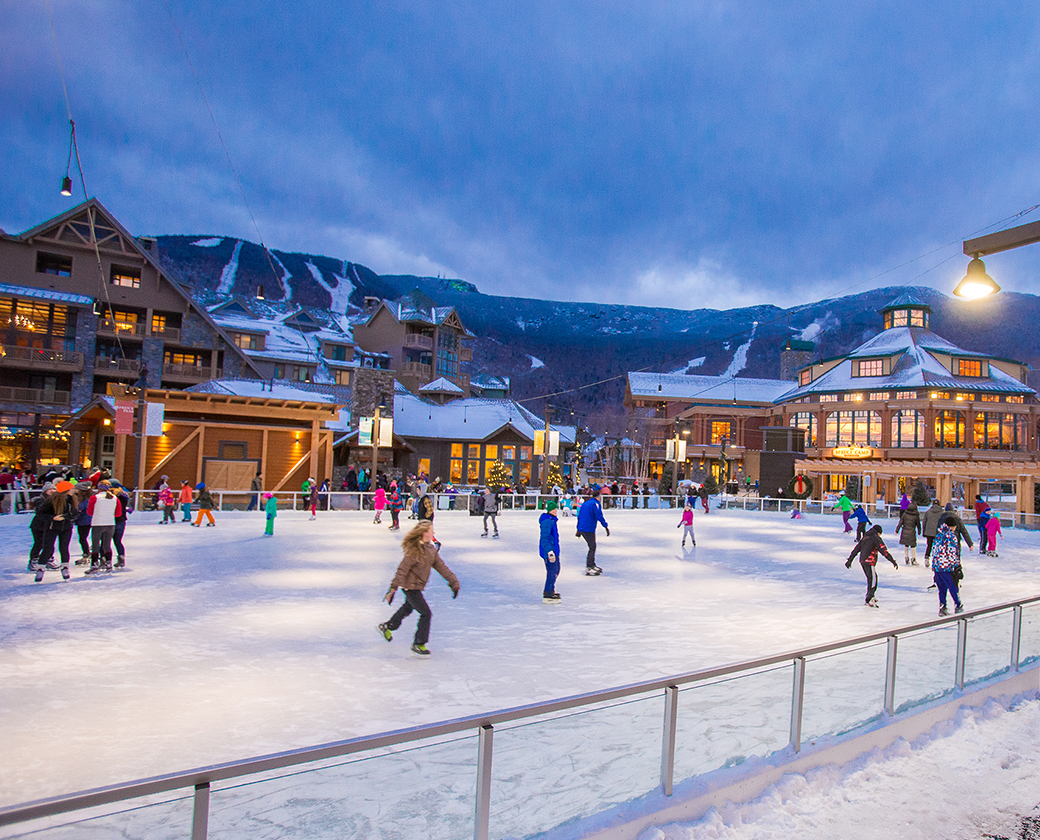 Ice Skating
Hours of Operation and rental information coming soon.
A classic winter activity, only steps from the lodge! Our beautiful, outdoor skating rink sits in the heart of the Spruce Peak Village and is surrounded by magical views of the ski slopes.
The Ice Rink will be open daily during the winter, with special themed skates and performances during peak holiday periods. Bring your own skates or rent a pair from the Adventure Center!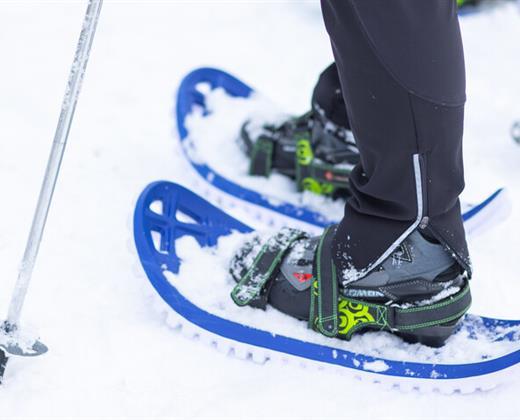 Guided Snowshoe Hikes
From casual treks through the Spruce Loop, to head-lamp lit hikes at dusk join our experienced guides for a winter wonderland trek to remember. Snowshoes are a traditional way to explore the snowy woods, fields, and streams surrounding Spruce Peak.
Day rentals and self-guided maps will also be available again this winter season. Snowshoes and poles provided by Crescent Moon Snowshoes.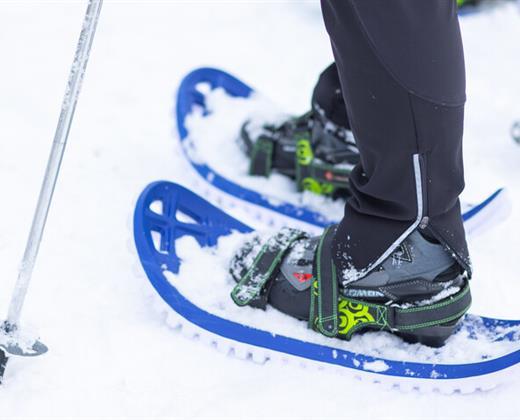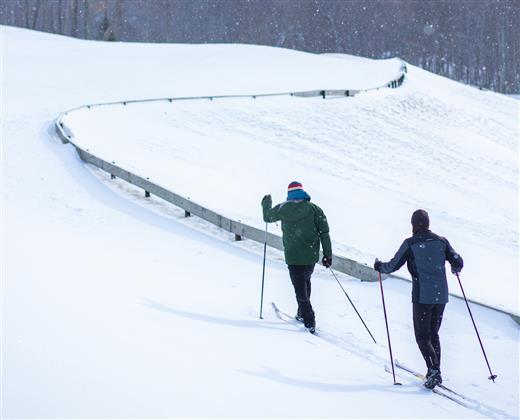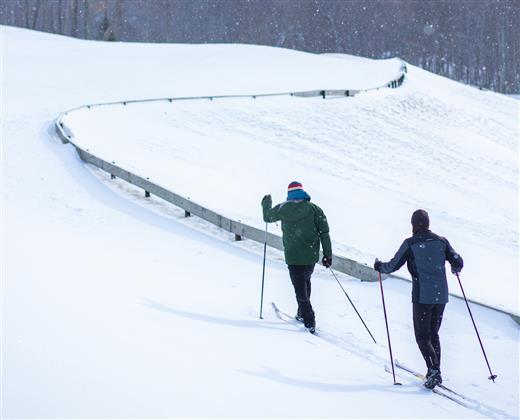 Cross Country Skiing
Cross Country Skiing comes to Spruce Peak this winter! We're grooming trails up, around, and through the snow-covered Mountain Course at Spruce Peak for unbeatable views and peeks at nature. Try a self-guided trek, or join a guided clinic to learn all the tricks of the trade.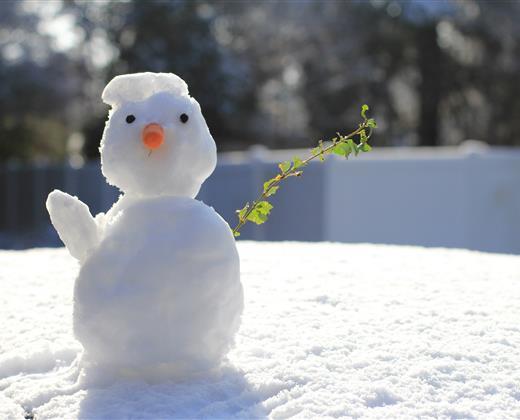 Family Snow Golf
Tee up and take a shot with this unique family activity this winter. Snow Golf uses large, brightly colored balls, with equally large holes, for a fun scramble through the snow.
Snow Games
Come play in the snow! Snowman, igloos, snow angels, snow art, sledding, and more. For all ages.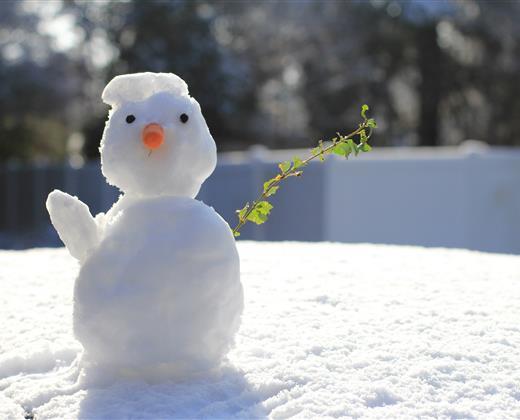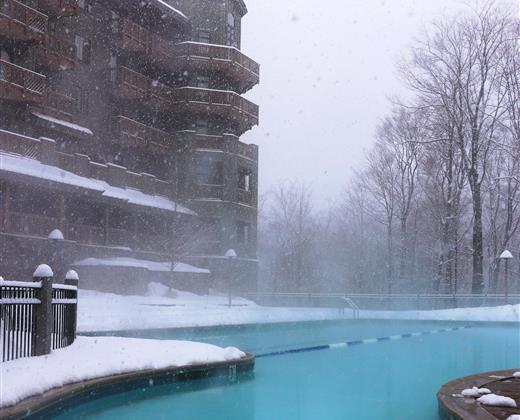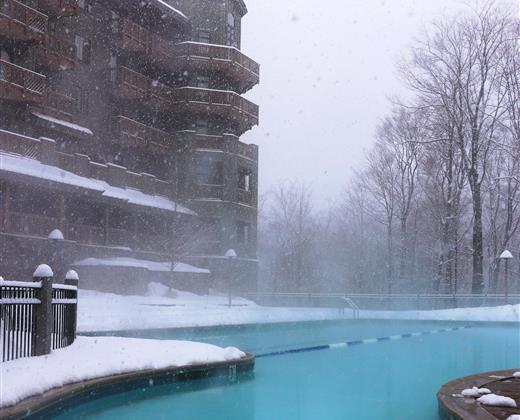 Outdoor Heated Pool
Open Daily 9:00am-10:00pm
Lap Swim recommended before noon
Surrounded by nature and views of Mount Mansfield, The Lodge's outdoor heated swimming pool is open year round. Featuring a swim-out tunnel and two hot tubs, the pool is the perfect setting for winding down and warming up after a long day on the slopes.
Spruce Peak Outfitters
In addition to winter adventure and recreation offered just steps from The Lodge, Spruce Peak Outfitters works with a network of local experts, guides, and partners to help curate a unique, authentically Vermont winter experience. From horse-drawn sleigh rides to brew tours, we will work with you to help coordinate the perfect itinerary of the best Stowe and Vermont has to offer.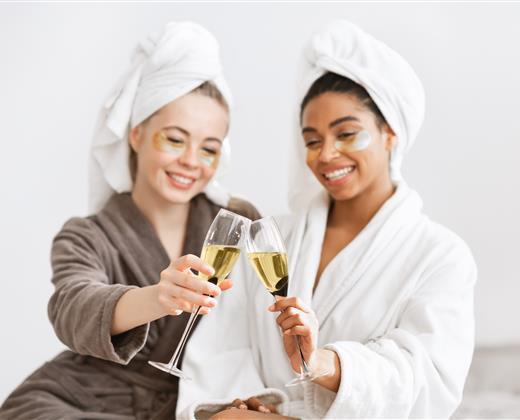 Retreat from your retreat with a well-deserved visit to the expansive Spa at Spruce Peak. Whether you're looking to recover, rejuvenate, or simply relax, The Spa focuses on all natural and locally sourced treatments inspired by the mountains.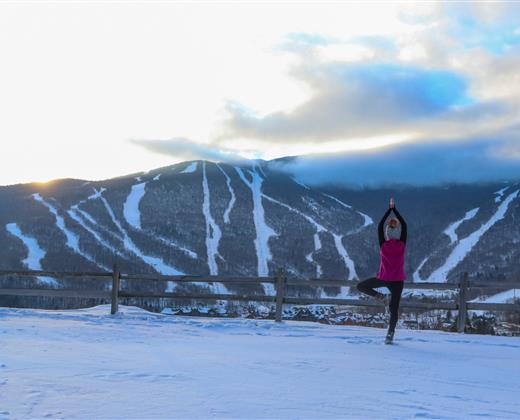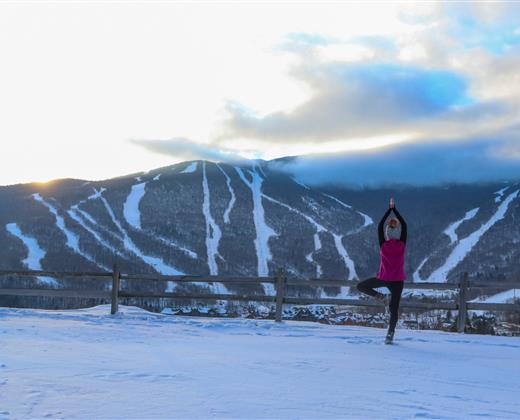 Guided Yoga & Meditation
Strech your body and center your mind with guided classes from The Spa. Featuring yoga, breathwork, and mindfulness meditation these classes are designed for all levels.
Schedule of offerings coming soon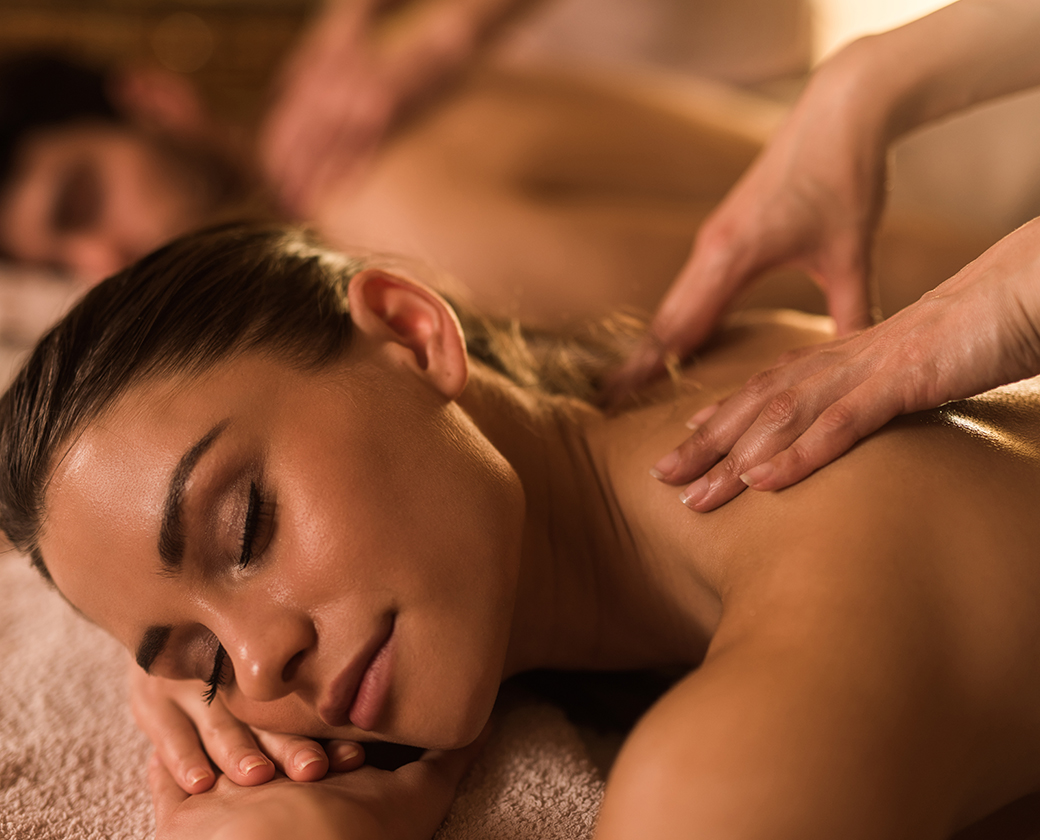 Live Like a Local
Experience serious relaxation, with locally sourced and inspired treatments at The Spa.
Featured Treatment:
Stowe Cider Scrub
This 80 minute pampering treatment pairs local award winning Stowe Cider with our relaxing spa experience. Begin with a full body scrub incorporating naturally occurring alpha hydroxy' s from apple pulp as well as exfoliating ingredients to smooth out dry and overworked skin. Next, your therapist will hydrate your skin and relax your muscles with a full body massage. After your service our Spa Concierge will bring you a can of cold Stowe Cider to enjoy in our Sanctuary.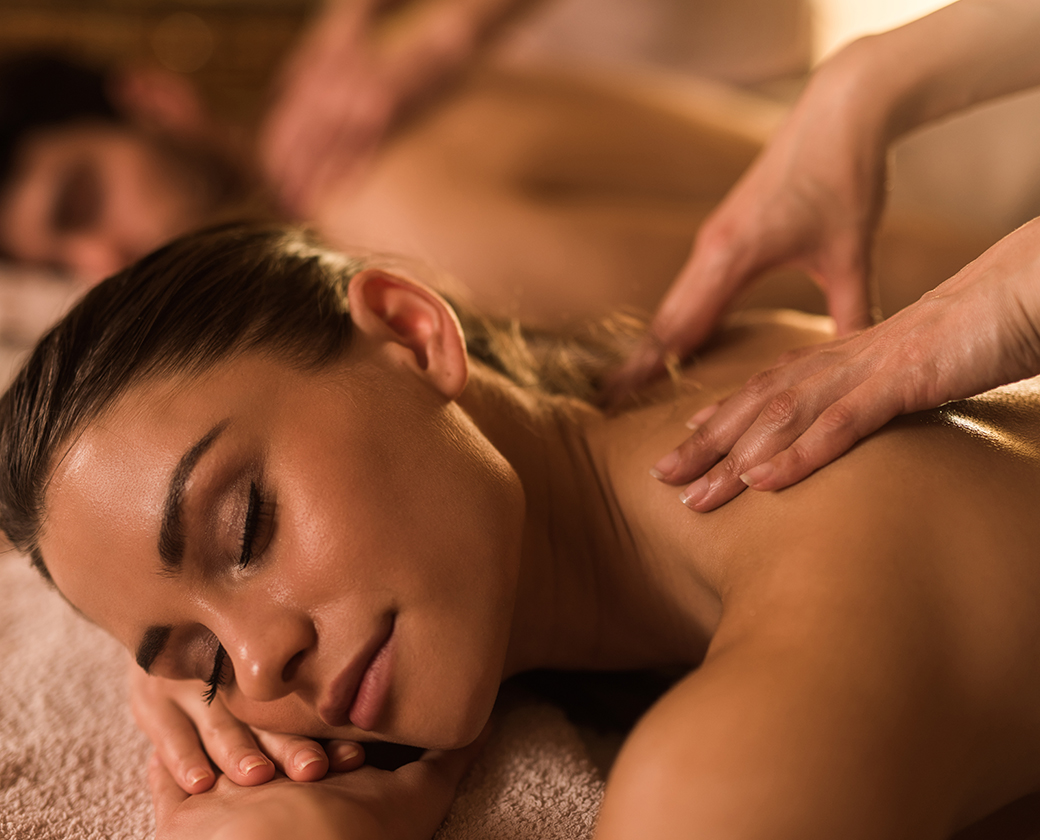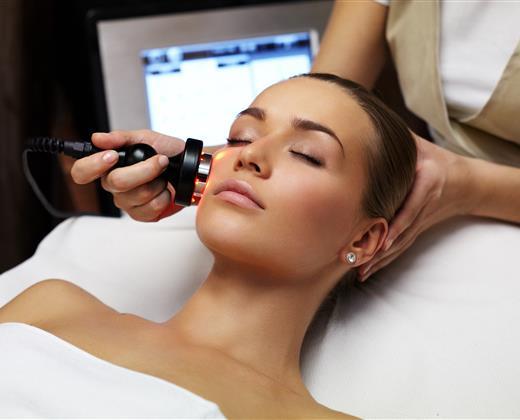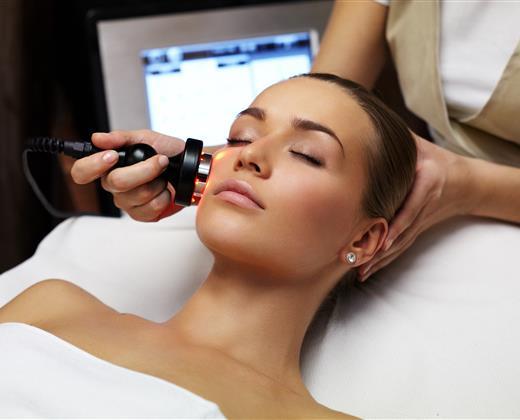 T-Shock Cryotherapy
The Cryo T Shock is a non-invasive, allnatural approach to body contouring. Warm and cold are modulated at varying times and temperatures according to the desired effect.
Whether its Muscle Pain from a day on the slopes, or unwanted body fat, our Cryo body treatments will showcase immediate results. The T Shock technology & our knowledgeable therapists utilize heat cycles to deliver the
immediately visible Cryo effects to a vast array of locations on your body, providing you relief from pain or visible reductions in cellulite.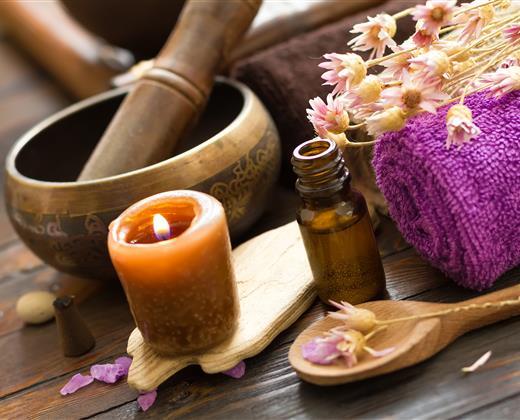 The Spa Butler Program
Upgrade your stay by adding a touch of Spa and Wellness to your guestroom or suite. The Spa Butler program offers a selection of spa rituals, fitness equipment, and even kid's activities all available for delivery. Plan ahead with help from our pre-arrival team, or order as your vacation plays out.
Options may include:
Spin bike or Peloton rentals
Anti-stress Spa Ritual
Build-a-buddy kits
Chillax bathtime ritual for kids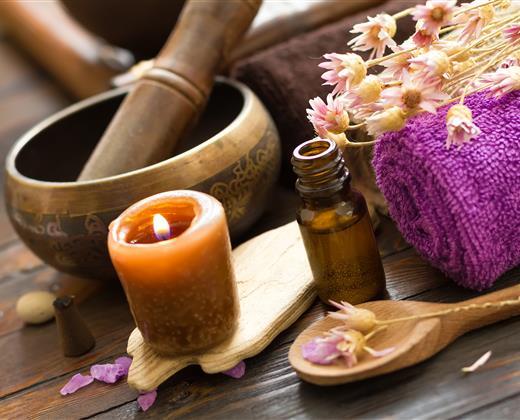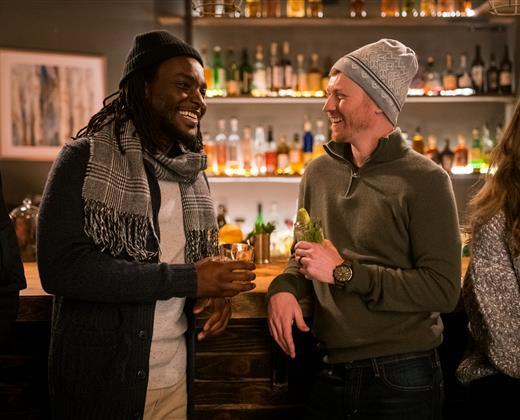 From fire baked raclette at the WhistlePig Pavilion to gourmet hot chocolate by the fire in the Upper Lobby, grab-n-go freshly made breakfast sandwiches to cook-in-your-room family meals, apres-ski dining gets an upgrade at Spruce Peak.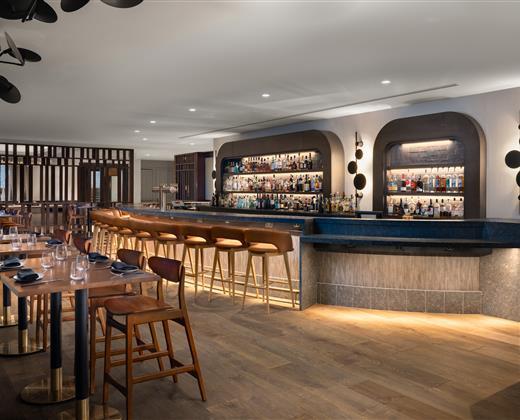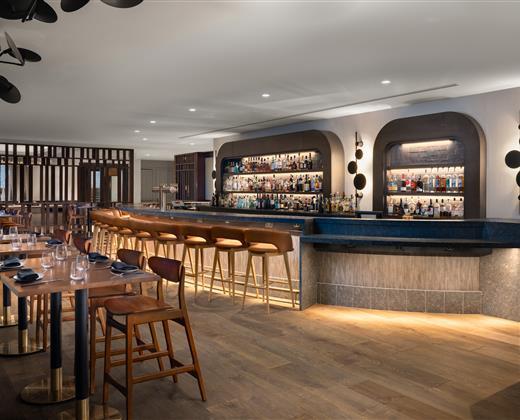 Tipsy Trout - Fins & Fermentables
At Tipsy Trout we combine the region's premium seafood with an unmistakably Vermont culinary approach. Our energetic, cocktail-forward and seafood-rich experience features Vermont's best raw bar, shareable apps, coastal-inspired entrees, and a distinctive wine program. Saddle up at the bar and chat with our talented team of mixologists or settle in to a booth overlooking Mt. Mansfield.
Chic but chill; refined but relaxed, Tipsy Trout is a social experience not to be missed.
Winter Hours
Monday-Friday: 3:00-5:00p Sushi & Raw Bar | 5:00-10:00p Dinner 10:00p-12:00a Sushi | 10:00p-Close Late Night Bar
Saturday & Sunday: 12:00-3:00p Lunch, Sushi & Raw Bar | 3:00-5:00p Sushi & Raw Bar | 5:00-10:00p Dinner | 10:00p-Close Late Night Bar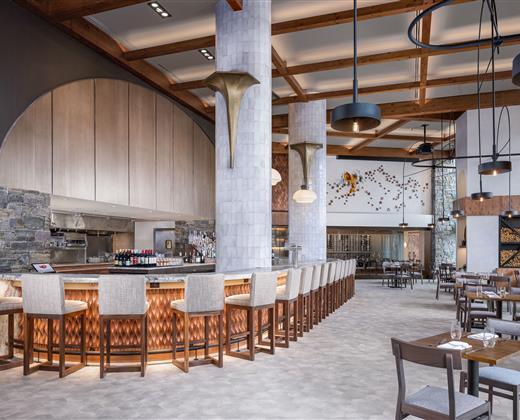 Alpine Hall - Kitchen & Cocktails
At Alpine Hall we celebrate Vermont mountain culture by bringing the work of our region's best growers, farmers, makers and artisans to our family tables and grand bar. Chef Sean Blomgren has crafted a simple, yet highly elevated menu that combines the best ingredients and a hand-crafted ethos. Our purpose is to connect people over memorable food & drink, whether it's a pre-ski family breakfast, a gathering with friends over VT IPAs after a great day on the hill, or sharing stories with family over a communal meal.
Gather around a table at Alpine Hall and rekindle your nostalgia for memories and moments spent together.
Current & Winter Hours Open Daily:
Breakfast: 7:00am-10:30am
Lunch: 11:00am-3:00pm
Après: 3:00pm-5:00pm
Dinner: 5:00pm-10:00pm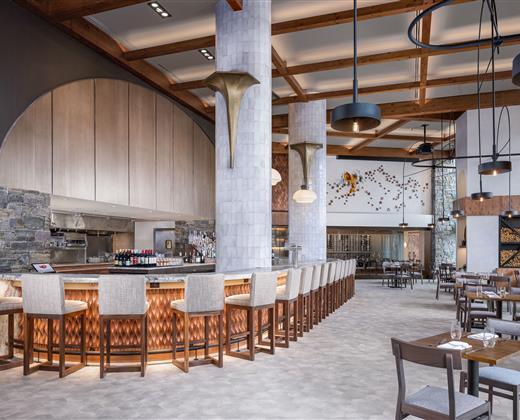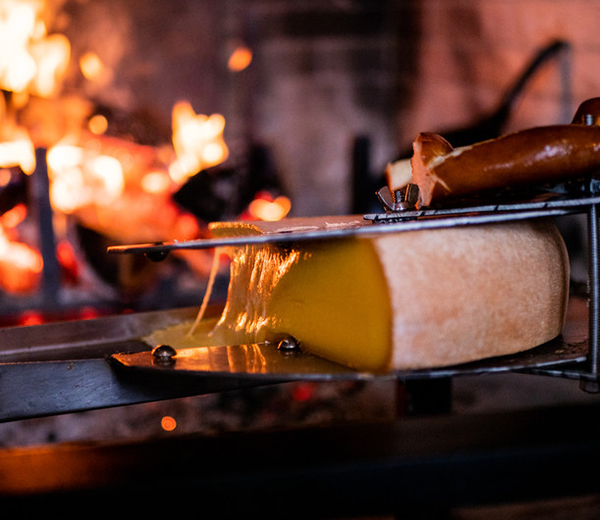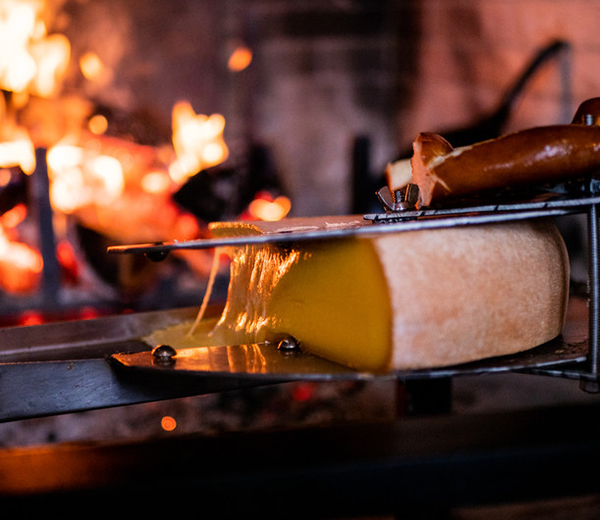 The WhistlePig Pavilion
At the head of the Spruce Peak Village Ice Rink, sits the hottest après-ski spot in Stowe. Warmed by a large masonry fireplace, The WhistlePig Pavilion serves up toasty comfort food with a twist, local craft brews, and inspired WhistlePig Rye Whiskey cocktails.
Enjoy the best apres ski experience in the East! Located just steps from the slopes in the heart of the Village, the WhistlePig Pavilion offers WhistlePig-inspired cocktails, craft beer, fire-baked raclette and alpine fare.
Winter Hours
Monday-Thursday: 12:00-7:00p
Friday-Sunday: 12:00-9:00p
Miso Toh Kome
Grab a snack to power your day with Miso Toh Kome - located in the Village and serving up a selection of grab-n-go Japanese rice balls and other authentic goodies.
La Shack
Located behind the Pergolas - Vermont procured 'mountainside' style eats & treats including specialty s'mores made to order and hot chocolate.
Scheduled to open mid-December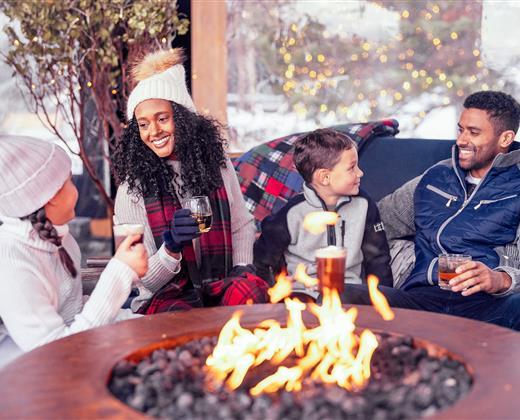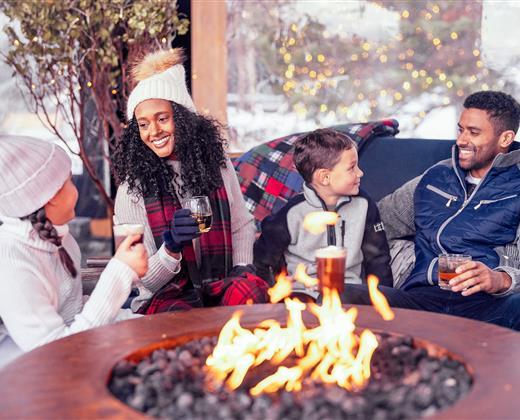 The Village Pergolas
Returning this winter, our warm and toasty Pergola rentals! Located across the ice rink from the WhistlePig Pavilion, these pergolas will be available for by reservation only. Currently closed for the season, and will reopen November 18, weather dependant.
1.5 Hour Block Reservations Available
Monday-Thursday: 12:00-7:00p
Friday-Sunday: 12:00-9:00p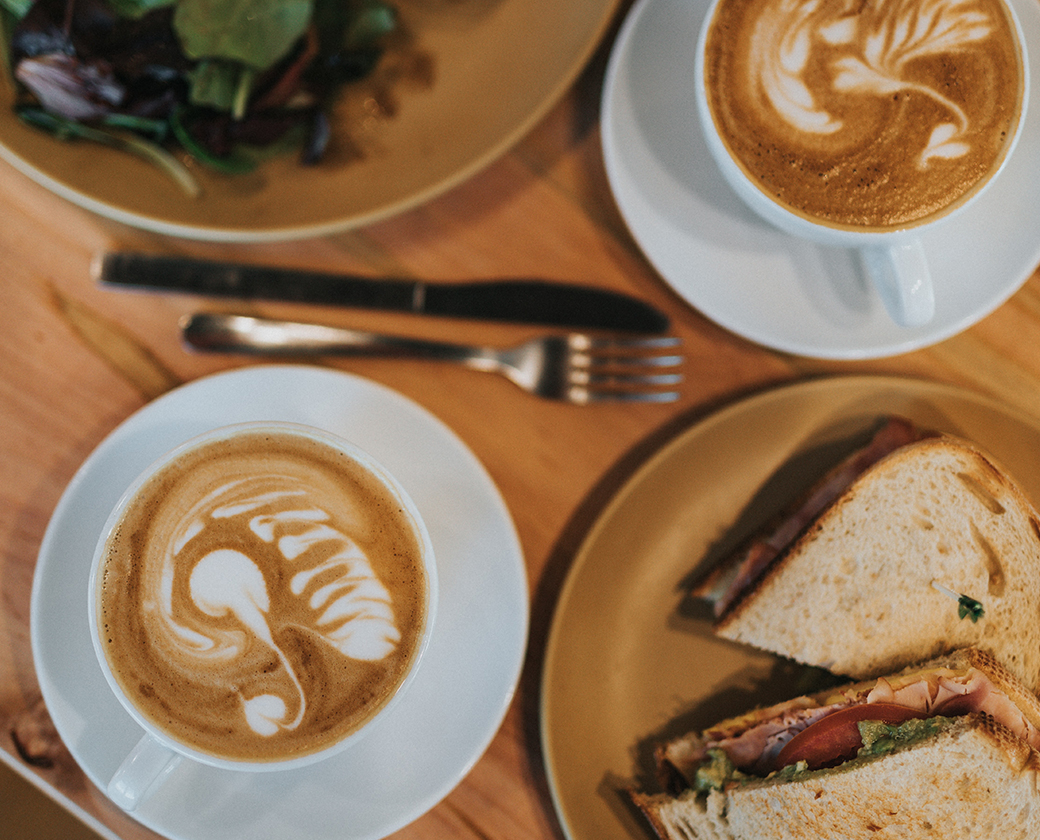 Spruce Peak To-Go
Savor the best of dining at Spruce Peak, from the comfort and privacy of your guestroom. Skip the crowds for a quick lunch between runs, or treat yourself to a magically decorated hot chocolate and cookie platter for an evening by the fire.
The Pantry & Beanery Cafe
Jumpstart your day with a freshly brewed Vermont Artisan Coffee and made-to-order breakfast sandwich, or stock up on the essentials for a night spent by your guestroom's fireplace. The Pantry & Beanery Cafe offers a selection of local snacks, cheese & charcuterie, wine & beer, and more.
Complimentary Tasting Events
2:00pm-5:00pm | Select Dates
Join us in the Pantry for complimentary tastings featuring our favorite local products from treats to brews.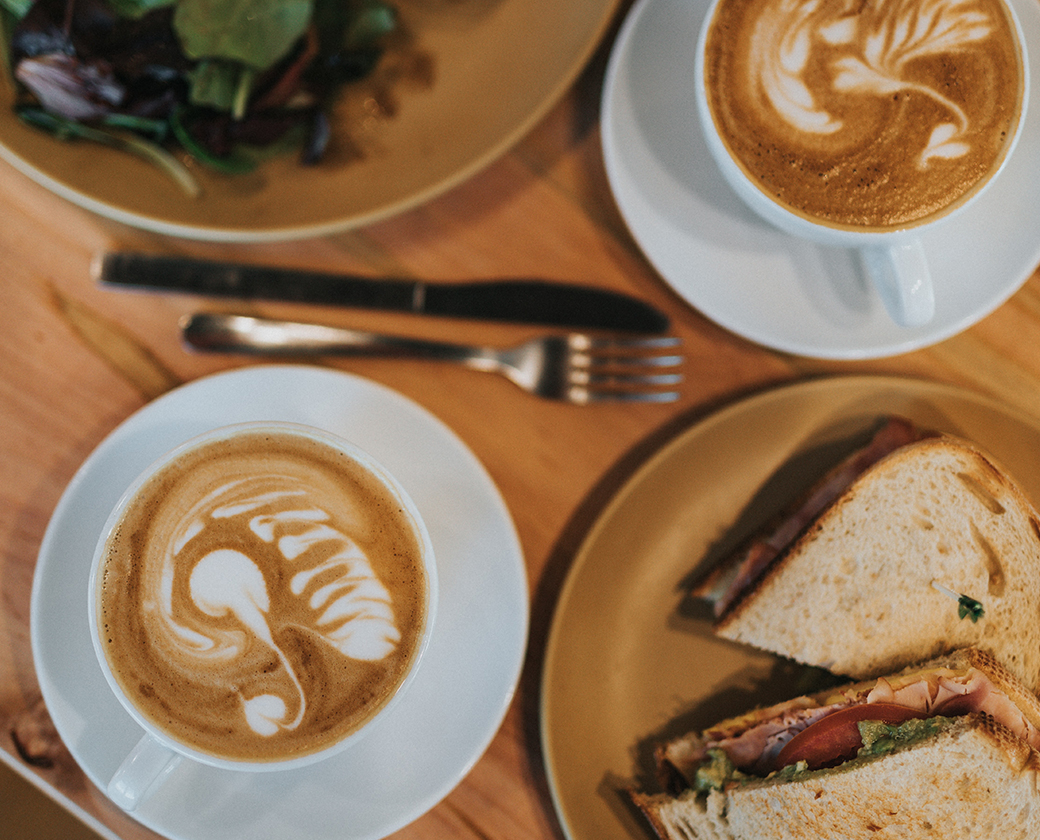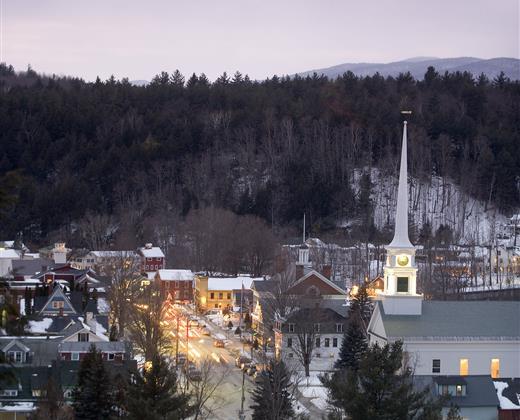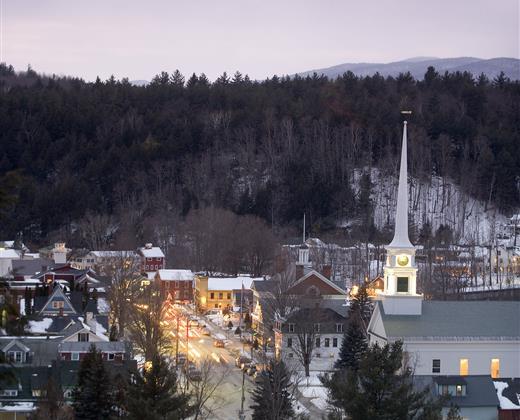 Dining in Stowe, VT
The village of Stowe and surrounding areas offers countless dining options, from casual sandwich shops to elegant full course dinner service.
For recommendations, ask our concierge team. Please note, many restaurants in town will require reservations to guarantee availability during peak times.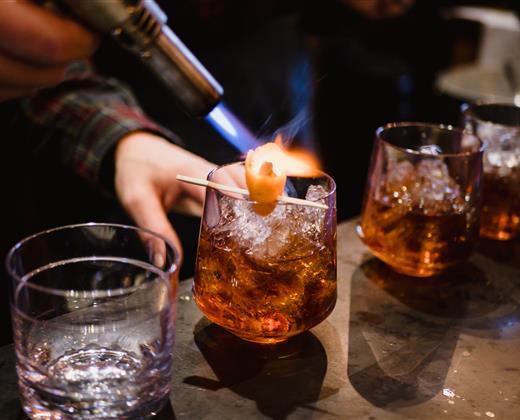 Upper Lobby Bar
Unwind with a local brew or inspired cocktail by the fire at our Upper Lobby Bar.
Open Weekly Wednesday through Sunday 12:00pm-9:00pm
Sushi To-Go
The full Mansfield Sushi menu is available exclusively through Spruce Peak To-Go daily 11:00am-9:00pm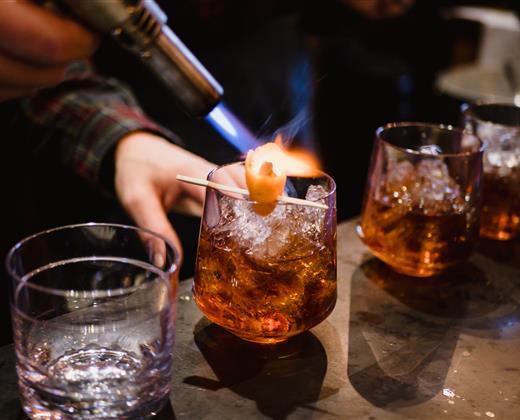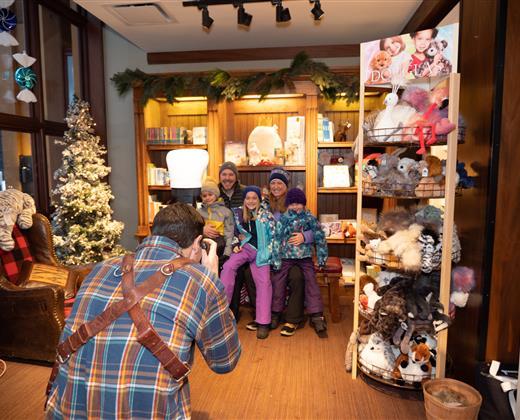 09
Kids & Family Activities
Making memories to last a lifetime comes easily at Spruce Peak. Offering craft workshops, live storytelling, photobooth popups, extra special birthday celebrations, and more, we are planning activities for kids of all ages this winter.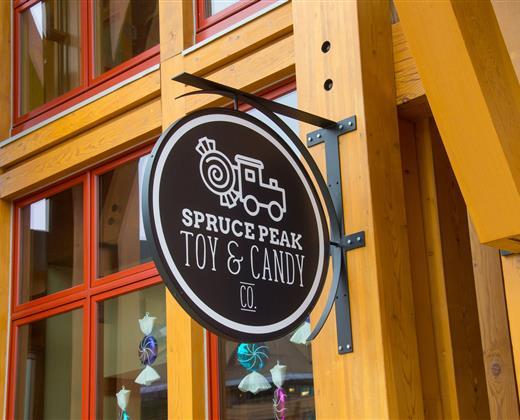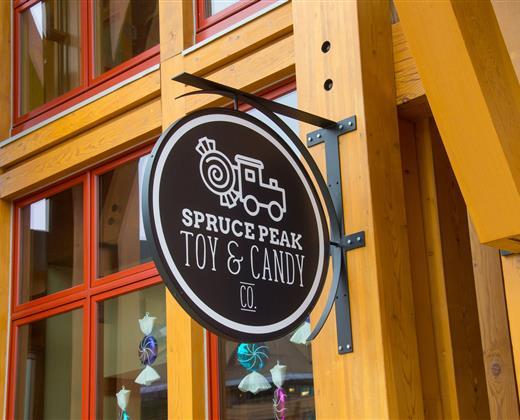 The Spruce Peak Toy & Candy Co.
The perfect place for kids, and the kid inside all of us, The Toy & Candy Co features gourmet candy, unique storybooks, cuddly stuffed toys, and other toys and games.
The Toy & Candy Co will reopen for the winter December 16, 2022
Thursday through Saturday 11:00am-6:00pm
Sunday 10:00am-5:00pm
Birthdays at The Toy & Candy Co.
What could be better than a birthday celebration at a Toy Store? Our team will work with you to coordinate unique decorations, themes, goodie bags, and more. Plus the birthday kid receives a $100 shopping spree credit with every celebration booked.
For inquiries email ToyandCandyStowe@Hyatt.com.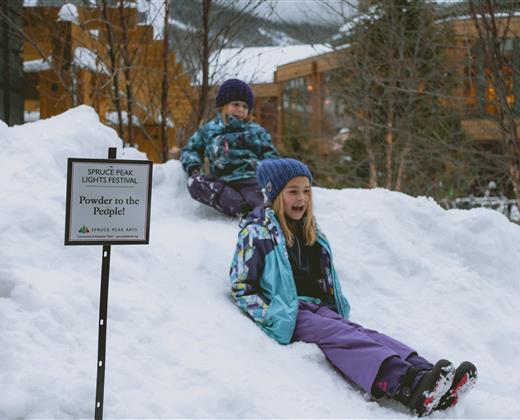 Kids' Craft Workshops
Unleash your inner artist while you craft one-of-a-kind souveniers at the Toy & Candy Co. From holiday cards to decorated ornaments, specialty workshops will be offered select weekends and holidays all winter long.
Spruce Peak Game Room
Challenge your family to a table tennis tournament, or test your luck with a crane game. The Game Room returns this winter to offer indoor entertainment daily.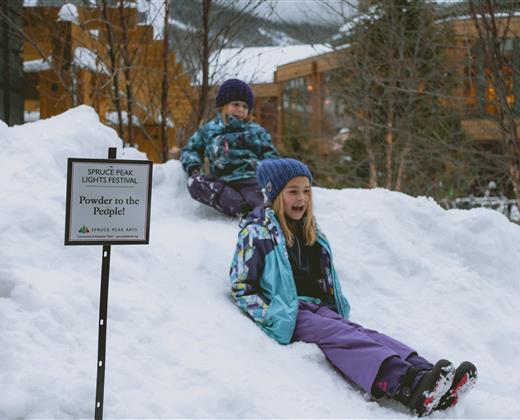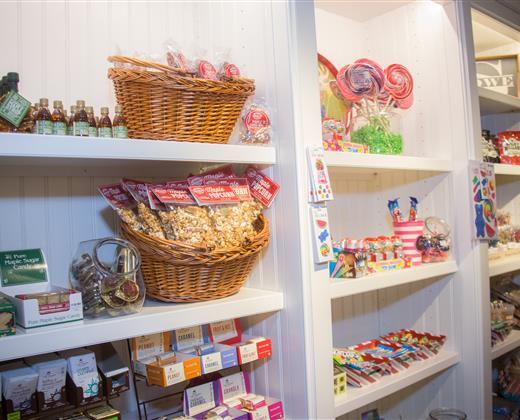 Whether you're hunting down the perfect souvenier, looking to replace a lost mitten, or just want to treat yourself to a little indulgence, shopping at Spruce Peak has you covered.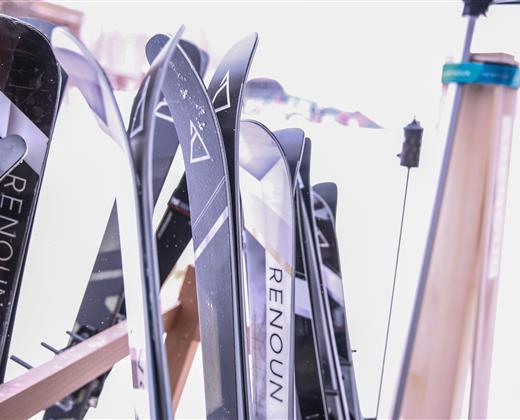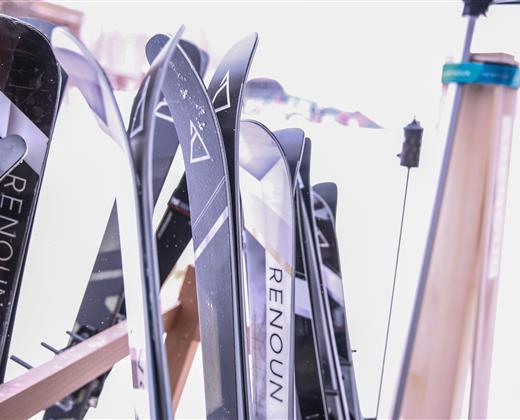 Stowe Mountain Resort Retail Outlets
Please note, the following retail outlets are managed by Stowe Mountain Resort. Purchases cannot be charged to your guestroom.
Winter Hours coming soon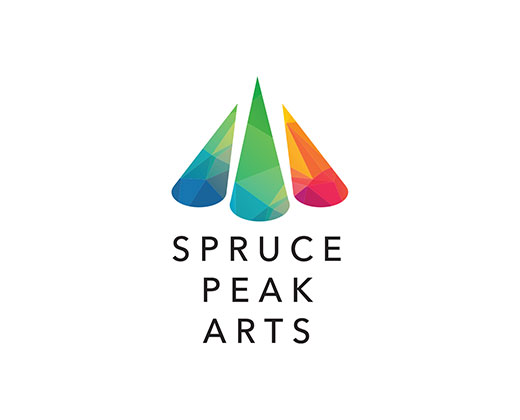 11
Spruce Peak Performing Arts Center
Your day isn't over when you leave the trails. Robust arts and culture programming-concerts from local artists, theater from touring troupes, film screenings, workshops and residencies, acrobats from halfway around the world-brings all of Spruce Peak together for engrossing entertainment.
Sink into your comfy theater seat at the Spruce Peak Performing Arts Center, or enjoy a performance from the comfort of your guestroom with select Livestream availability.
For schedule of performances and to buy tickets, visit SprucePeakArts.org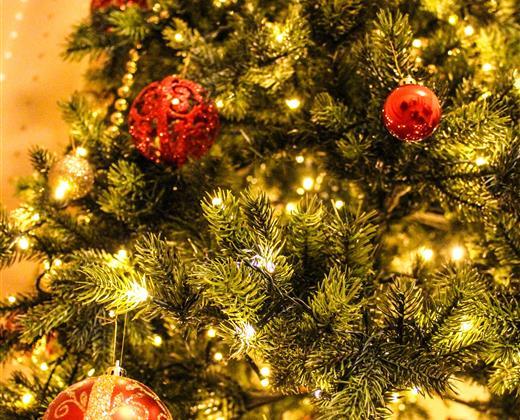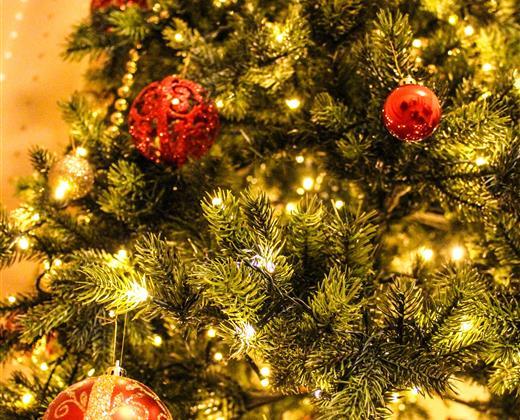 Saturday, December 3rd | 7:30pm
A Soulful Christmas Concert
by the SUNY Plattsburgh Gospel Choir
Kick-off the Holiday season with energized performances by the SUNY Plattsburgh Gospel Choir, the SUNY Plattsburgh Praise Dancers, The SUNY Plattsburgh Steppers and exceptional 7-piece band led by Jeff Wheel! Everyone will take away from this concert an elevated appreciation of gospel music but also a renewed tranquility of hope and good will during the Holiday season.
In addition to the Traditional/Urban Christmas Gospel such as "Go Tell it on the Mountain", Contemporary Christian, Caribbean-Afrocentric Holiday music such as "Halle, Halle, Halle" and a Concert Christmas Spiritual "Mary Had a Baby", the talented 40-voice choir and 7-piece band will take on several Motown Christmas tunes such as the Temptations' version of "Rudolph the Red Nosed Reindeer," "Silent Night" and Nat King-Cole's "The Christmas Song," among other Motown Christmas classics.