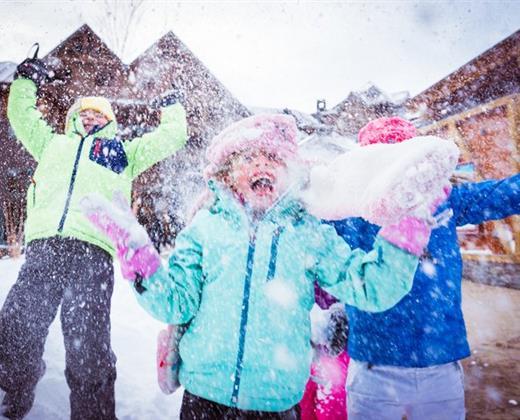 01
Winter Experience Guide
Welcome to Spruce Peak
Thank you for choosing to spend your time with us. Whether you're looking forward to spending the day on the slopes, gliding across our pristine ice rink, sampling the flavors of Vermont, or simply relaxing by the fire, we look forward to creating a memorable experience during your stay.

Please feel free to reach out if you are in need of assistance. The Front Desk is available at ext. 0000 or you may text our Front Desk team at (802) 500-1242
Please Note: Per Policy of Hyatt Hotels and Spruce Peak, masks are optional for fully vaccinated individuals. Masks covering the mouth and nose are required for unvaccinated individuals at this time. Please continue to respect 6' physical distancing throughout the property.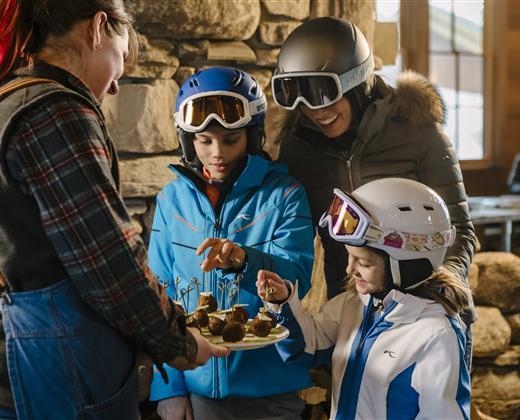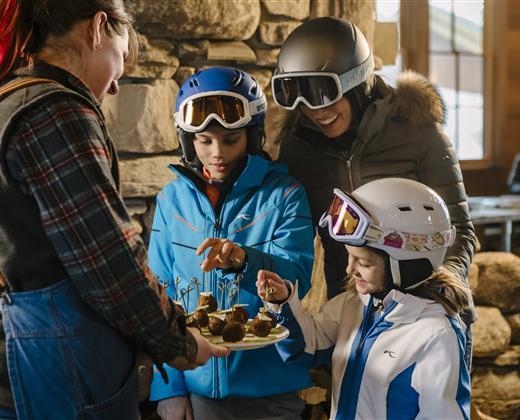 Spruce Peak This Week
For updated hours and activities offered during your stay, ask the front desk for a copy of Spruce Peak This Week - our weekly guide to all things Spruce Peak.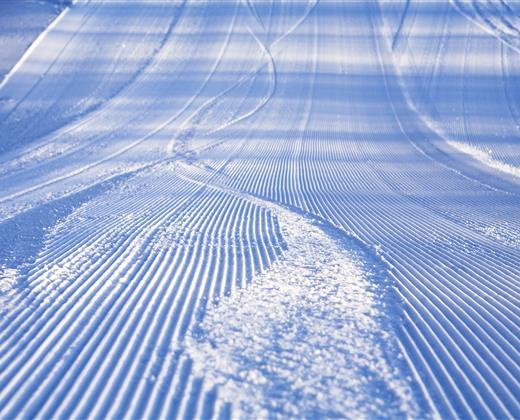 02
Reservations Recommended
We look forward to the opportunity to welcome you and your family to The Lodge at Spruce Peak. With increased demand as travel returns to normal, many of our outlets and recreation activities will continue to require reservations to guarantee availability and service, particularly on holidays or weekends.
Please take a moment to review the following details regarding how to make reservations at our dining outlets, The Spa, and Spruce Peak Outfitters activities.
Dining from November 22-December 16, 2021
To make dining reservations for any date between November 22-December 16 please call 802-760-4735
Updated information on dining reservations for December 17, 2021 and beyond coming soon. Thank you for your patience.
The Spa at Spruce Peak
Reservations are required for Spa treatments and Salon Services.
Call the Spa Concierge at 802-760-4782 or book online
Fitness and Adventure Classes
Reservations are required by 6:00pm the night prior.
Click Here for a schedule of Fitness and Adventure Classes.
Call Spruce Peak Outfitters at 802-760-4061 or email BTVDH-SPA@Hyatt.com
The Lodge at Spruce Peak is Stowe's only slopeside ski-in ski-out destination at the base of Stowe Mountain Resort, part of the Vail Epic Pass System. From family-friendly beginner slopes to expert black diamond runs, there's a ski vacation for everyone – just steps away from your room.
Trail breakdown: 16% Beginner, 59% Intermediate, 25% Expert
While Spruce Peak Strives to provide the best winter vacation possible, we are independent from Stowe Mountain Resort's management, Vail Resorts, and are unable to assist in purchasing EPIC passes, day passes, or lift tickets. Please visit Stowe.com directly for information.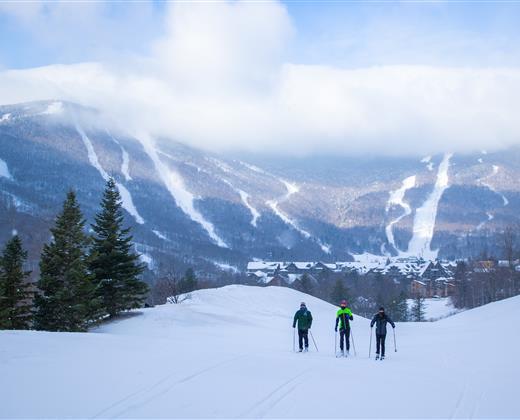 04
Adventure off the Slopes
Surrounding Spruce Peak is over 2,000 acres of preserved wilderness, just waiting to be explored. Our adventure experts at Spruce Peak Outfitters plan authentic winter experiences fit for every skill level.
Scheduled Activities Calendar - Starting November 14, 2021
All Tours, Classes, Demos, and Activities require a reservation by 6pm the prior day unless stated otherwise. Activities cancelled within 24 hours of their schedule time are subject to a 50% fee. Call the Spa at 802-760-4061 or email btvdh-spa@hyatt.com for reservations.
Participants under 14 must be accompanied by a parent or guadian to participate in any activity. All outdoor activities are weather dependent. Occupancy limitations may apply.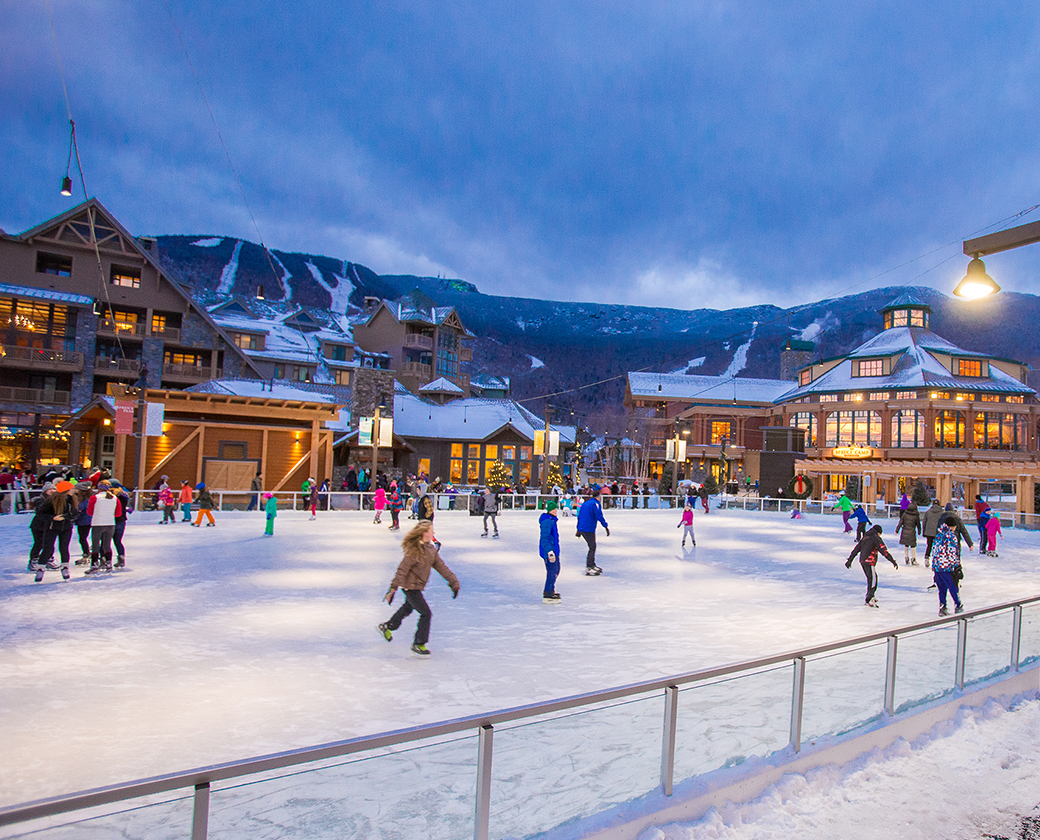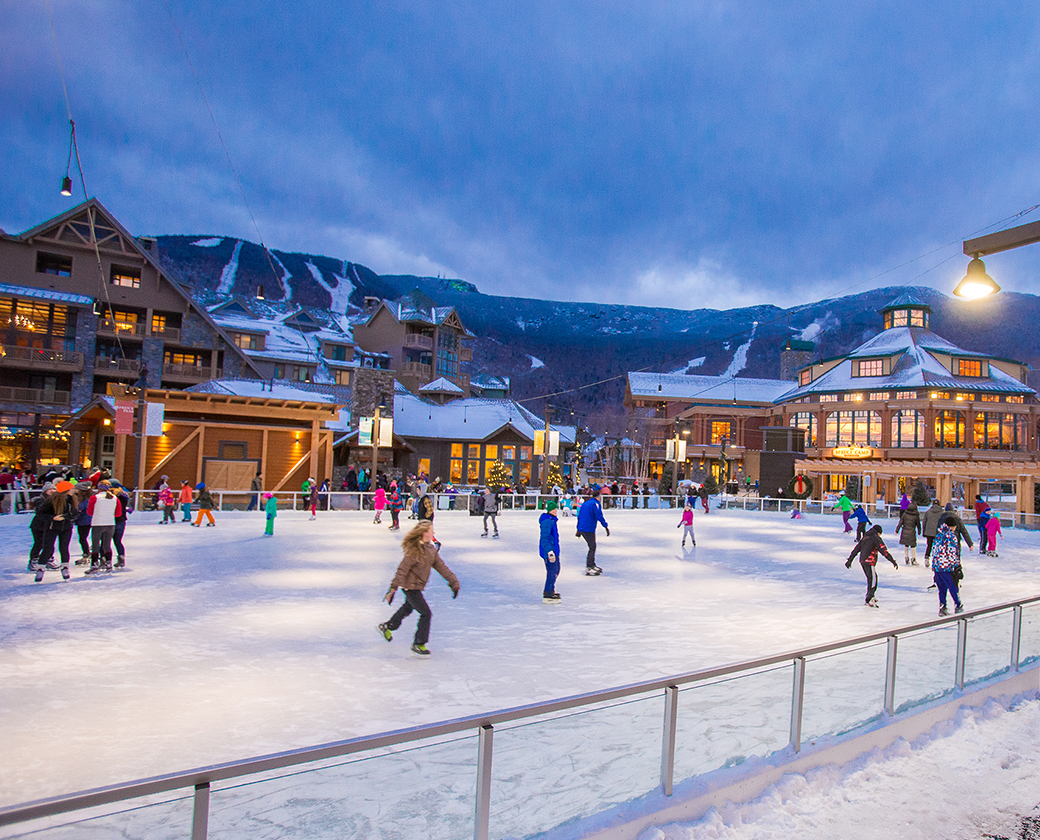 Ice Skating - Now Open
Sunday-Thursday 12:00pm-6:00pm (Rental pick-up ends at 5:00pm)
Friday & Saturday 12:00pm-9:00pm (Rental pick-up ends at 8:00pm)
Holiday hours may vary
A classic winter activity, only steps from the lodge! Our beautiful, outdoor skating rink sits in the heart of the Spruce Peak Village and is surrounded by magical views of the ski slopes.
Skate rentals are available at the Adventure Center for $17 per rental.
Special events such as ice dancing performances, curling demonstrations, themed skates, and more add to the fun throughout the year.Click Here for our events calendar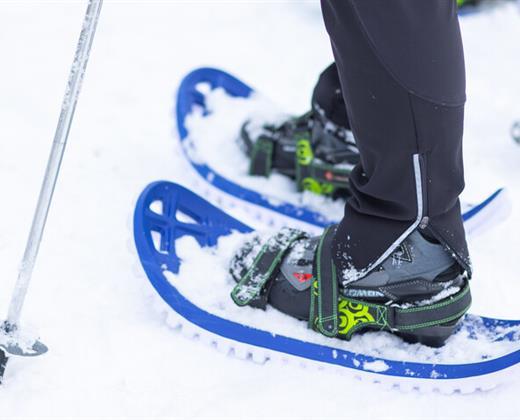 Guided Snowshoe Hikes
From casual treks through the Spruce Loop, to head-lamp lit hikes at dusk join our experienced guides for a winter wonderland trek to remember. Snowshoes are a traditional way to explore the snowy woods, fields, and streams surrounding Spruce Peak.
Day rentals and self-guided maps will also be available again this winter season. Snowshoes and poles provided by Crescent Moon Snowshoes.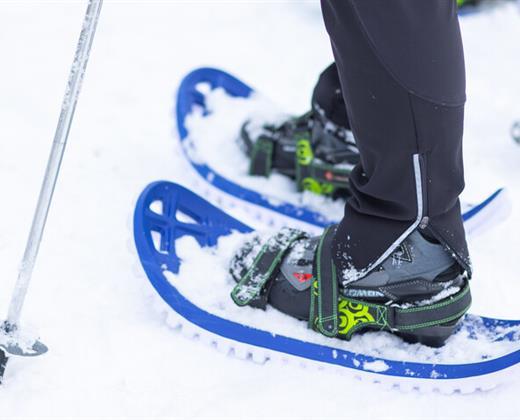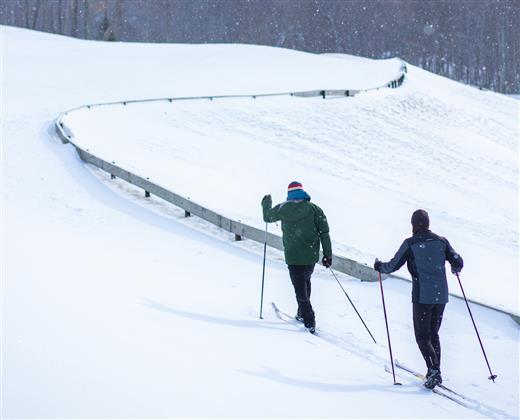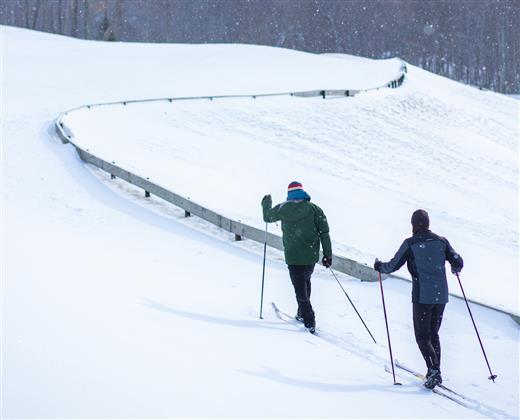 Cross Country Skiing
Cross Country Skiing comes to Spruce Peak this winter! We're grooming trails up, around, and through the snow-covered Mountain Course at Spruce Peak for unbeatable views and peeks at nature. Try a self-guided trek, or join a guided clinic to learn all the tricks of the trade.
Introduction to Cross Country Skiing offered every Sunday & Tuesday - $55 with rentals $25 without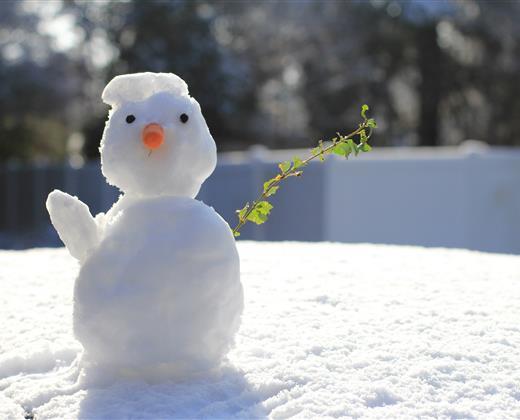 Family Snow Golf
Tee up and take a shot with this unique family activity this winter. Snow Golf uses large, brightly colored balls, with equally large holes, for a fun scramble through the snow.
$40/family - offered every Saturday, Sunday, and Monday
Snow Games
Come play in the snow! Snowman, igloos, snow angels, snow art, sledding, and more. For all ages.
$10/person - offered daily except for Tuesdays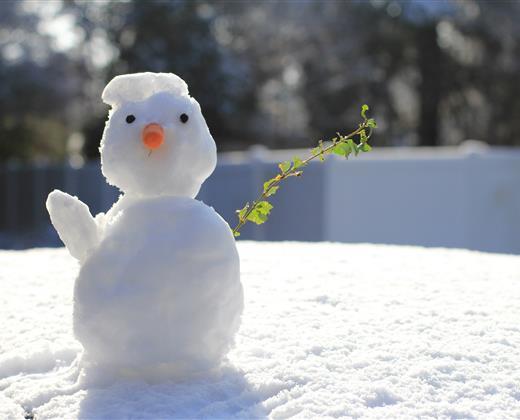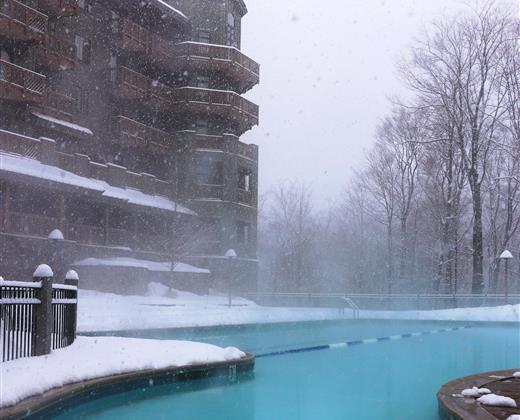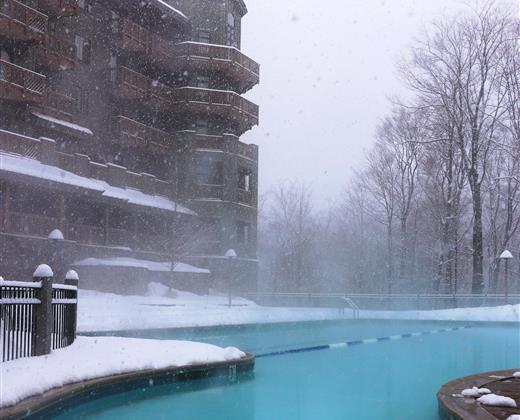 Outdoor Heated Pool
Open Daily 9:00am-10:00pm
Lap Swim recommended before noon
Surrounded by nature and views of Mount Mansfield, The Lodge's outdoor heated swimming pool is open year round. Featuring a swim-out tunnel and two hot tubs, the pool is the perfect setting for winding down and warming up after a long day on the slopes.
Spruce Peak Outfitters
In addition to winter adventure and recreation offered just steps from The Lodge, Spruce Peak Outfitters works with a network of local experts, guides, and partners to help curate a unique, authentically Vermont winter experience. From horse-drawn sleigh rides to brew tours, we will work with you to help coordinate the perfect itinerary of the best Stowe and Vermont has to offer.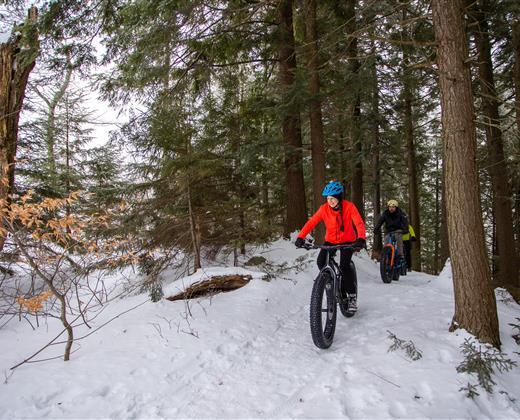 Snow Biking in Stowe, VT
Check out the latest craze on the snow - Snow biking! If you love to mountain bike, but think the season is over, think again!
Snow Biking excursions can be scheduled with help from Spruce Peak Outfitters.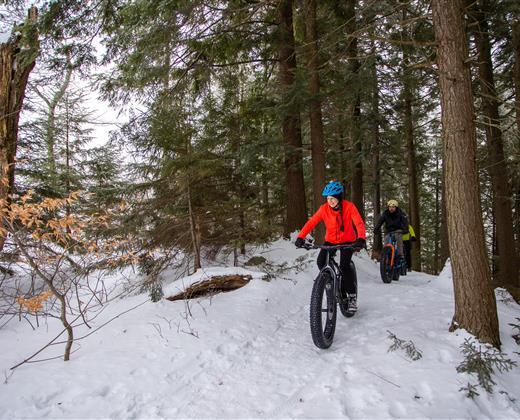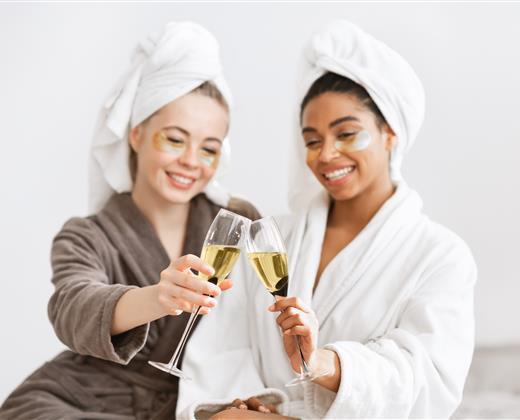 Retreat from your retreat with a well-deserved visit to the expansive Spa at Spruce Peak. Whether you're looking to recover, rejuvenate, or simply relax, The Spa focuses on all natural and locally sourced treatments inspired by the mountains.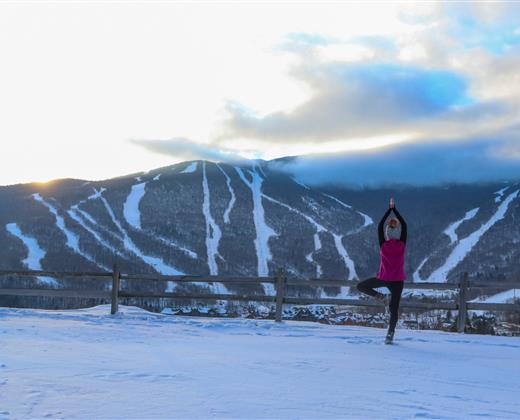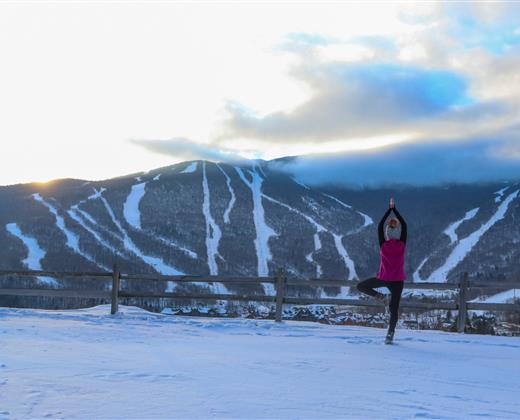 Guided Yoga & Meditation
Strech your body and center your mind with guided classes from The Spa. Featuring yoga, breathwork, and mindfulness meditation these classes are designed for all levels.
90 and 75 minute classes | $20/person View schedule of Yoga classes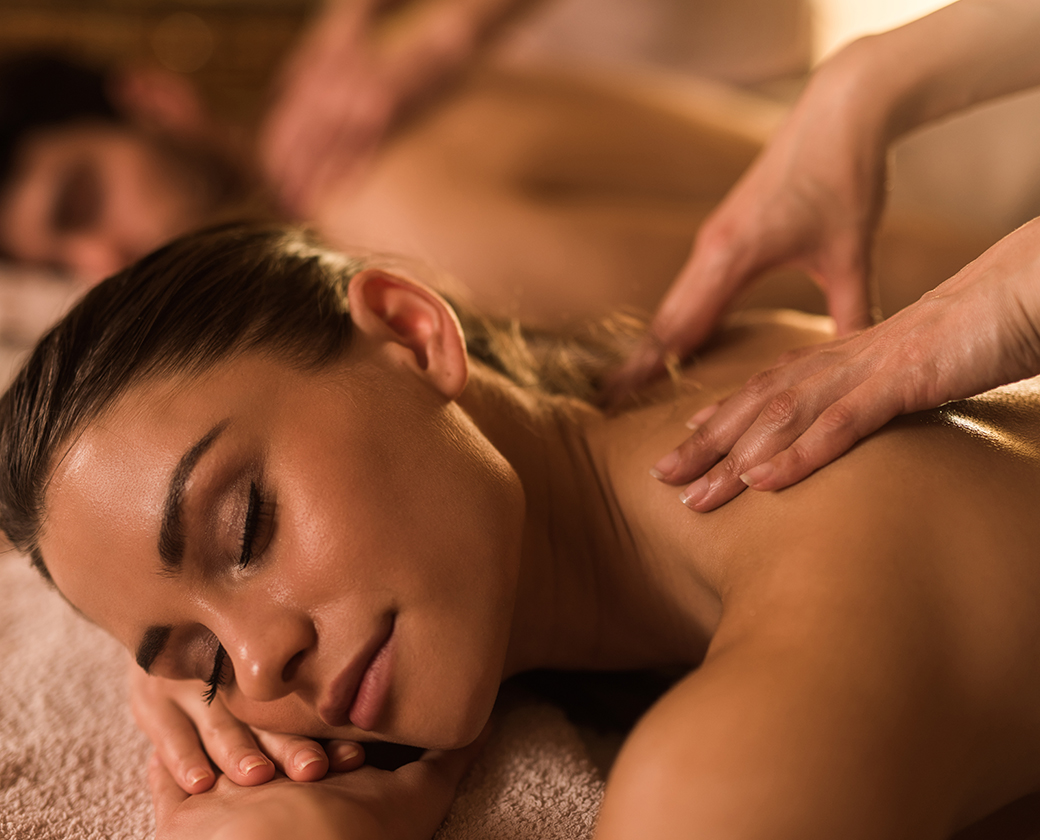 Live Like a Local
Experience serious relaxation, with locally sourced and inspired treatments at The Spa.
Featured Treatment:
Stowe Cider Scrub
This 80 minute pampering treatment pairs local award winning Stowe Cider with our relaxing spa experience. Begin with a full body scrub incorporating naturally occurring alpha hydroxy' s from apple pulp as well as exfoliating ingredients to smooth out dry and overworked skin. Next, your therapist will hydrate your skin and relax your muscles with a full body massage. After your service our Spa Concierge will bring you a can of cold Stowe Cider to enjoy in our Sanctuary.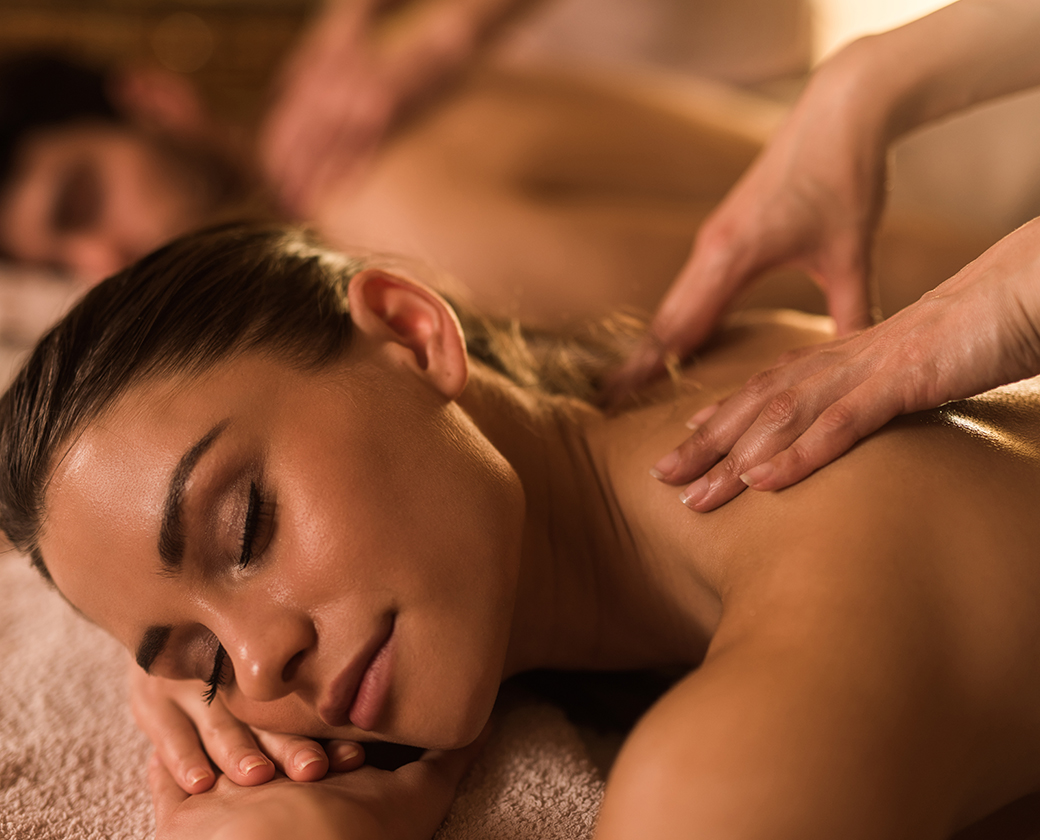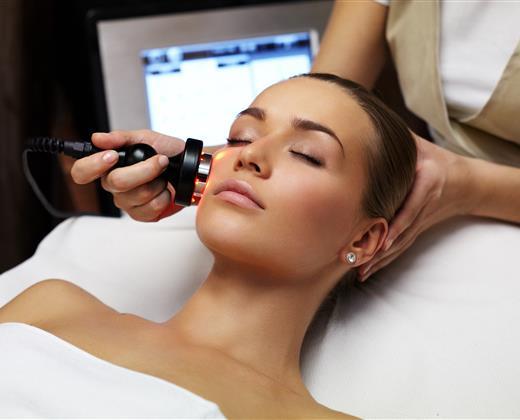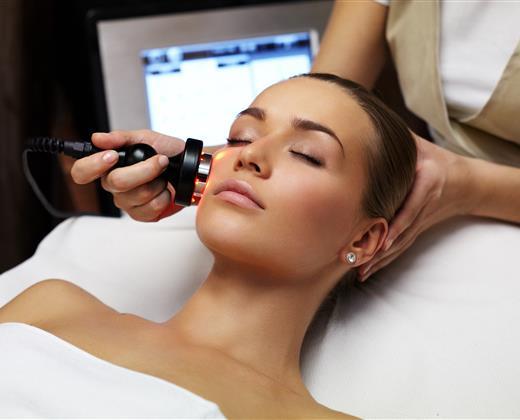 T-Shock Cryotherapy
The Cryo T Shock is a non-invasive, allnatural approach to body contouring. Warm and cold are modulated at varying times and temperatures according to the desired effect.
Whether its Muscle Pain from a day on the slopes, or unwanted body fat, our Cryo body treatments will showcase immediate results. The T Shock technology & our knowledgeable therapists utilize heat cycles to deliver the
immediately visible Cryo effects to a vast array of locations on your body, providing you relief from pain or visible reductions in cellulite.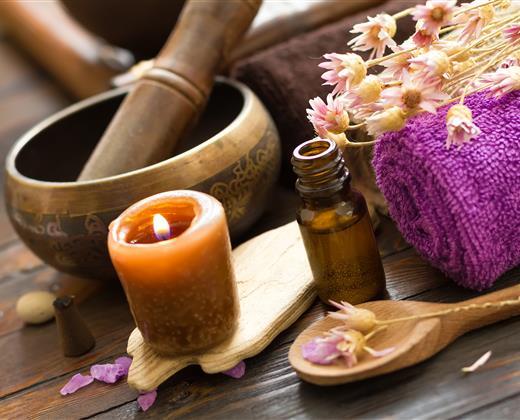 The Spa Butler Program
Upgrade your stay by adding a touch of Spa and Wellness to your guestroom or suite. The Spa Butler program offers a selection of spa rituals, fitness equipment, and even kid's activities all available for delivery. Plan ahead with help from our pre-arrival team, or order as your vacation plays out.
Options may include:
Spin bike or Peloton rentals
Anti-stress Spa Ritual
Build-a-buddy kits
Chillax bathtime ritual for kids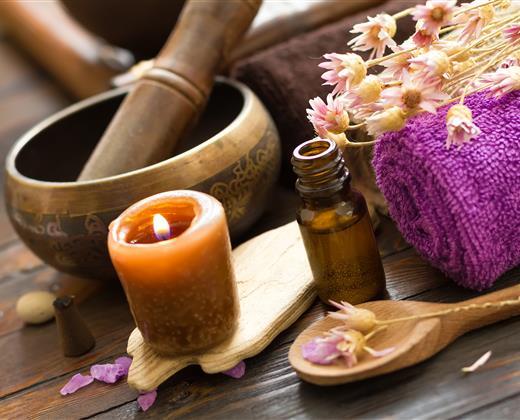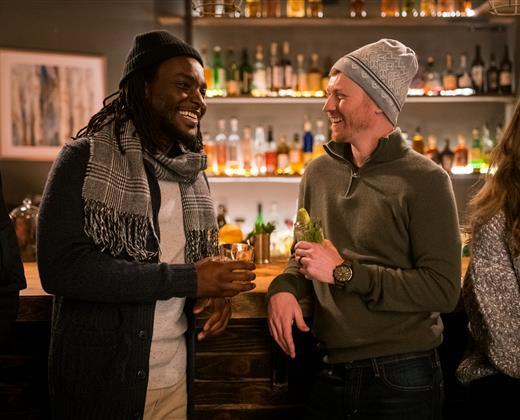 From fire baked raclette at the WhistlePig Pavilion to gourmet hot chocolate by the fire in the Upper Lobby, grab-n-go freshly made breakfast sandwiches to cook-in-your-room family meals, apres-ski dining gets an upgrade at Spruce Peak.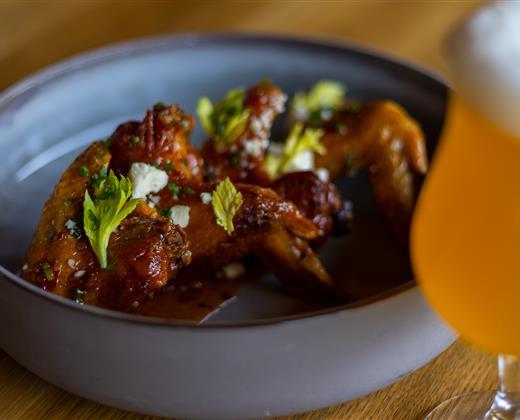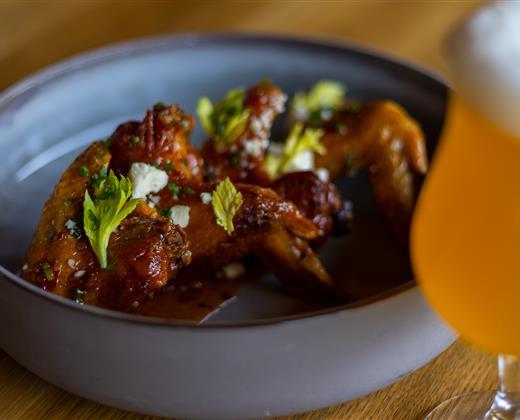 "Preview" Dining
Spruce Peak excited to announce the opening of our two new restaurants: Tipsy Trout and Alpine Hall – in just a few short weeks. In the meantime please enjoy a "Preview" of things to come.
Breakfast Buffet Daily: 7:00am-10:30am

Lunch and Apres

Monday – Thursday: 11:30am – 2:30pm

Friday – Sunday: 11:30am– 5:00pm

Dinner: 5:00pm-10:00pm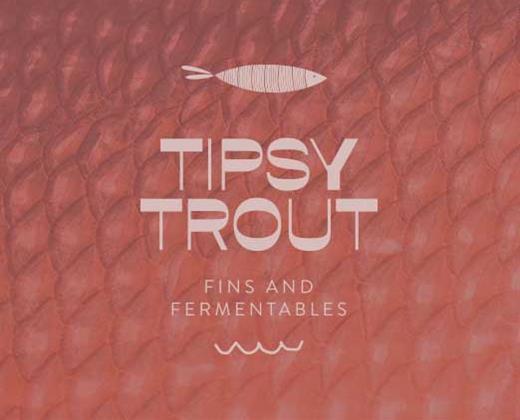 Tipsy Trout - Opening December 2021
At Tipsy Trout we combine the region's premium seafood with an unmistakably Vermont culinary approach. Our energetic, cocktail-forward and seafood-rich experience features Vermont's best raw bar, shareable apps, coastal-inspired entrees, and a distinctive wine program. Saddle up at the bar and chat with our talented team of mixologists or settle in to a booth overlooking Mt. Mansfield.
Chic but chill; refined but relaxed, Tipsy Trout is a social experience not to be missed.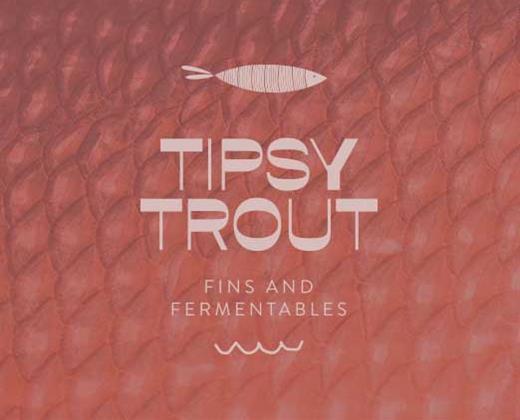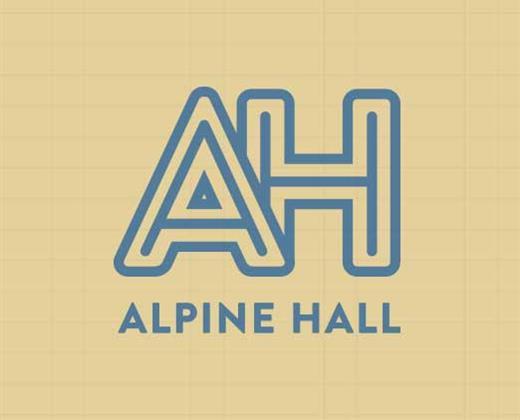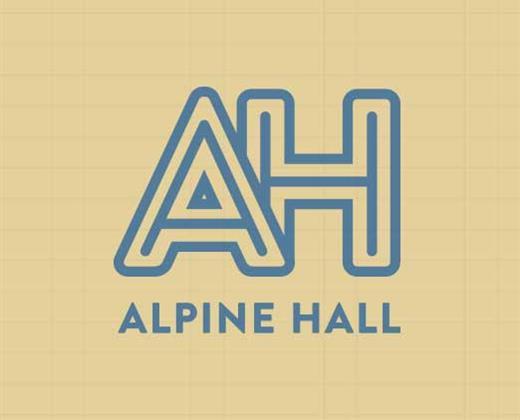 Alpine Hall - Opening December 2021
At Alpine Hall we celebrate Vermont mountain culture by bringing the work of our region's best growers, farmers, makers and artisans to our family tables and grand bar. Chef Sean Blomgren has crafted a simple, yet highly elevated menu that combines the best ingredients and a hand-crafted ethos. Our purpose is to connect people over memorable food & drink, whether it's a pre-ski family breakfast, a gathering with friends over VT IPAs after a great day on the hill, or sharing stories with family over a communal meal.
Gather around a table at Alpine Hall and rekindle your nostalgia for memories and moments spent together.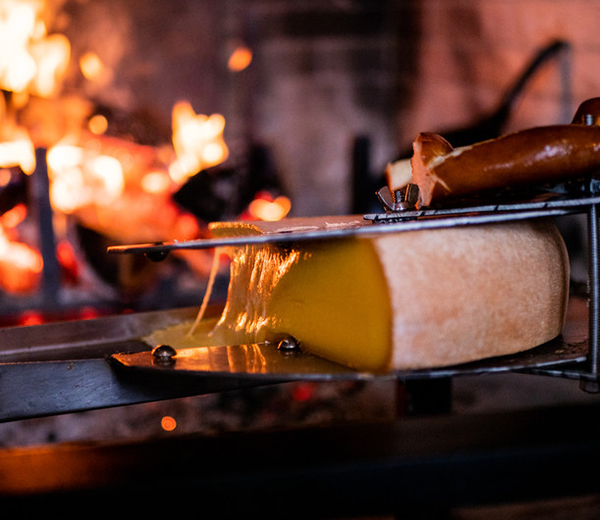 The WhistlePig Pavilion
At the head of the Spruce Peak Village Ice Rink, sits the hottest après-ski spot in Stowe. Warmed by a large masonry fireplace, The WhistlePig Pavilion serves up toasty comfort food with a twist, local craft brews, and inspired WhistlePig Rye Whiskey cocktails.
The WhistlePig Pavilion will reopen for the winter season on November 19, 2021.
Early Season Hours:
Thursday & Sunday 12:00-6:00pm
Friday & Saturday 12:00-9:00pm
Live Music Every Saturday 2:30-6:00pm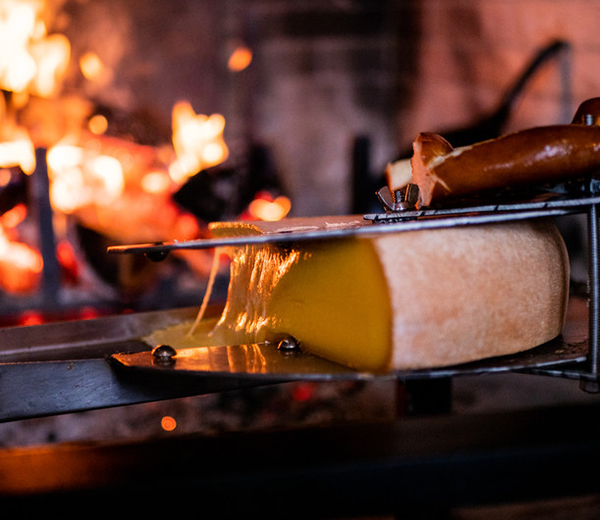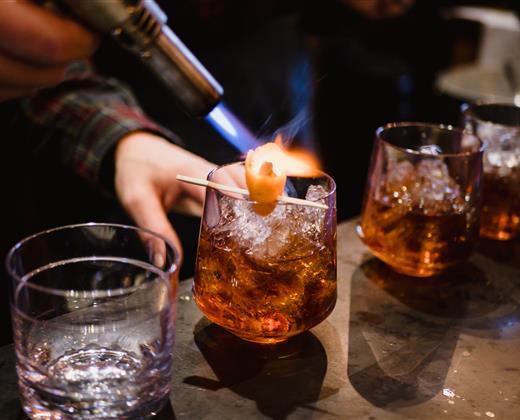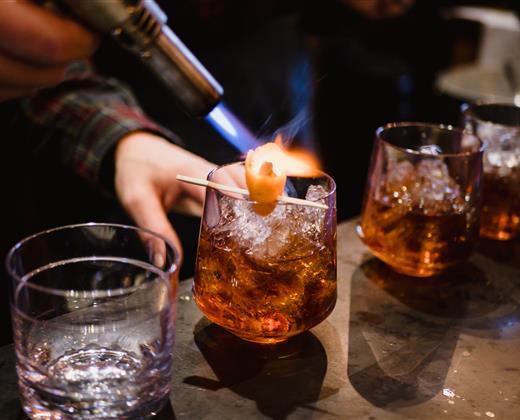 Miso Toh Kome
Grab a snack to power your day with Miso Toh Kome - located in the Village and serving up a selection of grab-n-go Japanese rice balls and other authentic goodies.
Open Thursday-Sunday 11:00am-5:00pm
Upper Lobby Bar
Unwind after a long day of adventure with a local brew or cocktail in front of the fire in our cozy Upper Lobby space.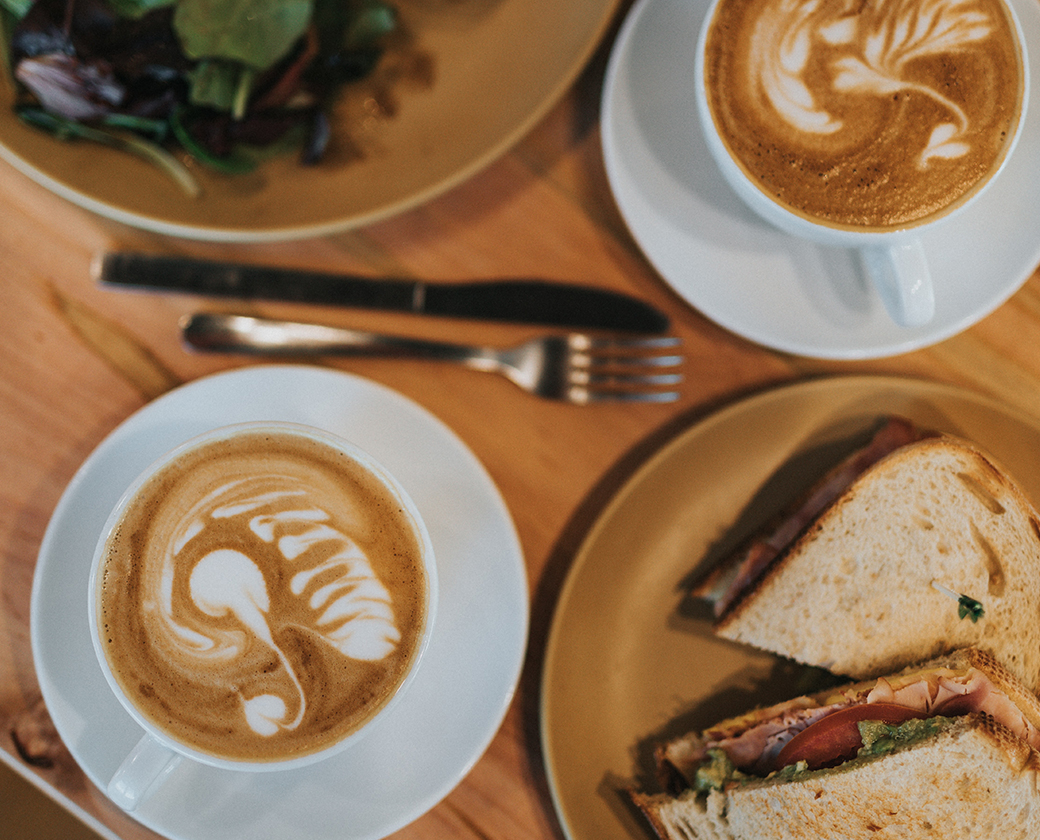 Spruce Peak To-Go
Savor the best of dining at Spruce Peak, from the comfort and privacy of your guestroom. Skip the crowds for a quick lunch between runs, or treat yourself to a magically decorated hot chocolate and cookie platter for an evening by the fire.
The Pantry & Beanery Cafe
Jumpstart your day with a freshly brewed Vermont Artisan Coffee and made-to-order breakfast sandwich, or stock up on the essentials for a night spent by your guestroom's fireplace. The Pantry & Beanery Cafe offers a selection of local snacks, cheese & charcuterie, wine & beer, and more.
Open Daily at 6:30am - 9:00pm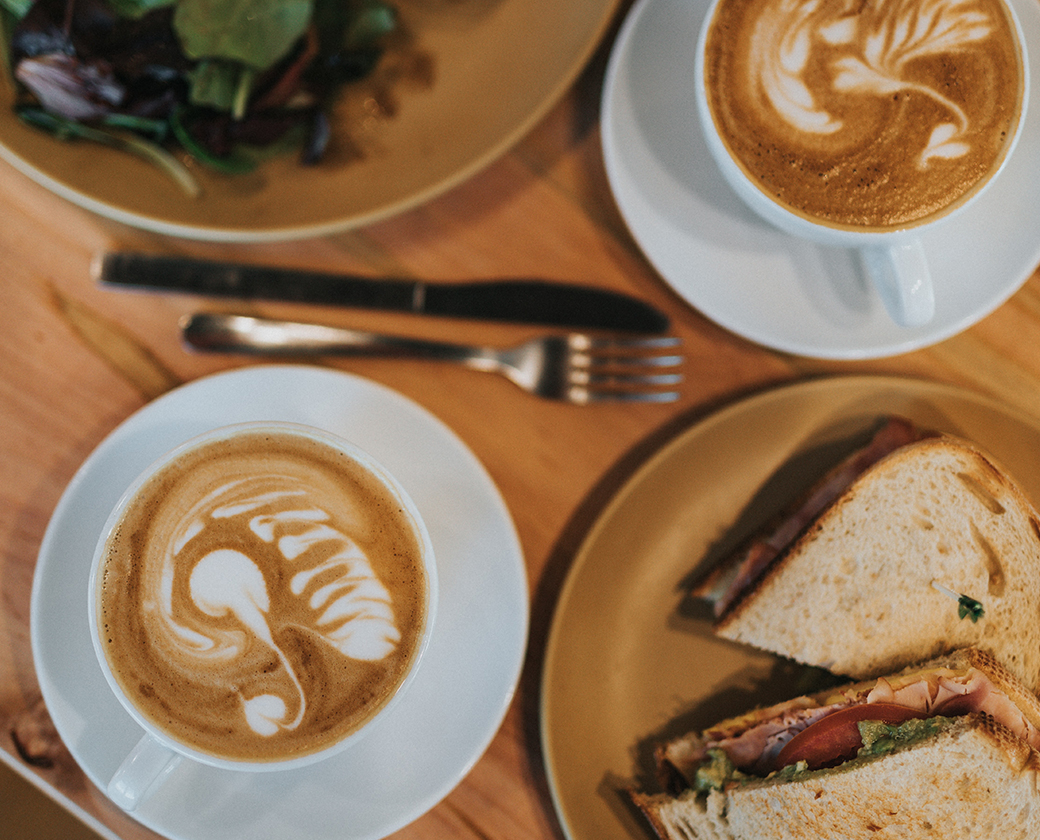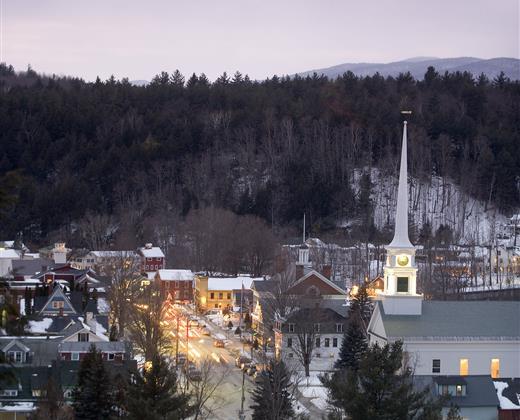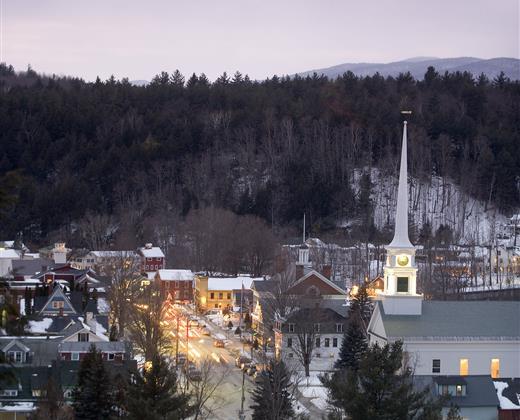 Dining in Stowe, VT
The village of Stowe and surrounding areas offers countless dining options, from casual sandwich shops to elegant full course dinner service.
For recommendations, ask our concierge team. Please note, many restaurants in town will require reservations to guarantee availability during peak times.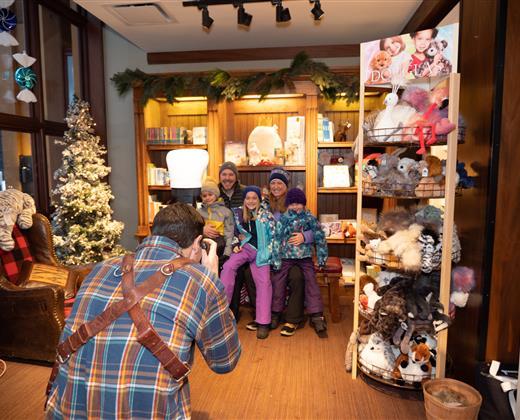 07
Kids & Family Activities
Making memories to last a lifetime comes easily at Spruce Peak. Offering craft workshops, live storytelling, photobooth popups, extra special birthday celebrations, and more, we are planning activities for kids of all ages this winter.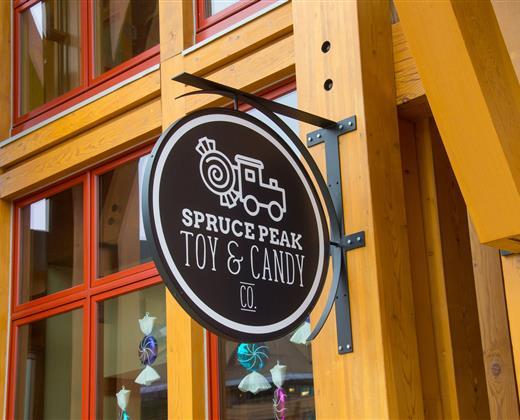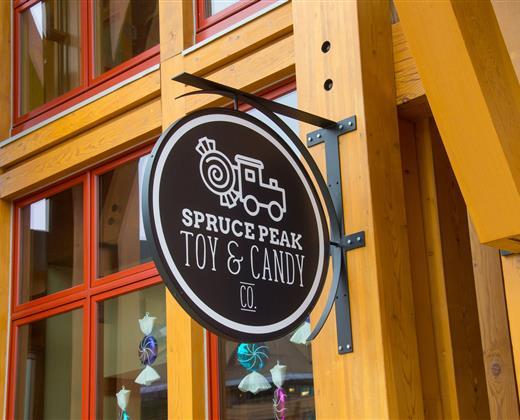 The Spruce Peak Toy & Candy Co.
The perfect place for kids, and the kid inside all of us, The Toy & Candy Co features gourmet candy, unique storybooks, cuddly stuffed toys, and other toys and games.
Open Wednesday-Sunday 10:00am-5:00pm
Birthdays at The Toy & Candy Co.
What could be better than a birthday celebration at a Toy Store? Our team will work with you to coordinate unique decorations, themes, goodie bags, and more. Plus the birthday kid receives a $100 shopping spree credit with every celebration booked.
For inquiries email ToyandCandyStowe@Hyatt.com.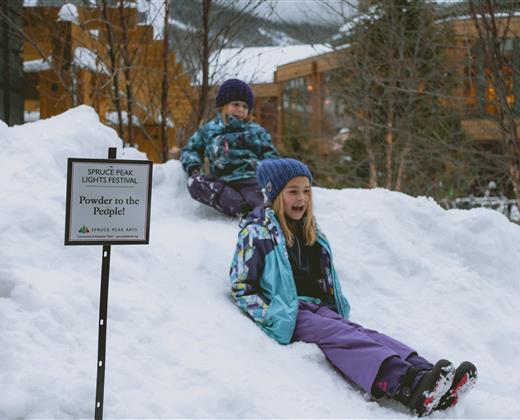 Spruce Peak Game Room
Challenge your family to a table tennis tournament, or test your luck with a crane game. The Game Room returns this winter to offer indoor entertainment daily.
Story Book Walk
Grab a phone, and set out around the Spruce Peak Village Ice Rink in search of our 7-part storybook walk. Scan the QR code on the sign in order to reach a fun short story or kids book as you explore the plaza.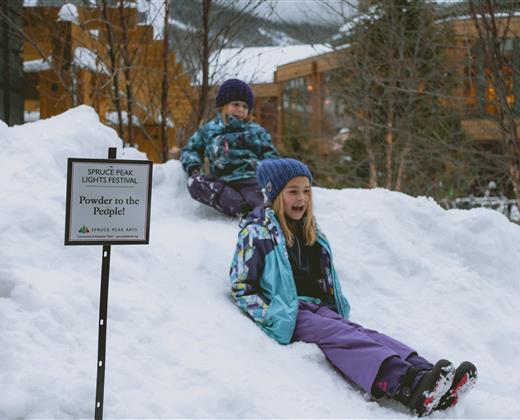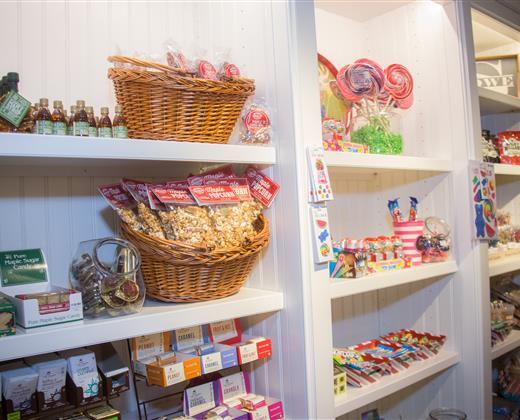 Whether you're hunting down the perfect souvenier, looking to replace a lost mitten, or just want to treat yourself to a little indulgence, shopping at Spruce Peak has you covered.
The Spruce Peak Toy & Candy Co.

Wednesday-Sunday 10:00am-5:00pm

The Spa at Spruce Peak Retail Store

Open during Spa Hours
7:30am-7:00pm daily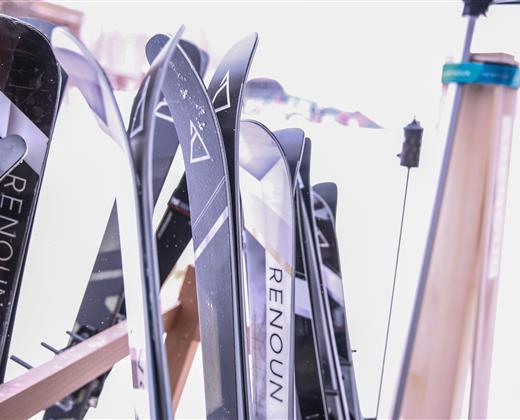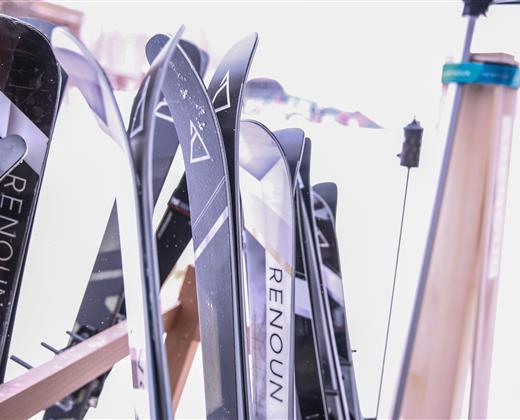 Stowe Mountain Resort Retail Outlets
Please note, the following retail outlets are managed by Stowe Mountain Resort. Purchases cannot be charged to your guestroom.
Hours may vary for holiday periods.
Front Four Retail/Rental/Repair

Open Daily: 7:30am – 5:00pm

Spruce Rental

Open Daily: 7:30am – 5:00pm

True North Retail

Open Daily: 8:00am – 6:00pm
Rental is open weekends only by reservation

Spruce Peak Sports Retail

Open Daily 8:00am – 4:30pm

First Chair Retail (Opens on 11/26)

Open Daily: 9:00am – 5:00pm

Stowe Logo (Opens 11/26)

Sunday – Thursday 11:00am – 5:00pm
Friday & Saturday 9:00am – 6:00pm

Stay Tuned Repair (Weekends only)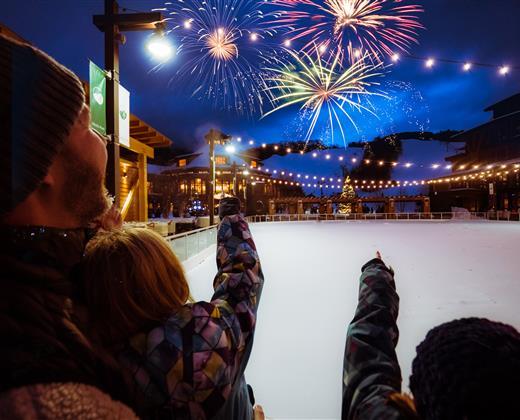 Winter is the season of celebrations. From the magical Spruce Peak Lights Festival to an elegant New Years Day brunch, we're working hard to craft celebrations and events for unforgettable winter vacations all season long.
Schedule of offerings subject to change.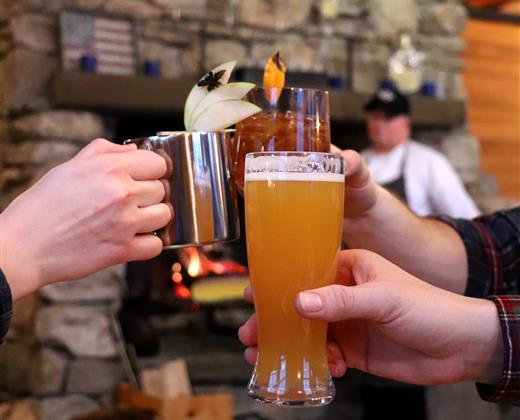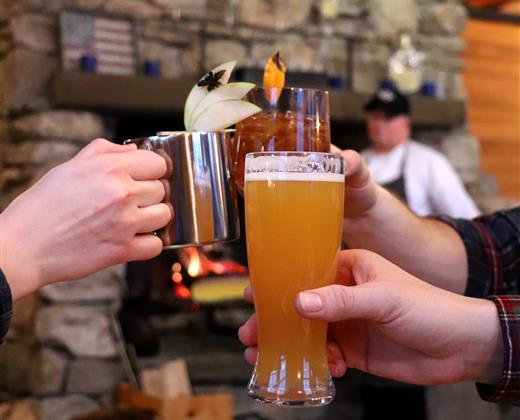 Every Saturday Evening
Live Music at the WhistlePig Pavilion
Join us for a celebration of the season featuring live local music every Saturday and select holidays 2:30pm-7:00pm.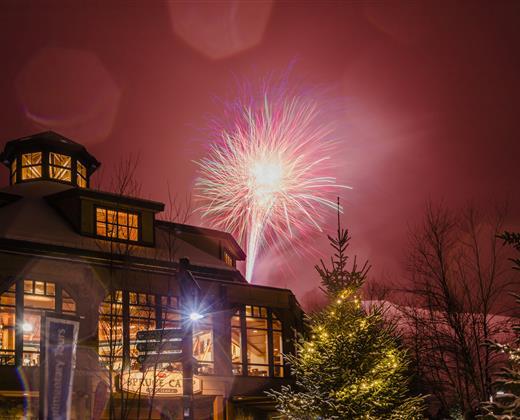 December 18, 2021 - Spruce Peak Lights Festival
Celebrate winter and the festive holidays with a day full of beautiful performances and family friendly activities, all capped with a firework display and tree lighting ceremony.
Featuring special performances by Ice Dance International:
Celebrate the Spruce Peak Lights Festival with IDI in this fun and entertaining show that will inspire you with its blend of artistry and athleticism. The IDI company will skate to a mix of contemporary and classic songs In this colorful 15 minute show. Join IDI and be wowed to get out and skate!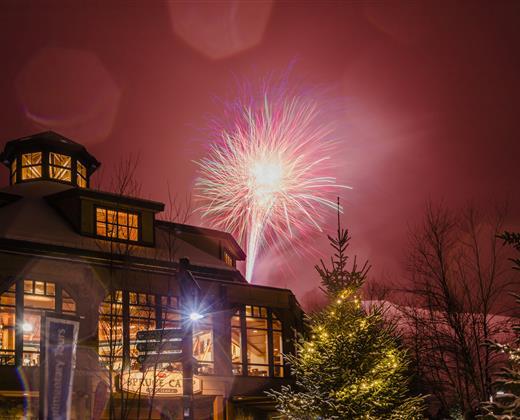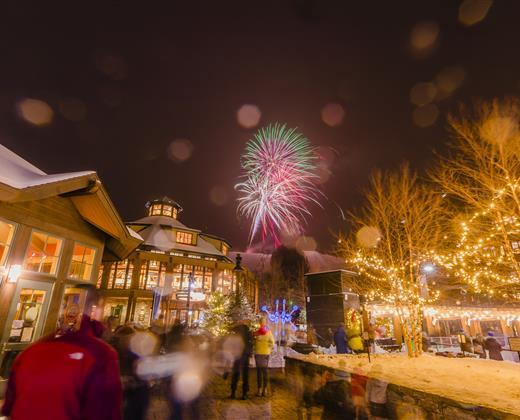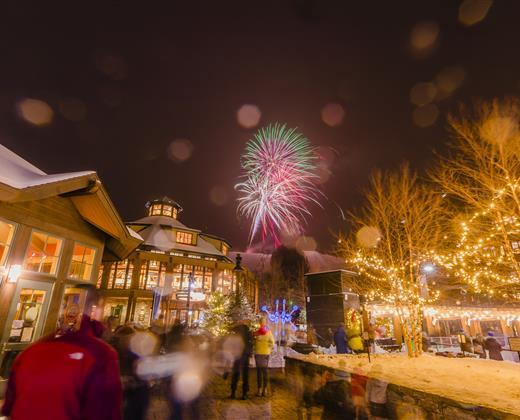 December 31, 2021 - New Year's Eve Celebrations
Ring in the 2022 with an evening full of celebrations, featuring the famous torchlight parade, fireworks, live music, and more.
Full schedule of celebrations coming soon.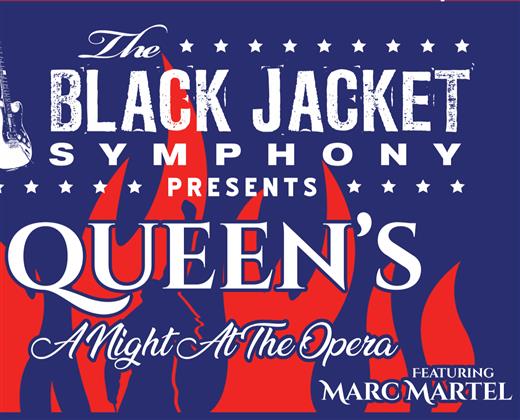 January 1, 2022 - Black Jacket Symphony presents Queen's "A Night at the Opera" with Marc Martel
The Black Jacket Symphony makes its Vermont debut at Spruce Peak performing Queen's "A Night at the Opera" featuring Marc Martel live on Saturday, January 1st at the Spruce Peak Performing Arts Center. Known for their incredible live recreations that have been viewed millions of times on YouTube, the Black Jacket Symphony will perform this entire classic rock album live—note for note, sound for sound—plus a full set of Queen's greatest hits!
Member and Owner Presale begins Wednesday, November 10th at 10AM
On sale to the Public Friday, November 12th at 10AM
Tickets are $35-45 at www.SprucePeakArts.org.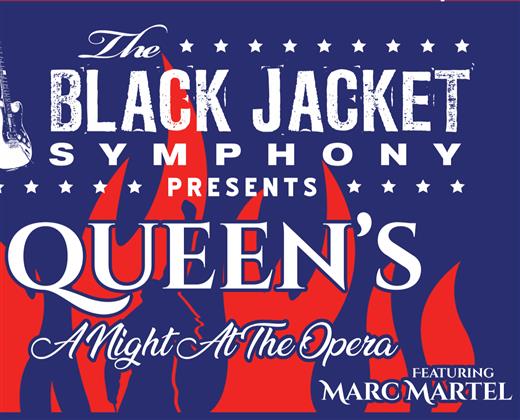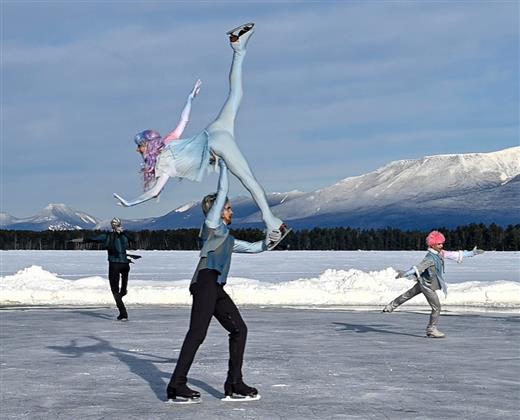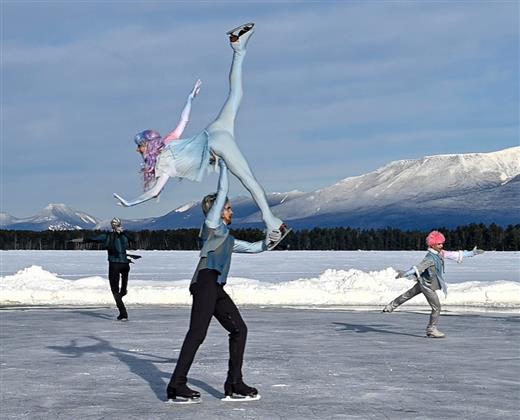 February 19, 2022 - Solstice: An Ice Dance International show for Families and Kids
Spruce Peak is excited to welcome back Ice Dance International for a day of inspiring performances at the start of our President's Week celebration.
Join IDI for a winter fantasy on ice! After a storm, Eira finds herself in a new world and goes on a journey. Along the way she meets Plip and Plop, discovers a magical winter rose and encounters Loki, who is set to destroy her powers. Solstice has a commissioned score by Jonathan Galland , is 13 minutes long, and will delight kids and adults of all ages.
Full schedule of performances and additional President's Week celebrations coming soon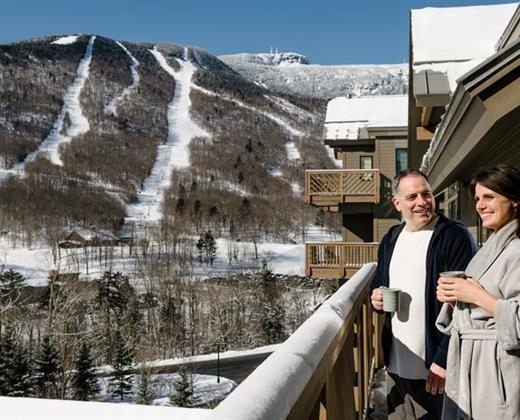 10
Book Your Winter Getaway
Located steps from the slopes, The Lodge at Spruce Peak is Vermont's only ski-in, ski-out luxury lodging destination. With over 250 warm and welcoming guestrooms, suites, and residences, The Lodge offers convenience, comfort, and unforgettable experiences with every stay.
We are also proud to welcome any and all canine members of your family at The Lodge. There is a Dog-Fee of $125 per stay, which includes welcome amenity of a dog bed and chew toy at check in. We ask for owners to be respectful of other guests and make sure your four-legged friends are properly supervised and not in areas where food is served. (The Penthouses and Luxury Residences cannot accommodate travelers with dogs)
Lodge Guestrooms & Suites
Newly refurbished in Spring 2021, The Lodge offers a variety of lodging options, ranging from cozy Studio Guestrooms to spacious 3-bedroom suites.
Most guestrooms include a gas fireplace, private terrace, and marble-finished bathroom with soaking tub. Suites include full, gourmet kitchens, and in-unit laundry. All guestrooms include luxury bedding, free WiFi, and newly upgraded LED flat-screen TVs.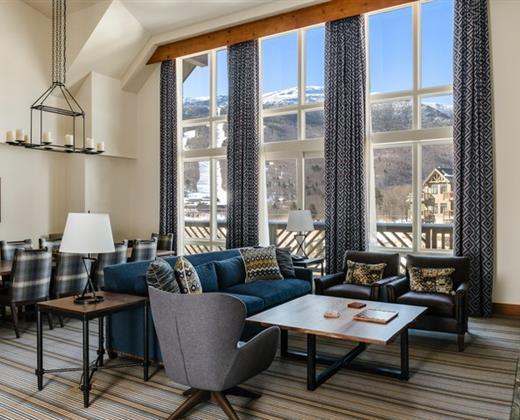 The Penthouses at Spruce Peak
The Penthouses are an exclusive residential offering within the upper floors of The Lodge, offering guests a private check-in and concierge. With up to 2,500 sq. ft., these spacious penthouses can accommodate several families, and feature full gourmet kitchens with living and dining space, private balconies, and floor-to-ceiling windows with sweeping mountain views.