Stowe's Adaptive Athletes Green Mountain Adaptive Sports Makes Skiing And Riding Possible For All Vermonters.
"Jack! Jack! Jack!" Jack Clark can still hear the cheers of his fifth grade classmates ringing out in the cold mountain air as he soared—weightless—through time and space. After the powder settled around his bi-ski (a bucket-style seat supported by two skis, used by athletes with limited mobility), he looked back at the dazzlingly white mound of snow behind him, elated. It was official: He'd conquered the giant ski jump on Sunny Spruce! That was one day he would never forget
Magical moments like this, of course, happen all season long at Stowe Mountain Resort for countless skiers and riders. But it's thanks to the non-profit Green Mountain Adaptive Sports (GMAS) that many athletes with disabilities—including Clark, who was born with cerebral palsy—can experience them too.
The 101 on GMAS
Although GMAS has a long history (involving numerous name changes), the CliffsNotes version is this: About 15 years ago, coaches at the Stowe Ski & Snowboard School realized there were local athletes who couldn't financially afford the mountain's adaptive offerings. So, they came up with a plan to help.
"At that point, the adaptive program was quite small and had almost no equipment," says longtime GMAS president Cynthia Needham. By 2010, what is now known as Green Mountain Adaptive Sports was officially founded. Its mission: to support Vermonters living with physical, cognitive and developmental disabilities by sponsoring their participation in adaptive sports and recreational activities. Beyond skiing and riding, they offer swimming, kayaking, indoor rock climbing and more.
Annually, GMAS awards roughly 50 scholarships to people throughout Vermont, with half of those scholarships going to skiers and riders at Stowe. Eath athlete receives a complementary Epic Pass, use of adaptive equipment, and season-long private lessons with a coach from the Stowe Mountain Resort Adaptive Program. (Stowe Mountain Resort has about 20 coaches trained in at least one adaptive subspecialty, such as blind guiding or sit skis
GMAS participants span in age from four years old to 80-plus, and many are students at local schools. With the help of GMAS, they are able to join their classmates on the slopes as part of "Friday Program," where school kids are shuttled to the mountain on Friday afternoons throughout the winter.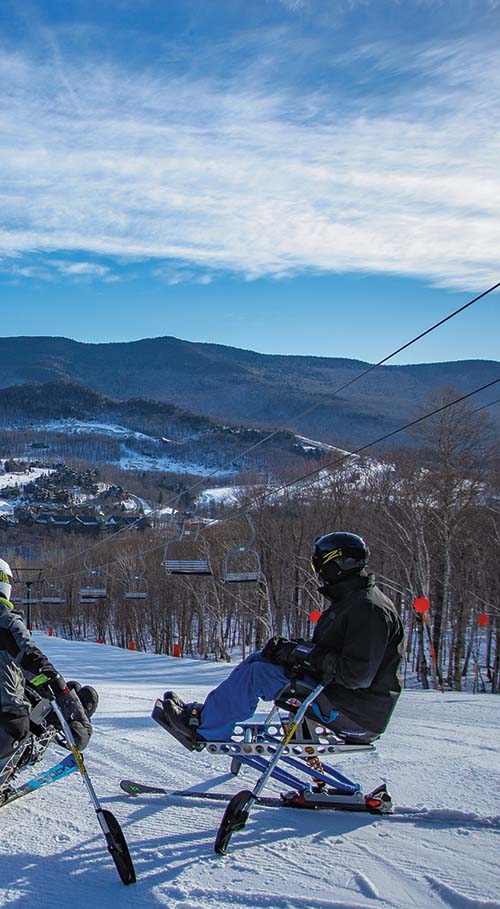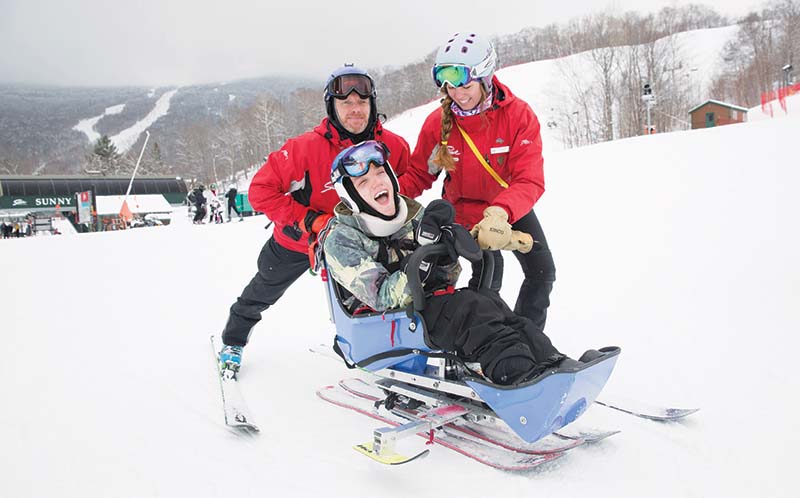 Adaptive Gear Guide
Check out some of the ingenious equipment GMAS athletes use on the slopes.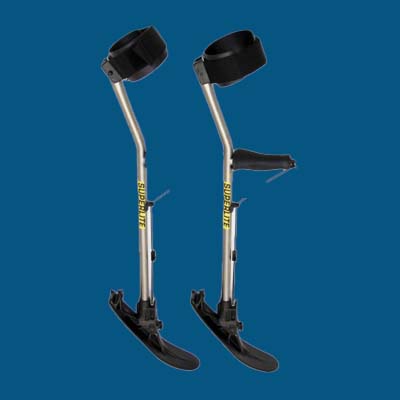 OUTRIGGER
Essentially a small ski attached to a pole with a hand rest and cuff, this tool helps skiers and riders who have trouble with balance to turn, control their speed, and stop.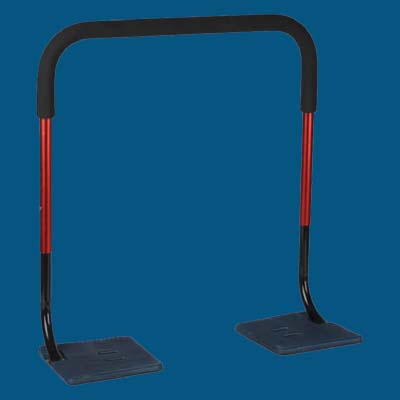 SNOWBOARD RIDER BAR
This bar is connected to the toe edge of the snowboard, so the rider can hold on for support. An instructor can also attach a tether to the rider bar to help control the board.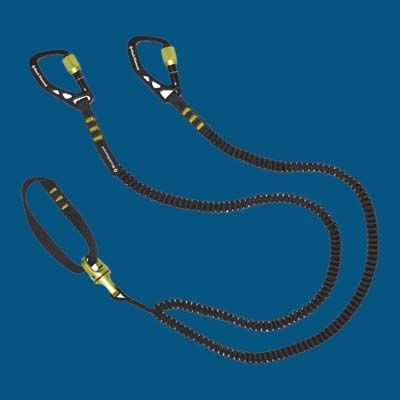 TETHERS
Tethers attach the instructor to the student or the equipment, allowing the instructor to control speed and direction, and initiate turns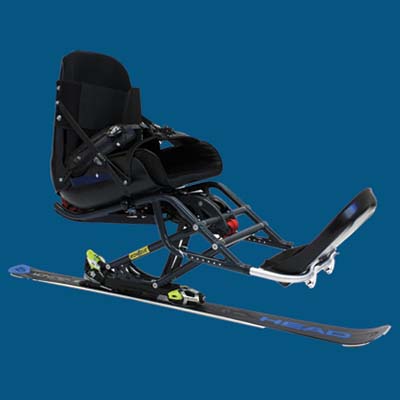 MONOSKI
Also called a sit ski, the skier sits in a bucket-like seat over a single ski. Since it's independently skied (the athlete uses outriggers to navigate down the mountain), it works well for people who have full use of their upper body and the ability to balance.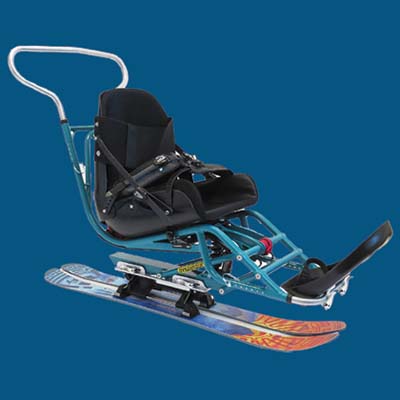 BI-SKI
It's similar in style to a monoski, except the seat is perched on two skis instead of one, and is guided by a coach with tethers from behind. It's ideal for skiers who have lower extremity and/or trunk weakness and difficulty standing and balancing while in motion, including athletes with spinal cord injuries and cerebral palsy.
Inside Adaptive Snow Sports
Compared to a typical ski or snowboard lesson, adaptive lessons involve a lot more planning, says Carrie Dessureau, who has taught adaptive skiing at Stowe for the last 10 years. Athletes must fill out a thorough questionnaire to provide the coach with as much information as possible. "This allows the coach to start thinking about what equipment they might need and prepare any extra tools that would support learning," Dessureau says.
For example, coaches may use a communication board for non-speaking students to express their needs. Those with autism often get written visuals such as "STOP/GO" and "FIRST/THEN" signs. Students who require extra balance support are typically given outriggers instead of traditional poles. People in wheelchairs use a sit ski.
"Finding out what the student is interested in creates an opportunity for us to craft games and activities to help get them skiing," Dessureau says. "We have worn capes, sung songs, and had magical creatures like fairies and trolls hide treasures along the trail."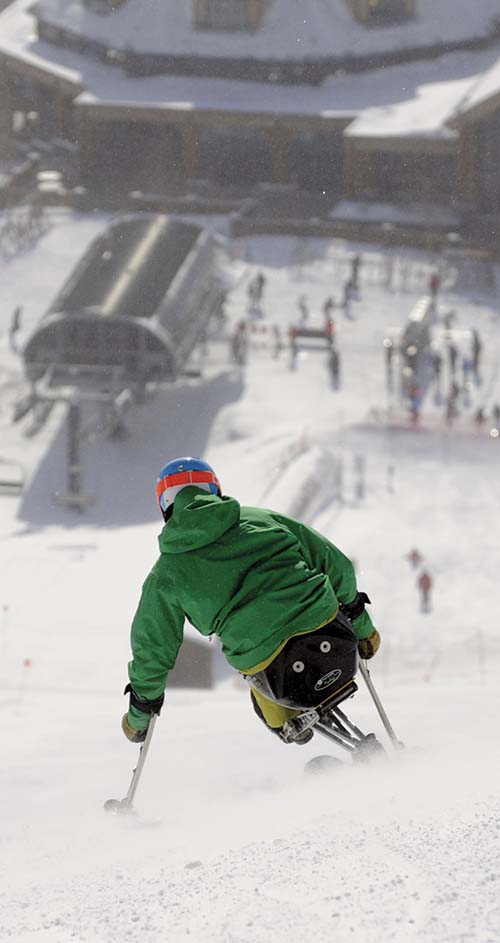 A Game Changer
Always flying, flying at top speed on his bi-ski, Clark (who we introduced at the beginning of the story, nailing a ski jump) loves the sensation of freedom skiing gives him. He received his first GMAS scholarship when he was in first grade. Now 22, he has a decade and a half of hitting Stowe's slopes under his belt.
His skiing has progressed in leaps and bounds over the years. He explains that when he started out, the coach directed the bi-ski, doing most of the work for him.
"Now I've learned to be a technical skier, not just a one-dimensional skier," Clarks says. "My instructor is still tethered to the bi-ski, but I listen for her commands to lean and move the weight of my body to the left or right, allowing me to be the skier. It's much more fun!"
Rushing down one of her favorite runs, Toll Road, darting between spruce trees sparkling with freshly fallen snow, Jennifer Jones, 53, can relate. "Coming down the mountain is one of the greatest feelings in the world. I feel free," she says.
For Jones, who has a fused spine and balance issues, skiing used to be a spectator sport. "My husband has skied for 40-plus years, while I would just hang out in the lodge," she says.
But last year was different; she received her first GMAS scholarship. "GMAS has been a game changer," Jones says. "The coaches have helped me overcome my fear of skiing and doubting my ability."
Eileen Casey, 62, also found a new sense of confidence skiing with GMAS. She had been a die-hard skier until 2006, when her leg was amputated below the knee as a result of bone cancer. She wondered if she would ever ride a lift again.
But in the winter of 2008, she got a prosthetic leg—and a GMAS scholarship. Heading back to the "bunny hill" for the first time, she recalls: "I was frozen in fear." When her two adaptive coaches encouraged her to just go for it, she took a few deep breaths, looked at the beautiful homes lining Inspiration, and prayed she wouldn't end up crashing into one of them.
Then, before she knew it, she was skiing."I was crying tears of joy and yee-hawing and woo-hooing," Casey says.
Every season since,she has skied at Stowe with GMAS. "I just shove my prosthetic leg into the ski boot and click in," she says. "They say your muscle has memory, and it's true! Skiing is the only place I really feel able bodied. I just feel like me: I'm back!"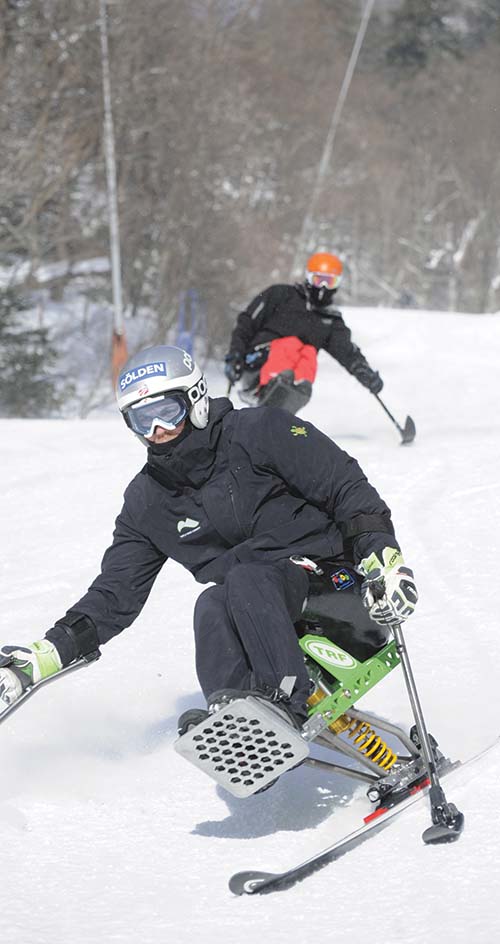 All Together Now
What's next for GMAS? "We're hoping to develop inclusive programming," says Needham. "We are focusing on ways for adaptive athletes to participate more with their peer groups." Think: Coaches encouraging family and friends to get involved in an athlete's lessons, and school groups integrating GMAS student athletes in mainstream ski and ride programs.
"Jack Clark is a classic example," Needham says. "When I was coaching him, we tried to organize his lessons during the school's Friday Program, and all his little buds would come ski with him. That made such a difference; he just lit up."
Maybe this season you'll catch Clark—and other GMAS athletes—soaring by you on the slopes.