From special celebrations, to corporate meetings, Get people excited about your next event by holding it at The Lodge at Spruce Peak. With more than 56,000 square feet of meeting spaces overlooking scenic mountain vistas, guests will be able to soak in stunning views as they hear fresh ideas, engage with one another and network in a supremely beautiful slopeside location that takes teambuilding to never-imagined heights. Our guides are eager to welcome your group and help you embrace your inner mountaineers.
---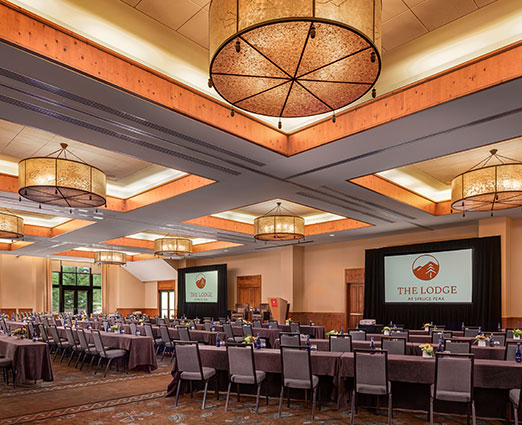 Tamarack Ballroom
At a grand 5,959 square feet, the Tamarack Ballroom is our largest event space within the Lodge. Ideal for large presentations, banquets, or team-building activities, the Tamarack Ballroom can also be separated into 5 smaller rooms, making it easy to customize to your needs. Easy access to our stunning wrap-around terrace means guests can transition easily to outdoor cocktail receptions without missing a thing.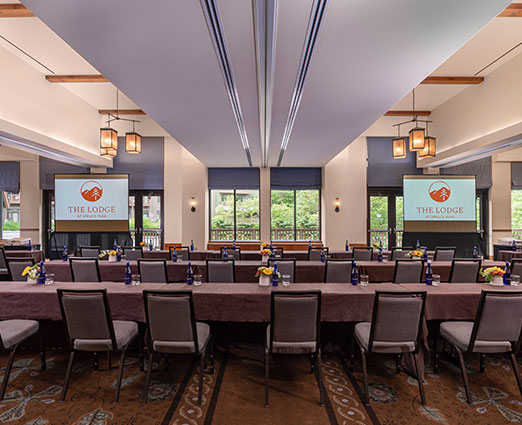 Junior Ballroom
The large, floor-to-ceiling windows of the Junior Ballroom provides reception or meeting plenty of natural light, as well the ideal backdrop of breathtaking views of Mount Mansfield and the terrace. This smaller, yet equally grand, ballroom measures 2,448 sq ft is perfect for break-out sessions or smaller dinner receptions. Direct access to the terrace opens up a true mountainside event experience for you and your attendees.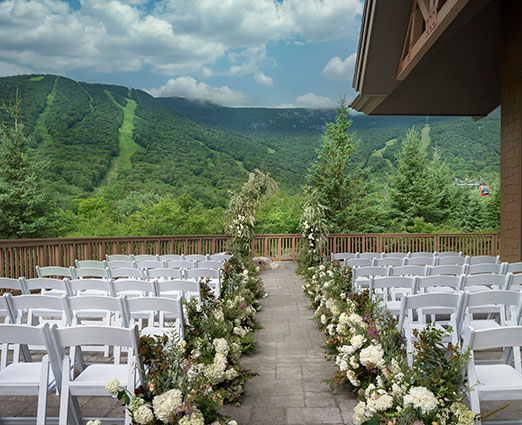 The Terrace
The stunning views of Vermont's tallest point, Mount Mansfield, create the unique and memorable backdrop for cocktail receptions or outdoor dinners. The Terrace provides direct access to the Junior Ballroom in case of weather. A built-in fire pit brings a warm and special atmosphere to any event – ask about our s'mores kits!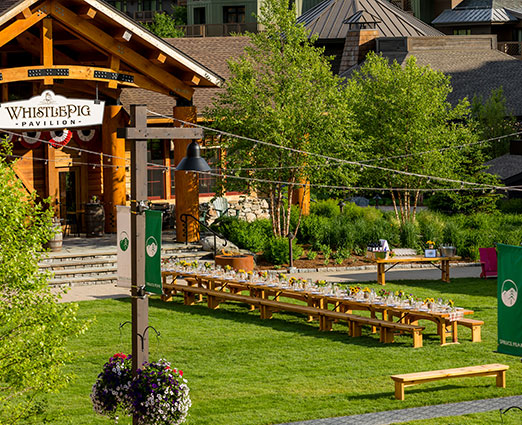 Spruce Peak Village Green
Located directly behind the Lodge, this beautifully manicured green space is ideal large outdoor events, from concerts to dinners, and is spacious enough to host multiple events at once - perfect for team buildng activities or events for families! Inquire about our tent-rental partners for weather-proof events and pristine decor options.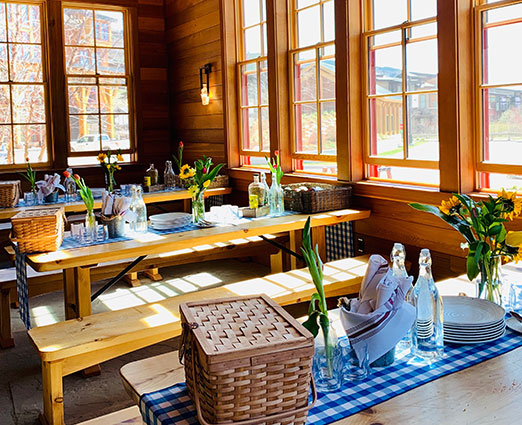 The Pavilion
Located at the head of the Spruce Peak Village Green, just steps from the Lodge, this outdoor pavilion hosts a variety of events all year round. The beautiful wooden post and beam construction are complemented by unique masonry and a spacious terrace, and built-in bar makes it ideal for cocktail receptions or hospitality breakouts.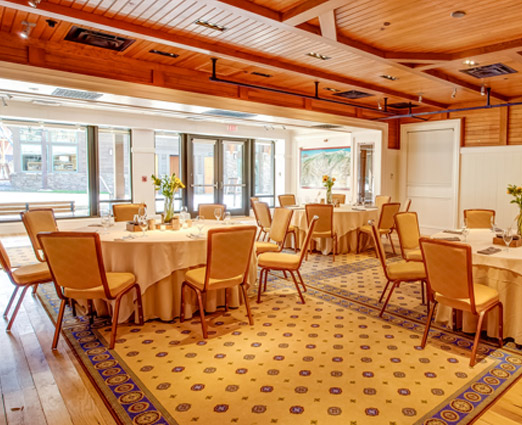 White Pines
This warm, intimate space is located directly within The Lodge, and is available seasonally for small receptions, board meetings, or hospitality breakouts. Direct access to both The Lodge and the Village allows your attendees to easily transition from work to play, and back again.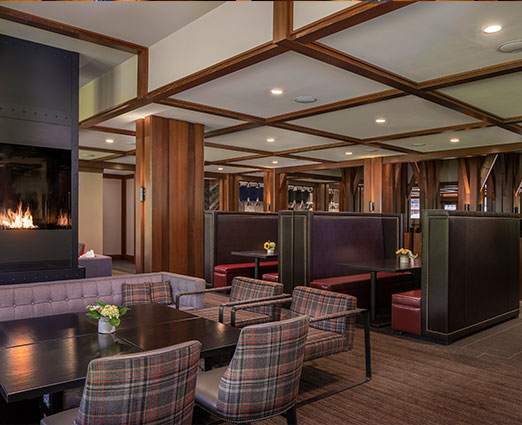 Alpine Clubhouse
Located within The Club at Spruce Peak, the Alpine Clubhouse features elegant wood accents and floor-to-ceiling windows overlooking full views of Mount Mansfield and the Village Green. A bright and inviting space, the Alpine Clubhouse is perfect for intimate receptions or client dinners.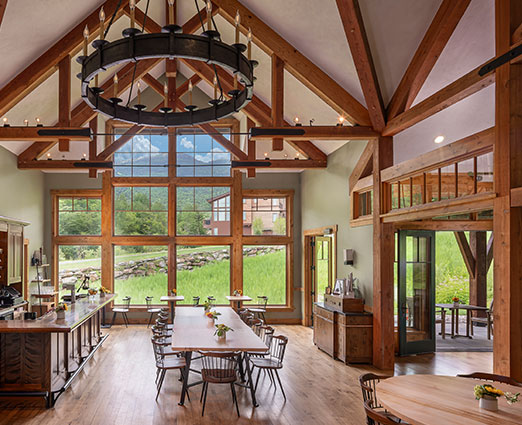 The Cottage
Serving as the clubhouse to the exclusive Mountain Course at Spruce Peak, this intimate and comfortable space is the ideal venue for small receptions and celebrations. Featuring a fireplace and plenty of outdoor patio space, the Cottage provides a private atmosphere, while located only a short distance from the Lodge and our other amenities.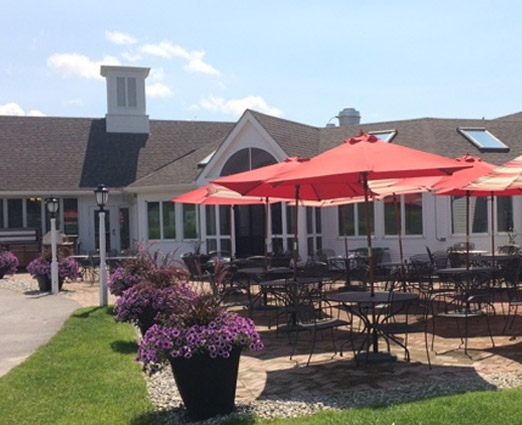 Kirkwood's
Only a short drive from The Lodge, Kirkwoods serves as the clubhouse for the Stowe Country Club. This warm and casual environment is surrounded by vast views of the Green Mountains and is perfect for smaller, more intimate events. Inquire about custom golf tournaments and events.