Coastal New England meets Vermont localvore at our newly restructured Solstice Restaurant, combining the best of Solstice and Hourglass Lounge, this summer. Serving elevated bistro fare paired with local brews in a safe, socially distanced environment with outdoor seating or in-room delivery options available
Reservations are strongly recommended. Please call Solstice restaurant at 802.760.4735.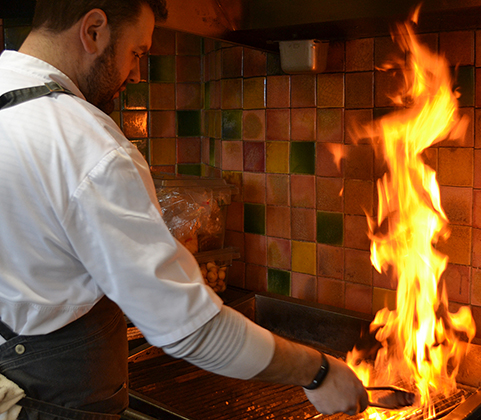 HOURS

Summer Hours: Open Daily 7:00am-10:00pm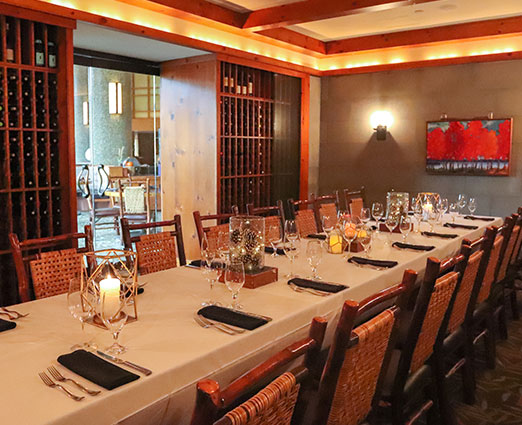 Solstice Private Dining Room
For large parties inquire about the Solstice Private Dining Room. Perfect for birthday parties, corporate dinners, or family reunions - this private and comfortable space allows for dedicated service, including sommelier advised wine pairing.

Reservations required. Call 802-760-4735 for details.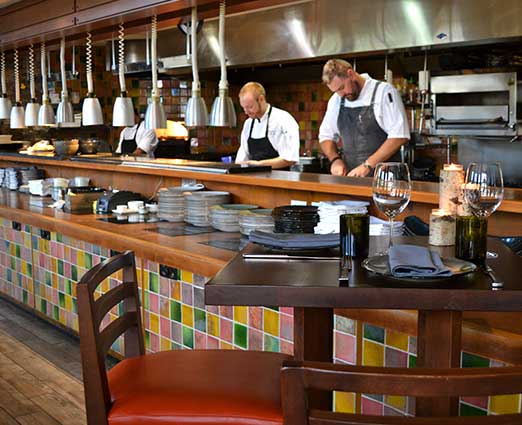 Solstice Chef's Table
Limited Availability Must be booked 24-hours in advance
For a unique and one-of-a-kind dining experience Solstice offers up the best seats in the house for their Chef' Table dinner. Sit back and let our chefs create a personalized menu based on your preferences and the freshest ingredients in house. Complete with professional sommelier wine-pairing for each course.

Please call 802.760.4735 for reservations. Full dinner takes upwards of 3-hours to complete.
Menus
Signature Items
Pastry Basket | 12
Freshly-Baked Rotating Pastry Basket
Chef Tim's Lemon Ricotta Pancakes | 14
Blueberry-Cardamom Compote, Powdered Sugar, Thyme
Salmon Avocado Toast| 18
Smoked Salmon, Crushed Avocado, Red Onion, Capers, Lemon, Greens, Grilled Sourdough
Healthy Start
Fresh Fruit Plate | 14
Seasonally ‐ Inspired Selection
Chia Seed & House Granola Parfait | 12
Seasonal Fruit Compote, Toasted Coconut, Maple
From the coop
The Nosedive | 15
Thick Applewood Bacon, Over Medium Egg, White American, Maple‐Chipotle Aioli, Warm Mansfield Potato Bun, Home Fries
Vermont Farm Fresh Eggs | 16
Two Eggs Cooked to Order, Choice of Applewood Bacon, Maple Pork Sausage, or House Turkey Sausage.
Served with Crushed Breakfast Potatoes & Choice of Toast
Breakfast Tacos | 15
Crispy Bacon, Scrambled Eggs, Cheddar, Cilantro, Pico de Gallo, Breakfast Potatos


Libations
Mimosa | 11
Choice of orange, strawberry, peach, or apple cider
The Lodge Bloody | 13
Silo Vodka, Wasabi, Pickled House Vegetables, Butcher Cut Black Pepper
Maple Irish Coffee | 12
Jameson
CONSUMING RAW OR UNDERCOOKED MEATS, POULTRY, SEAFOOD, SHELLFISH, OR EGGS MAY INCREASE YOUR RISK OF FOODBORNE ILLNESSES PLEASE INFORM YOUR SERVER IF YOU HAVE ANY ALLERGIES OR DIETARY RESTRICTIONS

WE ARE HAPPY TO ACCOMMODATE ANY SITUATION WITHIN OUR CONTROL
Soups & Salads
New England Clam Chowder | 12
Crispy Pork, Chive Biscuit
Sweet Gem Caesar (GF, V) | 15
Cherry tomato, Shaved Radish, Parm Crisp, Crouton
Roasted Beet Salad (GF, V) | 15
Baby Kale, Whipped Feta, Pistachio, Puffed Farro,
Smoked Honey Vinaigrette
Enhance Any Salad:
Free Range Chicken Breast | +6
Grilled Garlic Gulf Shrimp | +8
Impossible Patty | +10
House Marinated Steak Tips | +12
To Start
Pulled chicken nachos | 16
VT Cheddar sauce, braised chicken, pico de gallo, jalapeno, avocado crema, cilantro
Jumbo Wings | 16
Free range chicken, house bayley blue cheese, choice of sauce: Maple buffalo, Golden BBQ, or house dry rub
Crispy Brussel Sprouts (V) | 13
smoked maple, feta fondue, crunchy seeds, apple
Lobster Flatbread | 13
spring peas, asparagus, roasted garlic, pickled chili honey
Smoked VT Brisket Dumplings | 12
Maple shoyu, fried onions, chili crisp, cilantro
Main Jonah Crab Cake Sliders | 15
arugula, tomato confit, aioli
VT Meat & Cheese Plate | 24
2 Each, House Pickles, Daily Spread, Grilled Bread
Handhelds
Served with choice of fries or side salad
Spruce Smash Burger | 12
4oz custom grind, Springbrook Raclette, Iceberg, House Pickles, Spruce Sauce, Martin's Potato Bun
Add Bacon | +3
Double Patty | +7
Pastured Egg | +2
Sub Impossible Patty | +5
Fried Chicken Bun | 14
Crispy Chicken, General Tso's Sauce, Smoked Peanut Slaw, Potato Bun
Steak Sandwich | 17
Shaved Ribeye, grilled onion, provolone, maple bourbon teriyaki, arugula, kewpie mayo, ciabatta
Grilled Fish Tacos | 16
Daily sustainable fish, avocado mousse, pickled onion, cabbage, cilantro, corn nuts, vermont tortilla
Spruce Peak Clam Roll | 17
Ipswich Whole belly clams, meyer lemon tarter, proper new england roll
Large Plates
Steak Tips Frites | 26
garlic-herb frites, whistlepig marinade
housemade tagliatelle | 20
wild boar ragu, pecornio, evoo
Roasted local chicken breast | 22
Israili cous cous, baby carrots, english peas
Fish & Chips | 21
sustainable daily catch, house tartar Sauce, grilled lemon, switchback batter, herb fries
rotating dinner specials starting at 5pm



BEER & CIDER
ZERO GRAVITY - Green State Lager $10
4 QUARTERS - Flood of Sunshine $12
THE ALCHEMIST - Heady Topper $12
THE ALCHEMIST - Focal Banger $12
LAWSONS FINEST - Sip of Sunshine $10
LOST NATION - Vermont Pilsner $10
SHACKSBURY - Vermonter $10
STOWE CIDER - Tips Up $12
STOWE CRAFT SELTZER - Cranberry Lime $8
FIDDLEHEAD - Hodad Porter $10
FIDDLEHEAD - Second Fiddle IPA $12
NARRAGANSET $6
BUD LIGHT $7
CORONA $8
HEINEKEN $8
AMSTEL LIGHT $7
STELLA ARTOIS $8
ALLAGASH WHITE $8


COCKTAILS
PEACH MULE $12
Silo vodka, peach puree, lime juice,
ginger beer
FUEGO MANGO MARGARITA $13
reposado, agave, mango, lime, chili pepper,
firewater tincture
SPRUCE PUNCH $12
Orange, Pineapple, Mango Puree,
Mint, Rum
FLORAL GIN & TONIC $14
Bar Hill Gin, Lavender, Lemon Slice
LEMON SPRITZ $12
Prosecco, Limoncello, soda
Lemon Wheel
TASTING FLIGHTS
RÉMY MARTIN $200
VS, VSOP, and Louis XIII
MACALLAN $113
12 Year, 18 year, and 25 year
WHISTLEPIG $38
10 Year, 12 Year, and 15 Year
DON JULIO $28
Reposado, Anejo, and 1942
WINES
SPARKLING
CAVES NAVERAN, BRUT NATURE VINTAGE. Catalonia, Spain G |$11 B |$44
ROSE/WHITE
ROSE. WHISPERING ANGEL COTES DE PROVENCE. Provence, France G |$19 B |$76
ROSE. #LOU BY COMMANDERIE DE PEYRASSOL, Provence, France. G |$12 B |$48
SOAVE CLASSICO. PIEROPAN, veneto, italy G |$12 B |$48
SAUVIGNON BLANC. GREYWACKE, Marlborough, New Zealand G |$17 B |$68
RIESLING. SELBACH "INCLINE", Mosel Valley, Germany G |$11 B |$44
PINOT GRIS. ANNE AIME, Willamette valley, oregon G |$15 B |$60
CHARDONNAY. ROLAND LAVANTUREUX, Chablis burgandy, france G |$18 B |$72
CHARDONNAY. BREA, Saint lucia highlands, california G |$15 B |$60
CHARDONNAY. RAMEY, Sonoma coast, California G |$21 B |$84
RED
PINOT NOIR. STAFFORD HILL, Willamette Valley, Oregon G |$15 B |$60
PINOT NOIR. ROBERT GILBOURG "CLOS PRIEUR", cote d'or, burgandy G |$20 B |$80
TEMPRANILLO. BODEGA ONTANON "CRIANZA" rioja, spain G |$12 B |$48
NEBBIOLO. GIOVANNI ROSSO LANGHE, piedmont, Italy G |$18 B |$72
CABERNET SAUVIGNON. CAMP ALLE COMETE, Tuscany, italy G |$19 B |$76
CABERNET SAUVIGNON. CAMP, Sonoma county, California G |$15 B |$60
BORDEAUX. CHATEAU COUTET saint emilion, france G |$24 B |$96
DESSERT
8-LAYER CHOCOLATE GATEAU
Bittersweet Fudge, Salted Caramel, Candied Bing Cherries 10
APPLE SKILLET
Local Apples, Oat Streusel, Vanilla bean ice Cream 10
NEW ENGLAND STRAWBERRY SHORTCAKE GF
Macerated Wild Strawberries, Chantilly, Meringue Sponge, Ginger Rhubarb Compote 10
LEMON RICOTTA CAKE
Grilled Nectarine, Spiced Anglaise, Raspberry Sorbet 10

Email Club
Stay up to date with news about Spruce Peak and exclusive offers for your next visit.