Trivia night typically conjures up dimly lit, beer-soaked pubs. Well, meet Spruce Peak's elevated version, which takes place outside on the Village Green every Tuesday from 6-9 pm throughout the summer. You can sip a local craft microbrew and sink your teeth into a heavenly slice of pizza, while brainstorming the answer to questions about topics from Game of Thrones to rock 'n roll. The winners score a gift card to the Lodge at Spruce Peak. Spruce Peak launched trivia night last summer during the pandemic since it was a safe way to socialize while remaining socially distant, and it soon developed a legion of fans—thanks in large part to the standout pizza.
"I am obsessed with pizza, and started experimenting with different varieties," says Sean Blomgren. "Detroit-style pies are super popular right now up and down the coasts and in the Midwest, but it lacks representation in New England." So he vowed to change that, by delivering Detroit flavor to the Green Mountains.
A cousin of Sicilian pizza, Detroit pizza is traditionally cooked in industrial steel pans used during auto manufacturing, yielding a thick, rectangular crust that's cut into square pieces.
Even though Vermont is halfway across the country from Detroit, the light and airy crust is the perfect canvas to show off our farm-fresh local ingredients.
Backwards Pizza
With Detroit pies, the order in which you layer on the ingredients is reversed. The cheese goes first, followed by the sauce.
"You sprinkle cheese directly on top of the dough, and spread it all the way to the edges," Blomgren says. "This yields a caramelized cheese crust and adds an awesome textural component." In the Motor City, they use brick cheese, a mild cheese from Wisconsin. At Spruce Peak, Blomgren opts to scatter on local Cabot white cheddar and Monterey jack.
The sauce comes next. "Normally, you wheel tomato sauce onto dough using a ladle," Blomgren says. "But since the cheese goes on first with Detroit pizza, you ladle it on in two or three lines, like racing stripes down the middle."
What's more, because the sauce isn't evenly spread, the components of each bite vary—some contain sauce and cheese; others have just cheese. "Eating a slice of Detroit pizza is more of an adventure than a standard pizza, where the sauce distribution is consistent," Blomgren says.
Often, toppings are arranged underneath the cheese and sauce, though Blomgren prefers to scatter them on last. "I like the texture from putting the toppings on top—the crispy pepperoni edges, charred veggies, etc.," he says. "It's in the name too; they're not called 'stuffings.'"
The Art of the Topping
Blomgren urges people to get creative. "Don't pigeonhole yourself into sticking to the standard ingredients you'd see at your local pizza joint," he says. "For example, beets and goat cheese are always tasty—why not put them on a pie?" In true Vermont farm-to-table form, Blomgren also makes a point to select seasonally driven toppings and flavors that change weekly, depending on what he can find fresh from local farmers.
Better Together
Nothing offsets a sizzling pie like a heaping pile of fresh greens. "A contrast in temperature, texture, and acidity is what makes food pairings successful," Blomgren says. "Crisp, tart, cool salad is the complete foil for pizza, which is unctuous, hot, and savory."
Another perk of salad: "Having something green on the side makes you feel less guilty about eating four slices of pizza!" Blomgren says.
Build Your Own Pizza Party
Below, Blomgren shares the recipes to recreating his hit Detroit pie at home (you can also order takeout on Tuesday evenings), and a blueprint for how to host a bang-up pizza and salad bar dinner party. "This is a fun gathering because it gives guests the opportunity to customize and experiment with ingredients," Blomgren says. "Plus, it's minimal stress."
The most time-consuming part is making the dough and setting up the toppings. Then, people can DIY before you throw the pizzas on the grill or in the oven.
---
Classic Detroit-Style Pizza
Makes one 13x9 pizza.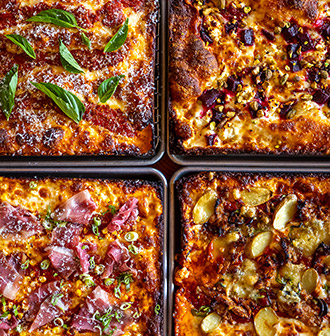 Pizza Dough
1 1/3 c. (180 g) bread flour
1 1/3 c. (180 g) "00" flour or all-purpose flour
1 tsp. yeast
1 tsp. sugar
1 c. + 2 Tbsp. cold water
2½ tsp. salt
1 Tbsp. + ¼ c. extra virgin olive oil
Assembly
2 c. Monterey jack, shredded
1 c. white cheddar, shredded
10 oz. store bought or homemade pizza sauce
Parmesan cheese
Assorted toppings (see below)
Using stand mixer with dough hook, mix bread flour, "00" flour, yeast, sugar, water, and 14 g olive oil until combined. Mixture will look shaggy. Set timer for 10 minutes and let dough rest.
Add salt and mix for 10 minutes on speed 2. Place dough in oiled bowl and cover. For best results, proof overnight in the fridge. (If needed same day, let proof at room temperature until double in size.)
The next day, pour ¼ c. olive oil into 13x9x3 baking pan or 10-inch cast iron skillet. Coat pan entirely and pour out excess oil. Place chilled dough ball inside. Stretch and press the dough into a rectangle shape. Try to fill the pan to the corners. If the dough snaps back too much, wait 30 minutes for the gluten to relax and try again. Don't force the dough or it could tear. Once the dough is stretched to the corners, cover and let rest at room temperature for 30-60 minutes.
In the meantime, heat oven to 500°. Mix shredded cheeses together and sprinkle over dough.
Using a large spoon, ladle three stripes of sauce on the pizza. Arrange toppings evenly across the top. Bake 12-14 minutes, making sure to pop air bubbles and rotate pan occasionally for even cooking. Pizza is done when edges are golden brown and dough is cooked through in the middle.
Use a spatula to lift pizza from pan and place on a cooling rack. Top with fresh parm and extra virgin olive oil. Slice into 8 square pieces.
---

Salad Bar Buffet
Select several toppings from the following categories to put out, so guests can sprinkle them onto their salad. Wondering how much to serve? Two cups of greens and one ounce of each topping per person.
Greens: Chopped romaine, chopped iceberg, mesclun
Vegetables (roasted, grilled, marinated, raw, or pickled): Asparagus, avocados, beets, cucumbers, peppers, carrots, broccoli, peas, red onions, celery, radishes, olives, corn, tomatoes
Grains: Couscous, farro, quinoa, croutons
Seeds and nuts (raw,toasted, or candied): Pepitas, sunflower seeds, almonds, pecans, walnuts, pine nuts
Dried fruit: Cranberries, cherries, raisins, currants
Vegetarian protein: Hard-boiled eggs, beans, edamame, tofu
Meat: Chicken, turkey, steak, ham, bacon
Fruit: Grapes, oranges, apples, strawberries
Cheese: Goat, blue, mozzarella, cheddar
Salad Dressings
Each dressing serves 6.
BUTTERMILK HERB
½ c. buttermilk
1/3 c. mayonnaise
3 Tbsp. extra virgin olive oil
1 Tbsp. apple cider vinegar
1 Tbsp. chopped fresh parsley
1 Tbsp. chopped fresh thyme
1 Tbsp. chopped chives
1 small clove garlic, minced
Salt and pepper
Mix all ingredients in a bowl and season to taste. Substitute any fresh herbs for what you have on hand.
MAPLE BALSAMIC
¼ c. maple syrup
½ c. balsamic vinegar
1½ tsp. lemon juice
1 clove garlic, chopped
1 tsp. mustard powder
1 c. olive oil
Salt and pepper
Mix first five ingredients with whisk or immersion blender. While blender is running, slowly drizzle in the oil to emulsify.
GREEN GODDESS
1 c. mayonnaise
¾ c. sour cream
1/3 c. flat-leaf parsley, chopped
1/3 c. tarragon, chopped
¼ c. chives, chopped
2 Tbsp. lemon juice, or more to taste
1 Tbsp. rice vinegar
1 clove garlic, chopped
1 small pinch cayenne pepper, or to taste
Salt and pepper
Using a blender, immersion blender or food processor, blend mayonnaise, sour cream, parsley, tarragon, chives, lemon juice, rice vinegar, garlic, cayenne pepper, salt, and pepper until smooth.
---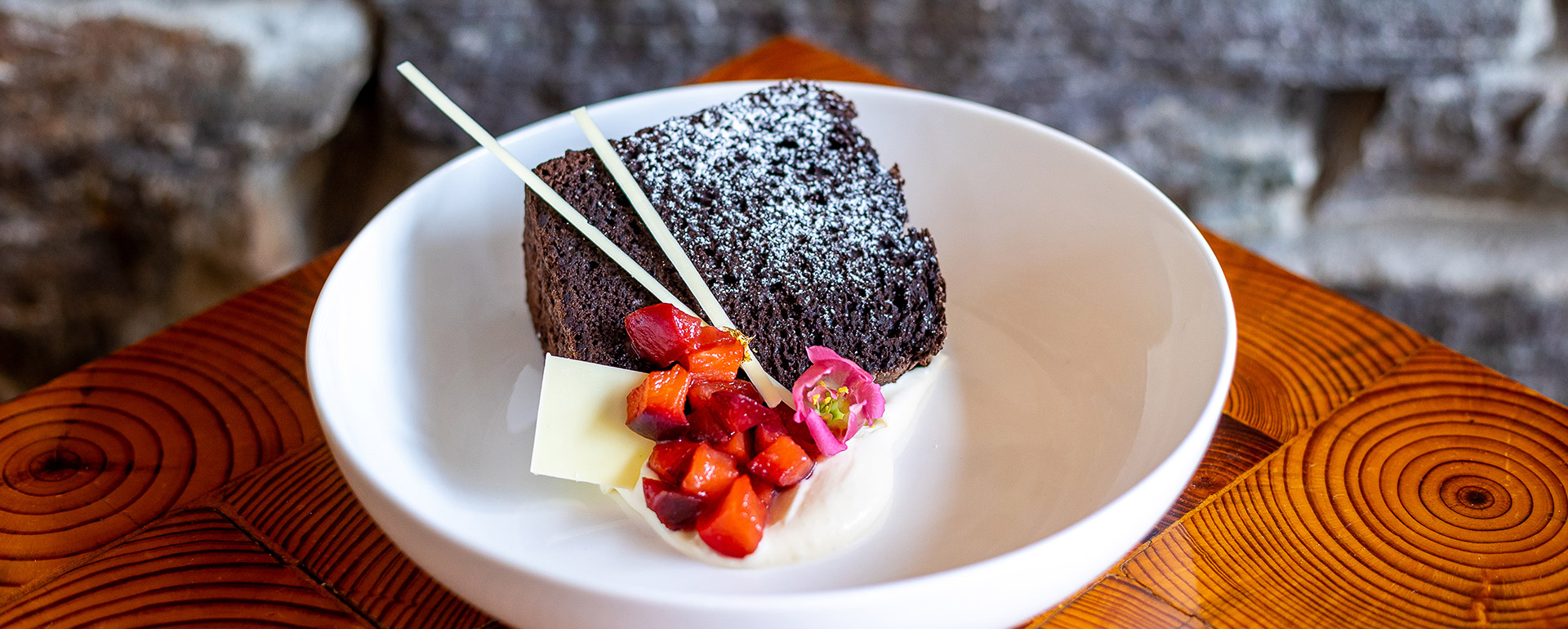 Chocolate Angel Food Cake
"The light, spongy texture of angel food cake is perfect after a long summer day, while the twist of chocolate brings on a new flavor profile that pairs well with the sweetness of the plums and strong citrus notes of tangerine," says Spruce Peak pastry chef Jessica Quiet. "The ricotta cream brings the dish together by cutting through the acidic tendencies of cocoa."
1¾ c. + 2 Tbsp. (115 g) all-purpose flour
¾ c. + 2 Tbsp. (68 g) cocoa powder
1¾ c. + 1 Tbsp. (373 g) sugar
3 c. egg whites
1 tsp. salt
4 tsp. cream of tartar
1/3 vanilla bean pod
(or 1¼ tsp. vanilla extract)
¼ tsp. almond extract
Sweet ricotta cream (recipe below)
Plum tangerine compote (recipe below)
Preheat oven to 350°.
Sift together flour, cocoa powder, and half the sugar. Set aside.
Using the whisk attachment on mixer, whip egg whites with cream of tartar and salt until soft peaks form. Slowly add remaining sugar and beat until shiny, stiff peaks form. Fold in almond extract and vanilla bean.
Fold sifted dry ingredients into egg white mixture and pour into an ungreased angel food cake pan or bundt cake pan.
Bake for about 20 minutes until a cake tester comes out clean. For best results, rest cake pan on its side, rotating 90 degrees every 10 minutes for a total of 3 times. Then let cool for 30 more minutes. When ready to unmold, run a knife around the sides of the pan and invert.
Serve each slice with a generous scoop of plum tangerine compote on one side and a nice-sized dollop of ricotta cream on the opposite side.
SWEET RICOTTA CREAM
1 c. fresh ricotta, drained
1 c. heavy cream
¾ c. confectioner's sugar
2 Tbsp. maple syrup
1 Tbsp. lemon zest
Whip cream, confectioner's sugar, and lemon zest to medium peaks using whisk attachment.
Fold in ricotta and maple syrup.
PLUM TANGERINE COMPOTE
8 plums, ½-inch diced
½ c. raspberries
3⅓ c. granulated sugar
¾ c. tangerine juice
1 Tbsp. vanilla extract
1½ tsp. lemon juice
Smash raspberries using a potato masher or sturdy spatula, and push through a strainer to omit seeds.
Combine all ingredients in a large saucepan, and cook for 10-15 minutes over medium heat until plums are soft but still keep their shape.
Cool until ready to use.