At Spruce Peak
In Partnership with Boston Magazine
Food and Beverage Showcase
Sunday, September 5 12:00pm-4:00pm
A Taste of New England returns to Spruce Peak, where the region's best chefs come together for a food & wine celebration. This exceptional culinary experience features the exclusive opportunity to meet celebrated guest chefs and enjoy a weekend of amazing food, world-class wines and spirits, camaraderie, and more.
Sunday brings a Food & Beverage Showcase featuring chef demonstrations, conversations, and tastings from top Vermont producers, makers, and restaurants. Hosting the conversations and demos is Scott Kearnan.
---
Sunday Showcase General Admission
Sunday only admission: $55/Adult $20/Under 21
$10 of ticket sales goes to Vermont Fresh Network
Includes commemorative tasting glass
Does not include taxed and fees.
---
Guest Chef Demonstrations Recipes
Homemade Potato Gnocchi by Chef Steve DiFillipo and Chef Rodney Murillo (Davio's, Boston)
Mixed Pepper Ceviche with Black Salt by Chef Tatiana Rosana (Para Maria, Boston)
---
Vermont's Top Producers, Makers, and Restaurants.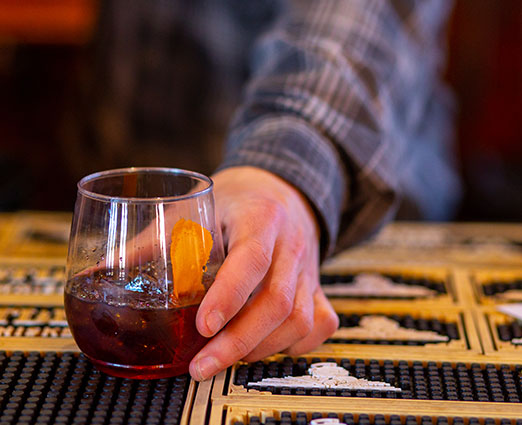 Beverage Vendors
Shelburne Vineyards, Shelburne VT - Local wines
Eden Specialty Ciders, Newport VT - Dry sparkling ciders and ice ciders
Montpelier Vineyards, Montpelier VT - Wine, mead, and sparkling ciders
SILO Distillery, Windsor VT - Spirits and pre-mixed cocktails
Maquam, Milton VT - Pear, Blueberry, Apricot and other wines
Artesano LLC, Groton VT - Mead and kombucha
Citizen Cider, South Burlington VT - Hard Cider and seltzers
Mad River Distillers, Burlington VT- Whiskey and Rum
Aqua ViTea, Middlebury VT - Non-alcoholic and hard kombucha
Ellison Estate Vineyards, Stowe VT - Wine
Stowe Cider, Stowe VT - Non-alcoholic and hard ciders
Shrubbly LLC, Hinesburg VT - Lightly sparkling "Shrub"
Shaksbury Cider, Vergennes VT-Hard Cider
Barr Hill, Hardwick VT-Gin, Vodka and Honey
Von Trapp Brewery, Stowe VT - Lager Beer
Weird Window Brewing, South Burlington VT - Beers & Brews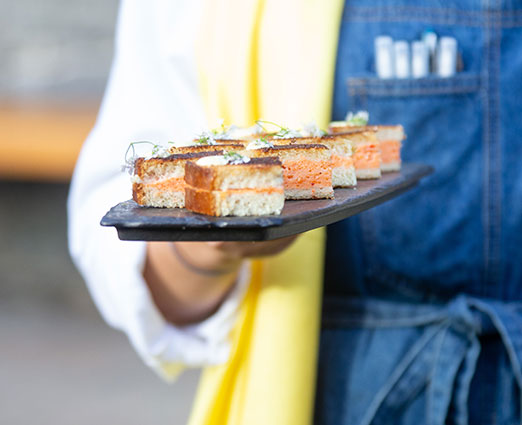 Small Bites & Restaurants
Spruce Peak, Stowe VT
Black Flannel Brewing & Distilling Company, Essex Junction VT
Vermont Fresh Pasta, Proctorsville VT - Fresh ravioli, pesto, and sauce
The Manor, -

lu•lu

Ice Cream, Vergennes VT -Small batch artisan ice cream
Edelweiss Mountain Deli, Stowe VT
Douglas Sweets, Shelburne VT -Shortbread Sweets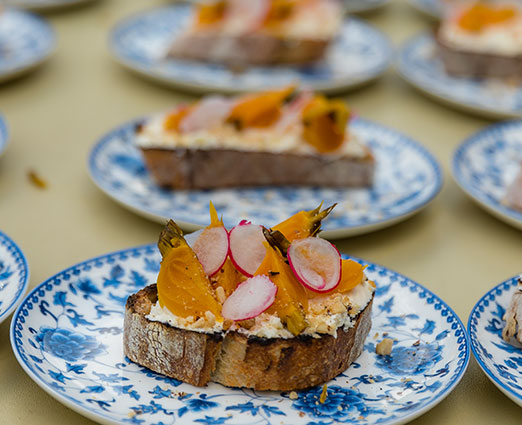 Producers & Farms
Silloway Maple, Randolph Center VT - Maple Cream
Maple Wind Farms, Richmond VT
Grateful Greens Vermont, Brattleboro VT- Sunflower greens, baby herbs, and other salad greens
Grafton Village Cheese, Co, Grafton VT - Cave aged cheeses
Summit Maple Farm, Fairfax VT - Flavor infused maple syrups and candy
Rabble-Rouser Chocolate & Craft Co, Montpelier VT . - Chocolate and granola
Sugar Bob's Finest Kind, Rutland VT - Smoked maple syrup
Shelburne Farm Cheese, Shelburne VT- Aged cheddar
Blake Hill Preserves, Windsor VT-Mocktails and jams
Lake Champlain Chocolates, Burlington VT -Artisan Chocolates
Vermont Beekeepers Association -Honey
Family Tree Hemp Company -CBD Gummies & Truffles
Butterworks Farm, Westfield VT -Yogurt, Kefir, Buttermilk and More
My Blue Kitchen - Flavored oils & cocktail syrups
Moco - Organic Hot Chocolate
---
Sunday Schedule of Events
12:00 – 4:00pm
Enjoy tastings from Vermont producers, makers, and restaurants, as well as chef demonstrations and conversations. Tastings include beer, wine, cider, and spirit samples, non-alcoholic beverages, cheese, honey, maple syrup, chocolate, ice cream, farm fresh produce, grass fed meat, yogurt & kefir, CBD products, desserts, and other delightful small bites.
Chef Demonstrations & Conversations
Hosted by Scott Kearnan
Scott Kearnan is food and entertainment editor at "Boston" magazine and a veteran Boston-based writer and editor focusing on lifestyle, food, travel and A&E. He is the lifestyle editor of "Boston Spirit" magazine, a bimonthly publication for New England's LGBTQ community, and formerly served as editor of ZAGAT Boston and as food editor of the "Boston Herald" newspaper. Prior, he was the editorial director of "Stuff," a bimonthly city magazine published by the Boston Phoenix. He's a Leo with Gemini rising, and his interests include midnight movies, buffalo wings, patchouli-scented everything, and Madonna. Find him on Instagram at @thewritestuffsk.
12:15-12:30 – Conversation with and gnocchi demonstration by Chef Steve DiFillippo and Chef Rodney Murillo (Davio's, Boston, MA). Chef Steve named 2014 Restauranteur of the Year and Davio's is in the Massachusetts Restaurant Hall of Fame.
12:45-1:05pm –Conversation with Chef Douglass Williams (MIDA, Boston & MIDA, Newton), a Food & Wine

Best New Chef 2020 award winner, James Beard Foundation Semi-Finalist, Best Chef Northeast, and recently named Best Chef, General Excellence, Best of Boston,

Boston Magazine

2021.

1:15-1:30pm – Conversation with Chef Brendan Vesey (Botanica Restaurant & Gin Bar in Portsmouth, NH), named Champion, Steel Chef 2020, New Hampshire Food Bank and Best New Restaurant, New Hampshire Magazine.
1:45-2:00pm – Conversation with Chef Kevin Des Chenes (Private Chef, Newport, RI), named Top Chef, Las Vegas Food & Wine and winner of "Top Celebrity Chef Showdown".
2:15-2:35pm – Conversation with and ceviche demonstration by Chef Tatiana Rosana (Para Maria, Boston, MA), a two-time Food Network Chopped Champion.
2:45-3:00pm – Conversation with Chef Sean Blomgren (Spruce Peak, Stowe, VT). Chef Sean will provide a sneak peek into the new restaurants opening this winter at Spruce Peak.
3:15-3:30pm – Conversation with Tara Pereira, Executive Director of Vermont Fresh Network.
3:35-3:55pm – Conversation with and Bon Bon's Chocolate Molding Demonstration by Chef Jessica Quiet (Spruce Peak, Stowe, VT).
---
Vermont Fresh Network
The Vermont Fresh Network connects farmers, food producers, and chefs to build a strong local food system. Consumers looking for local food experiences trust the Vermont Fresh Network logo as a mark of commitment to growing, sourcing, and producing Vermont food. Our membership-based nonprofit organization has been integral to Vermont food and tourism since 1996.