On an ordinary day, Spruce Peak Rink is the bustling hub of the Village, filled with chatter, the hiss of figure skates etching silky loops on the surface, the muted scrape of milk crates as beginners find their footing. But on Thursday evenings, when hotel guests tip back their last drops of cabernet, heavy-lidded children crawl under down comforters, and snow cats embark on their nocturnal peregrination, the Rink transforms.
It's Broomball League night. The ice glitters under strings of overhead lights, and cans of Heady Topper crack open like an invocation over thrumming rock music. The players swagger and slide across the ice, their foggy breath evanescing like tiny phantoms into the rimy air. A stream of banter undulates from the sidelines as league members deliver playful digs: "Aww, you missed the ball! How'd you do that?"
You may know broomball as an ice sport where teams of six people—clad in shoes, not skates—try to hit a ball into a goal using a stick shaped like a broom (or an actual broom with the bristles lopped off). But here at Spruce Peak, the sport has attracted a cult-like local following since the Rink opened in 2012. Every Thursday night in January and February, six teams face off. There are The Mighty Dorks (made up of employees at the Stowe Mountain Resort Rental and Repair Shop), Sweeperhold (a rag-tag group of Stowe folks), and Rough Riders—the undefeated champions, represented by the Stowe Mountain Resort Food & Beverage staff. Local businesses, like The Alchemist and Stowe Cider, have also had teams.
These images give a glimpse into the raucous, rowdy, and ridiculously fun world of Spruce Peak Broomball.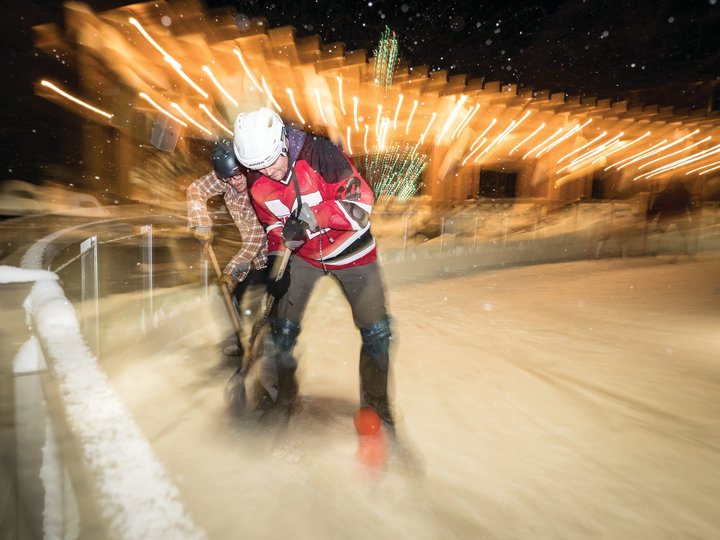 "The vibe is loose and fun—it's a nice outlet for the ski culture to gather off the hill. Back when I used to play out west, there were no trophies or award ceremonies; bragging rights were the biggest prize. But now, there are actual prizes to go along with those bragging rights"
- David Hatoff, Special Event Manager at Spruce Peak and broomball league founder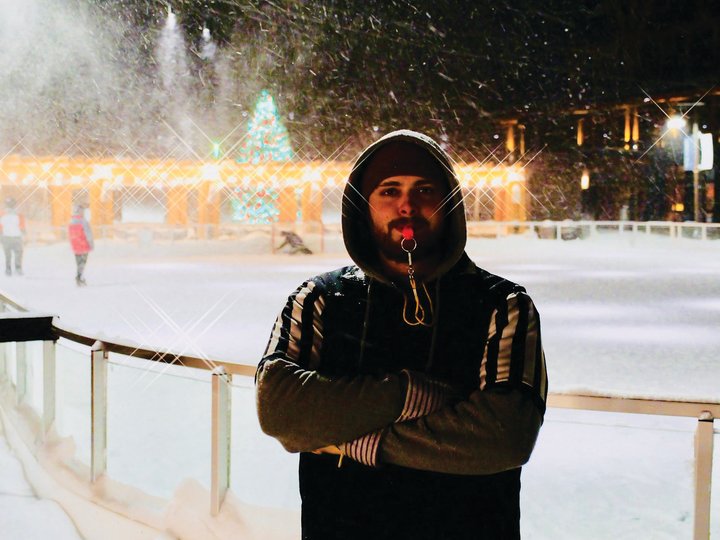 "When it snows a lot on the rink, the ice becomes slippery, so people are running around and falling down. It's a goofy part of the game. No one is ready for it, everyone laughs, and we have a good time. Sometimes hotel guests walking by will stop and watch. We can get a big crowd."
– Sam Hobgood,
Broomball League referee and former Stowe Cider Team member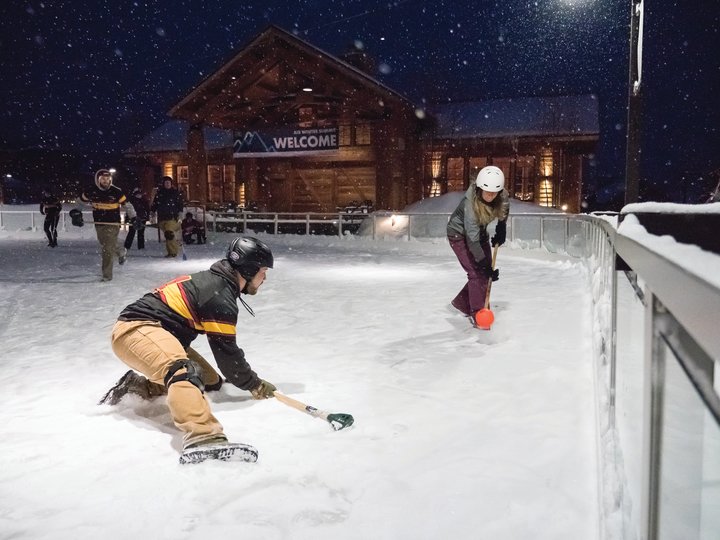 "All you need is a willingness to fall on your butt and look a little ridiculous. Its about participation and laughter; there's no special set of skills required...There is constant banter from the folks on the sideline when you're on the ice. We joke back and forth, ribbing each other, and everyone is laughing."
– Brandon Weaver, Mad River Stowe Rugby Team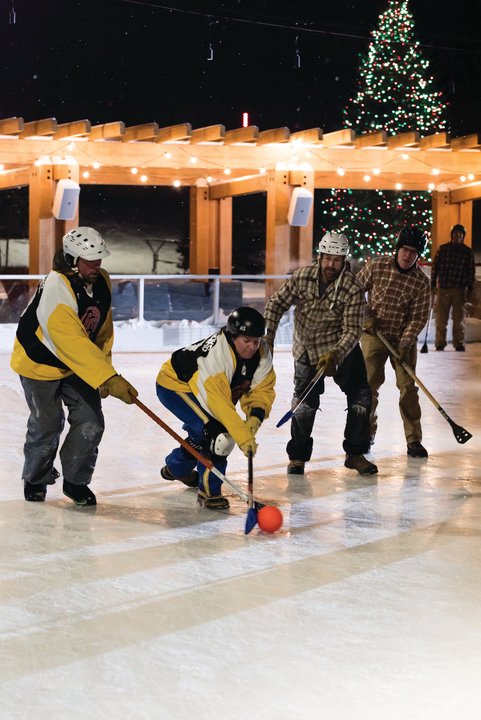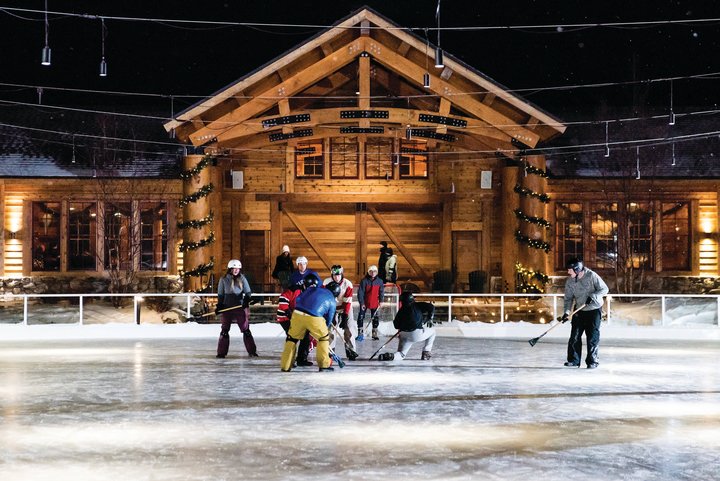 "The setting is surreal. You're right next to the mountain, surrounded by gorgeous post and beam buildings. There's the pavilion with the fireplace, where we bring beer and hang out. One of the best parts is that Spruce Peak doesn't charge us to play—it's a local thing that brings the community together, and they want to support that."
– Jay Knecht,
Broom-Shaka-Laka Team