Skiing down Slalom Hill, you probably never realized that the next great Spruce Peak neighborhood lay just a few feet away. Nestled on the side of the hill directly facing Mt. Mansfield is the newest edition to our community: Switchback Terrace. Comprised of six estate-sized home sites, Switchback Terrace is the unrivaled place to build a home in Vermont, offering incredible views at an angle impossible to get anywhere else, and ski-in, ski-out access.
We sat down with some of the visionaries, executors, and designers behind this project to discover how they created the setting for New England's future preeminent alpine homes.
THE VISION
Sam Gaines
President of Spruce Peak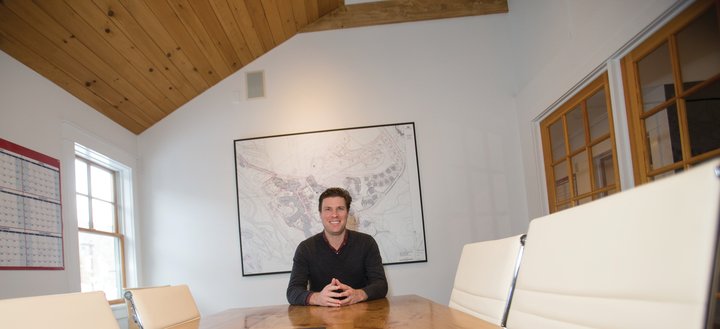 Tell me about this new enclave within Spruce Peak?
Switchback Terrace is a really special part of our community—we've pieced together land acquisitions over the last 15 years in order to make it happen. What's unique about this area—aside from the spectacular views of Mt. Mansfield—is how truly removed you feel being up there. The pitch of the slope gives the impression that there's nothing between you and the mountain.
Spruce Peak has offered home sites in the past. How do these lots differ?
These are the last home sites at Spruce Peak, and they are also quite large, ranging in size from 0.6 to 1.25 acres. Each presents a really interesting design opportunity for the architect and builder to utilize the dramatic terrain. We expect some of the most distinctive homes in Vermont to be built right here on this very road. In this same neighborhood we have the 2010 HGTV Dream Home, as well as another impressive house that will set a new standard for home construction in New England.
We've seen a flurry of recent interest in building legacy homes here at Spruce Peak. In the last year alone, there have been three to four homes under construction around the community, all of which reflect their owners' personalities and are perfectly suited to the families for which they're created. That's exactly the opportunity here. Two of the new sites are already under contract, so there are only four more chances to build a custom home that will last for generations looking out at the majestic Mt. Mansfield.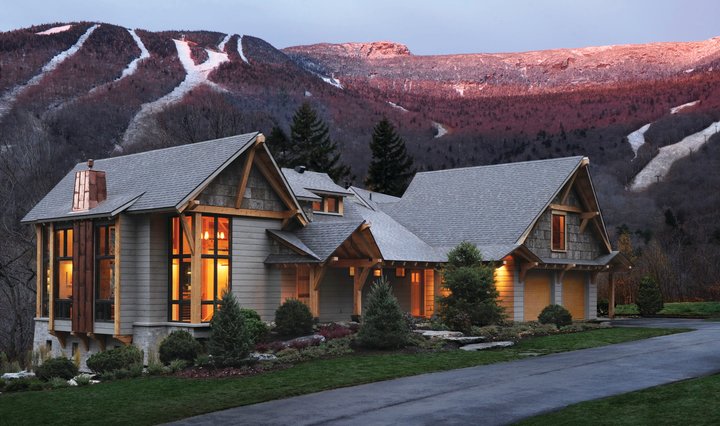 THE EXECUTION
Bruce Malcolm
Vice President, Construction
Spruce Peak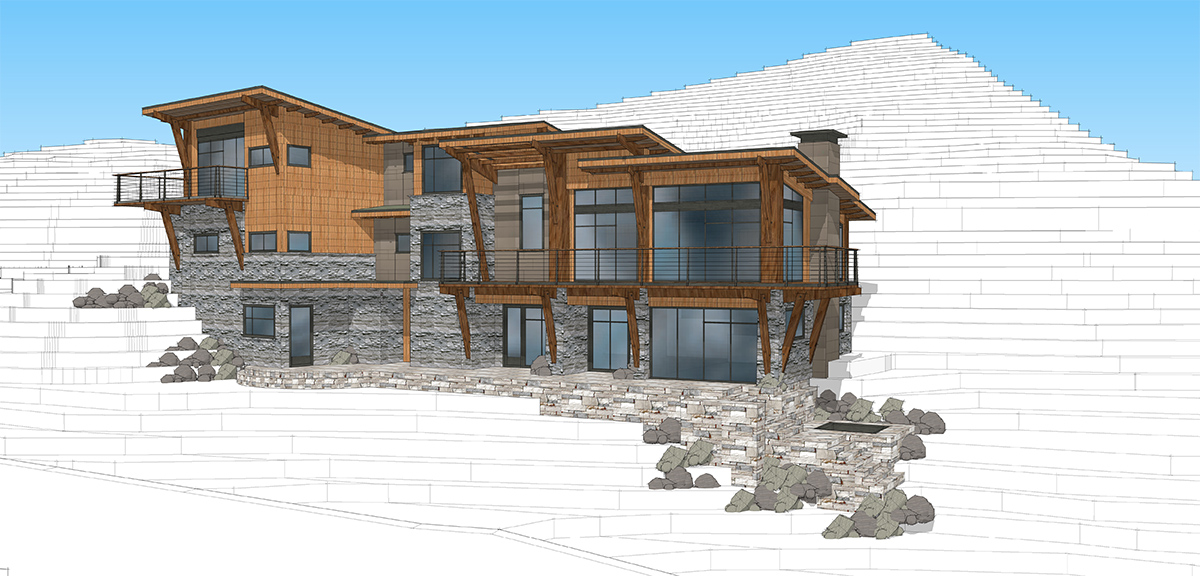 This area of Spruce Peak offers outstanding views. How did you build a road on such steep and breathtaking terrain?
The key to mitigating the incline is to lengthen the road via switchbacks, a strategy used in mountainous environments all over the world. The road gains about 95 feet in elevation over its 1125-foot length. We excavated more than 8000 cubic yards of soil and rock—about 600 dump trucks' worth.
What's the biggest challenge you faced during construction?
Access. Since you are essentially carving a slot up the mountainside, there is only one way in and out.
It is difficult to multitask.
How did you strategically create the road in a way that maintains the wooded sections?
From the beginning, we needed to accommodate the protection of sensitive regions, including wetlands and some important food sources for native animals. Once these areas were plotted, the design team integrated them into the final plan, where we enter the lot from the high end of Liftline Drive and climb back towards Slalom Hill, utilizing two dramatic Switchback turns. It was akin to threading a needle.
THE DESIGN
Dave Kaselak
Principal Architect
Zehren & Associates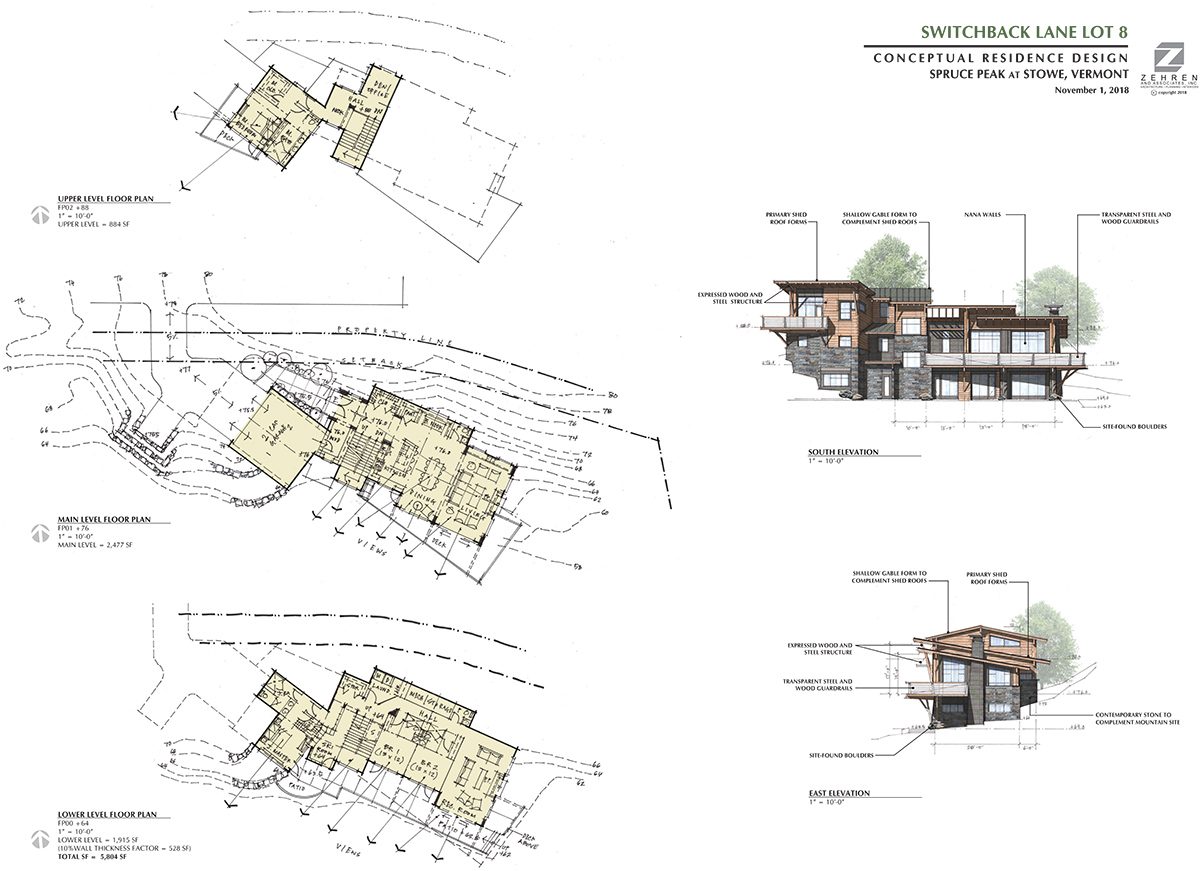 Your firm has been the vision behind many Spruce Peak neighborhoods—from the Mountain Cabins to the Village Townhomes—as well as retail buildings and the Cottage. Here, you created a conceptual home for a future Switchback Terrace buyer. What do you love about the site?
We've been very fortunate to work at Spruce Peak since its inception in 2002. I remember interviewing contractors for the Mountain Cabins in the Toll House Conference Center, since there was no place for that sort of thing at the base yet. And we authored the Residential and Commercial Design Guidelines, so it has been very rewarding to watch the resort go from vision to reality these past 16 years.
To me, the Switchback sites represent a continuation of the careful thought and deliberation Spruce Peak Realty has put into every endeavor. All the residential lots are exclusive in terms of quantity, and world-class in terms of quality—with spectacular views, careful placement of lots, and well-developed infrastructure. Switchback stands out because you are right there—Mt. Mansfield feels like it's right on top of you.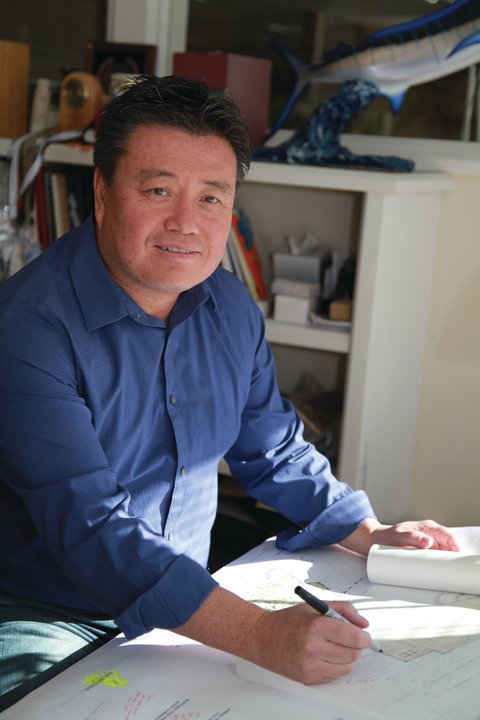 What makes homes at Spruce Peak unique compared to other mountain properties around the country?
There's a very high level of craftsmanship in Vermont. At the risk of generalizing, I have noticed that the further West one travels, the more craftsmanship is sometimes compromised by speed and quantity. I enjoy working hand in hand with the owners and builders here, because there's a commitment to quality, even if the project may take a bit more time. And I appreciate the nuances of Northeast living, with its camp-style architecture, beautiful building materials, screened-in porches, and concerns about minus-twenty weather!
Spruce Peak also has an exceptionally strong sense of community and place. It's not a sprawling resort with hundreds of home sites. Our firm works in ski resorts around the world, and we have never seen such a limited number of lots offered for single-family homeowners. Since there are so few opportunities to build here, one feels even more compelled to get it right when designing someone's dream home.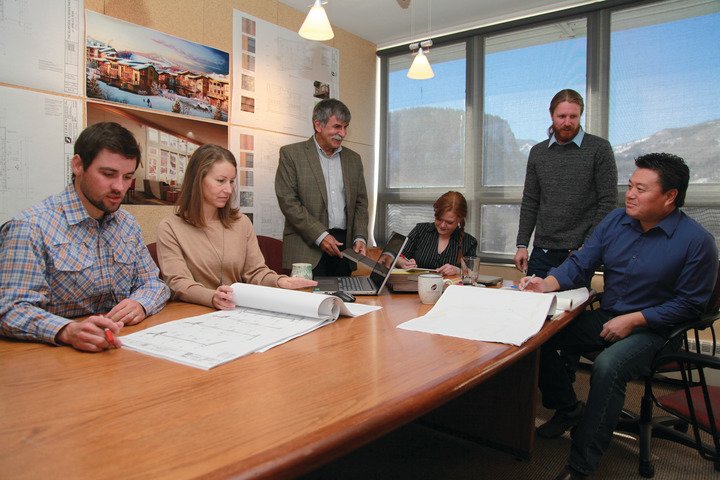 Tell us about the conceptual design you did for home site 8?
Given the steep pitch, the home naturally wants to follow the topography, by stretching itself along the contours of the land in a linear fashion. This allows for incredible views and lots of natural light, even deep into the floor plan. There are no spaces with compromised sightlines, and the linear nature of the plan accommodates a "great room" layout, where each living area simply flows into the next.
We wanted the rendering to evoke the emotions associated with the Switchback neighborhood: a small hamlet nestled into the forest, on a steep site, and with unmatched views to Mt. Mansfield. It's almost a Swiss ski village in miniature, but with larger homes and more immediate access to amenities. At the same time, the goal was to convey the opportunities that contemporary design sensibilities and technologies offer, such as sliding glass walls and free-span structure. This is married with exterior materials that still have a strong tie to the mountains, like stone veneer, exposed wood structure, and naturally-weathering metals.