There are countless reasons to make Spruce Peak a destination, from the unparalleled East Coast skiing to the farm-fresh food to the jaw-dropping mountain bike and hiking trails. But stronger than those immediate pleasures, the draw to Mt. Mansfield is an ineffable sense of connection—to the land, to each other, to one's spirit—that it instills in those of us who spend time here. Ultimately, we resonate with that bone-deep attachment to something meaningful. It calls Spruce Peak community members to put down roots at the foot of the mountain, beckons visitors from around the world to this brave little state—and inspires some creative minds to set up shop right here and follow their dreams. As Spruce Peak has grown over the years, we've made an effort to team up with local entrepreneurs, artists, and chefs whose work is inextricably entwined with the Green Mountains. Our partners' services and products connect us to the heart of Vermont, allowing us to evolve organically. The story of four of these contributors is old here.
ursa major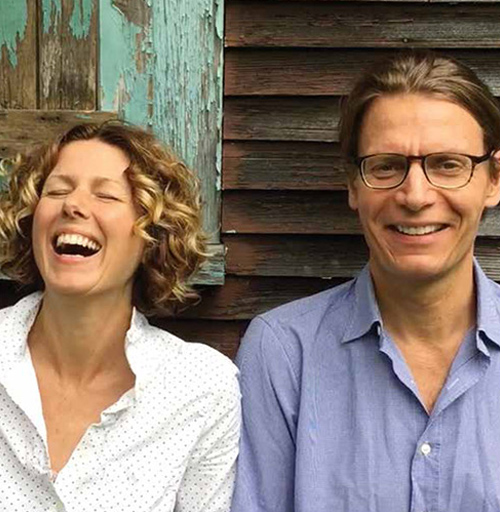 Ten years ago, Ursa Major co-founders Emily Doyle and Oliver Sweatman, who grew up in Stowe, relocated from New York City to Elmore, Vermont. "We yearned for fresh air, a healthier lifestyle, and a slower pace," Doyle says. Having both worked in the skincare industry, the couple also longed to start a business that lined up with their moral values. "We wanted to make products that are healthy and clean," Doyle says. "The personal care industry is not regulated [by the FDA], so it was jaw-dropping to learn what many companies put in their products." She explains that creams and cleansers are commonly injected with toxic chemicals to achieve a smooth consistency or the right fragrance. She and Sweatman set out to do things differently, and built a natural yet high-performing skin- and hair-care line. At the beginning, the duo worked out of their home. "I packed every web order and wrote notes to every customer back then!" Doyle says. Now, they employ 14 staffers at their headquarters in Waterbury and—beginning in February—you'll have the pleasure of sampling their in-room products if you're staying at the Lodge at Spruce Peak. "Spruce Peak is such an iconic place, yet forward-looking at the same time," Doyle says. "Being here is a dream come true." Founders
Whistlepig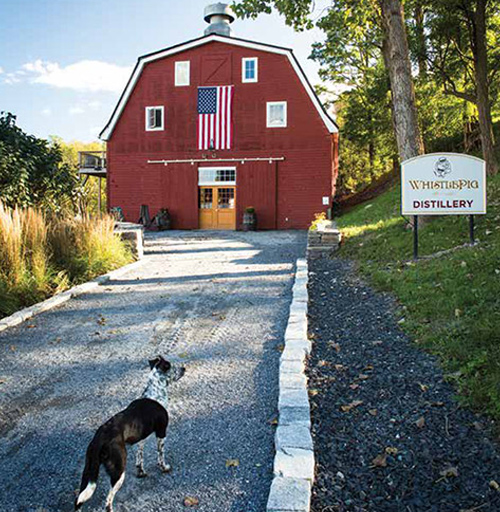 If you're into the speakeasy scene, the name WhistlePig should be on your radar. The small distillery, located on a former dairy farm in Shoreham, Vermont, near Lake Champlain, is recognized around the country for crafting some of the finest whiskey in existence. Back in 2007, when WhistlePig was born, the term "premium rye" was an oxymoron. "Everyone considered rye to be the poor cousin of bourbon," says CEO Jeff Kozak. But rye was America's most popular whiskey prior to the 20th century, and the company's founder saw potential. The following year, WhistlePig hired the late legendary distiller Dave Pickerell, the brains behind Maker's Mark. He designed the distillery in a barn and discovered a rare 10-year-old stock of blending whiskey in Canada that he used to make whiskey from the farm's well water and homegrown rye, which is aged in oak casks on-site. This winter, WhistlePig sponsors the Spruce Peak Pavilion, overlooking the Rink. "It's a family meeting place where people can relax and tell stories about their skiing exploits," Kozak says. It's the perfect cozy gathering spot to wrap up a day on the slopes with a serving of raclette cooked over the roaring fire, warm cider donuts, live music, and a local craft beer or (of course!) a whiskey cocktail. To Kozak, simmering hot toddies go hand in hand with swishing downhill. "People used to kick wooden wine barrels down the mountain and then ski on staves in their wake," noting that some rye ages in the same barrels. "Time spent carving turns at Stowe should be savored, just like one of our whiskeys."
Renoun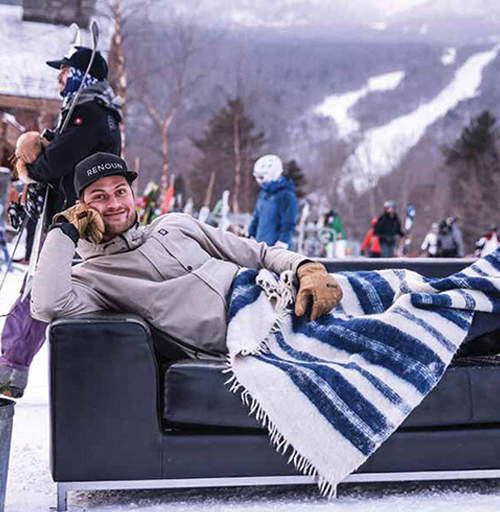 Vermont native Cyrus Schenck, CEO and founder of RENOUN, is a ski bum at heart. So during a college chemistry class in 2011, he perked up when he learned about a compound known as a non-Newtonian polymer. Characterized by its feather-light weight and extreme strength, it's commonly used in aeronautics—but Schenck's first thought was, "this stuff would be great for making skis." He started experimenting with ways to apply the high-tech compound to skis, and eventually dropped out of school to focus fully on his mission, washing windows to earn cash on the side for the next two years. He finally nailed a winning formula in 2014, creating an industry breakthrough: Unlike other lightweight skis, which tend to be specialized for certain types of snow, the polymer pair performed in all conditions—completely chatter-free. This season, RENOUN was the lead sponsor of Mountainfilm (a traveling documentary film festival) when it came to the Spruce Peak Performing Arts Center in November, as well as the first annual Spruce Peak Folk Festival over the summer. They're also a sponsor for Après Chic at the Peak, a fundraising gala to support the performing arts center coming up this January. "One of my favorite parts of RENOUN is the ability to bring people together," says Schenck. "That's why we love to participate in social events that connect Spruce Peak's amazing community of skiers."
Skinny Pancake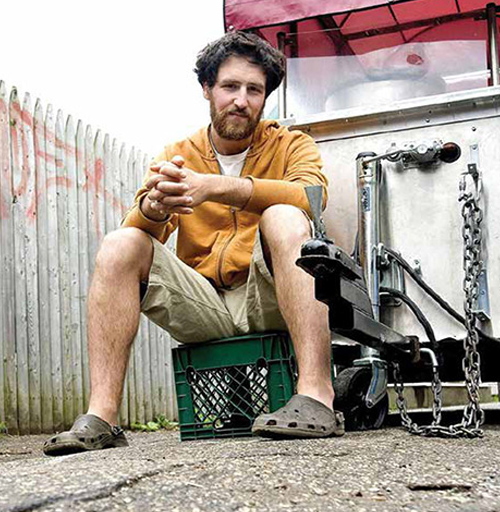 You probably know the Skinny Pancake (located between the Rink and Spruce Camp) as a go-to spot to grab a bite in between runs. But the crêperie has a storied history dating back to the summer of 2003. Brothers Jonny and Benjy Adler slapped together a makeshift food cart using repurposed wood from their parents' flooded kitchen floor and an abandoned sailboat trailer fashioned into a flatbed. From the counter, they served melt-in-yourmouth pancakes on Church Street, Burlington's main drag. At the time, the Adlers saw crêpe-making as a fun way to pass the summer—the product of brainstorming sessions with friends in Benjy's dorm room at Middlebury College. But before they knew it, the Skinny Pancake grew into a thriving enterprise. In 2005, they expanded into a school bus; two years after that, they opened their first stand-alone restaurant on the Lake Champlain Waterfront. A commitment to sustainable, locavore food is central to the Skinny Pancake's mission. They use locally sourced ingredients when possible (Vermont eggs, cheese, apples, veggies, meat, and maple syrup); a portion of their proceeds benefits the Vermont food shed; they're part of the zero waste initiative to eliminate food waste; and they even teamed up with a local chocolatier to develop "choco-nutty butter" instead of using Nutella, which contains environmentally unfriendly palm oil. Now, with eight locations, the Skinny Pancake is one of the state's largest buyers of local food, and since 2015, they've been happy to call Spruce Peak home. "Mt. Mansfield is the reason I chose to live in Vermont," Jonny says.