While securing climbing skins to our skis, the impressive roar of the winter wind over Mt. Mansfield (elevation 4395') had us second-guessing our plans: a sunrise traverse along the summit ridgeline. A snow squall filled the air with flakes, and although the forecast promised clearing skies and calming winds, we were unconvinced.
Still, we persisted, and about halfway up the mountain, a break in the clouds opened a window to the fiery morning sun. But before we could grab a nice photo, the window shut. We continued steadily climbing the Long Trail for the next hour, until we approached the tree line on the mountain's eastern slope. We peeled off our skins and coasted down through the woods. The snow was cold and dry, but untracked and deep enough to make for soft, flowing turns among the spruce, fir, birch, and maple trees that call the mountain home.
Conserving energy for later, we let gravity carry us about halfway down the mountain before heading up again. The combination of wind-driven snow off the trees and swirling fresh flakes created nearly whiteout conditions back at the tree line. We sheltered for a few minutes at the historic Taft Lodge, a hiker's cabin, and, enticed by the fresh snow, our focus for the day shifted from a scenic morning traverse to a challenging descent along one of the mountain's many remote stream drainages. Powder fever was in the air.
Long revered for its rugged and ever-changing beauty, Vermont's highest mountain was originally called Mozodepowadso (translation: Moosehead Mountain) by the native Abenaki. Well before the installation of chairlifts, people were climbing here and skiing its woods and down hand-cut trails like the Bruce Trail and Nosedive. Beyond the trails of Stowe, backcountry skiers and snowboarders utilize a web of both natural and human-shaped pathways to access the mountain's varied terrain, abundant snowfall, and incredible vistas. From the mapped backcountry trails of Nordic centers and state parks, to the avalanche-prone steeps of Mt. Mansfield's highest and wildest corners, there is something for every backcountry explorer.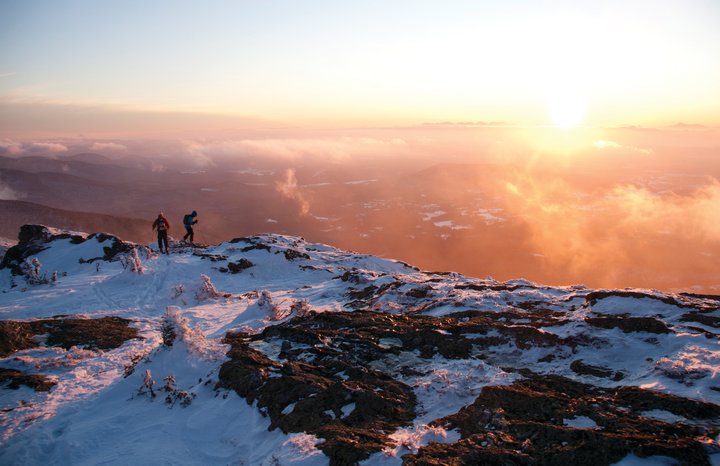 01. When the snowpack is lean, but the days are cold and clear, exploring Mansfield's summit ridgeline can be truly rewarding—especially when wind chills dip to minus 40, and we are the only souls around. Here, Emily and a friend prepare for a sunset descent off the mountain's west side.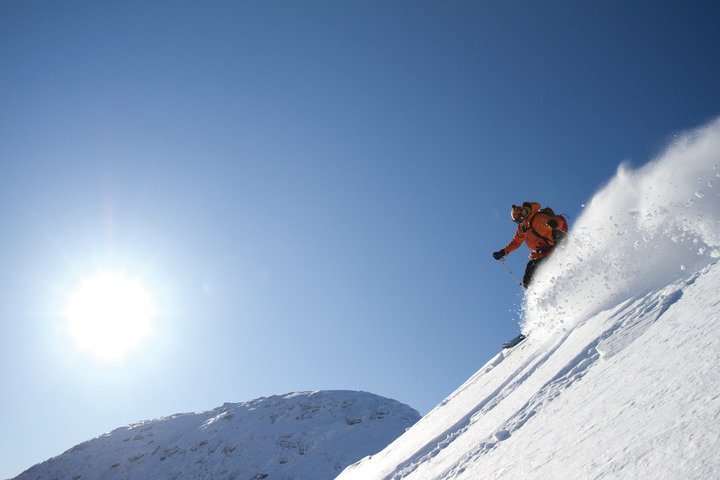 02. There's something in the air along the highest peaks of a mountain—something pure and fresh and fun. Often, the chance to breathe this air motivates us more than anything to get up there and enjoy Mansfield on skis.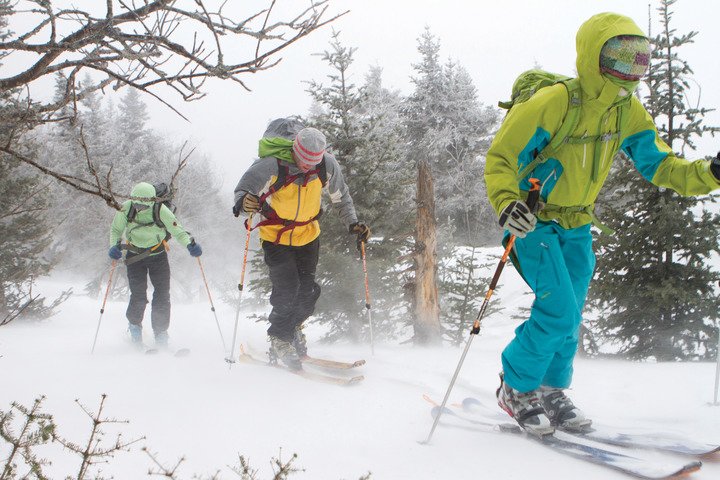 03. The weather didn't prevent us from a morning crossing of the mountain during a three-day, house-to-house ski tour from Bolton Valley to Stowe. Seconds after this shot was taken, we peeled off our skins, adjusted our boots, and sped down Bruce Trail."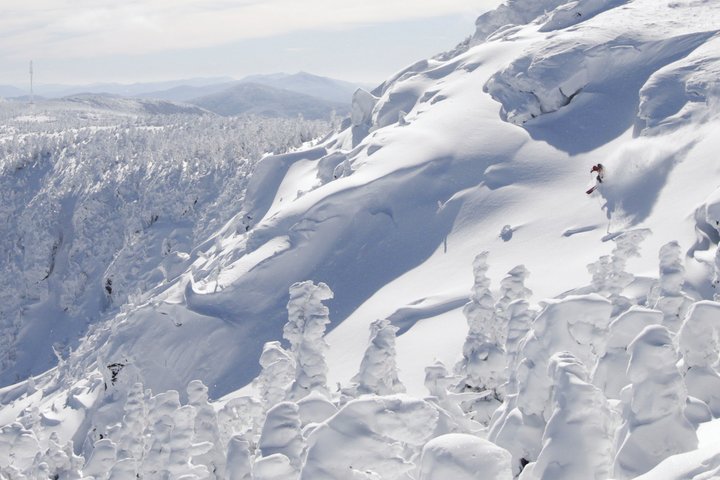 We approach most of our adventure-oriented photography spontaneously and in the moment, in a light and fast style. The camera is always on one of our chests, ready for action and fit with a versatile 18-200mm lens. Our images are the result of continually moving through a great variety of terrain, light, and snow conditions.
04. Even when the wind and snow prevent us from safely and comfortably navigating Mansfield's highest features, there are countless places to seek shelter without sacrificing adventure. The peace and quiet we enjoyed among the rocks here was surreal in its contrast to the mayhem of wind-driven whiteout conditions we had encountered just minutes earlier.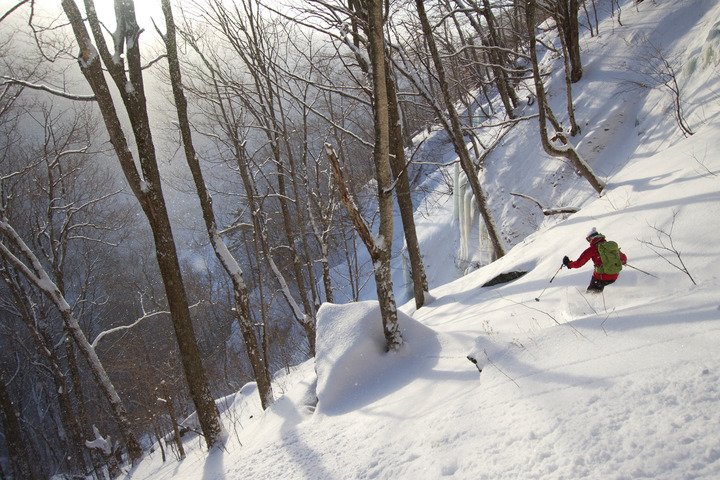 05. Here, Emily, navigates a drainage riddled with ice floes, open water, boulders, avalanche paths, and downed trees. She's rewarded with fresh tracks, the sparkling sun, and ultimately, a fun and windy narrow trail leading back to the trailhead.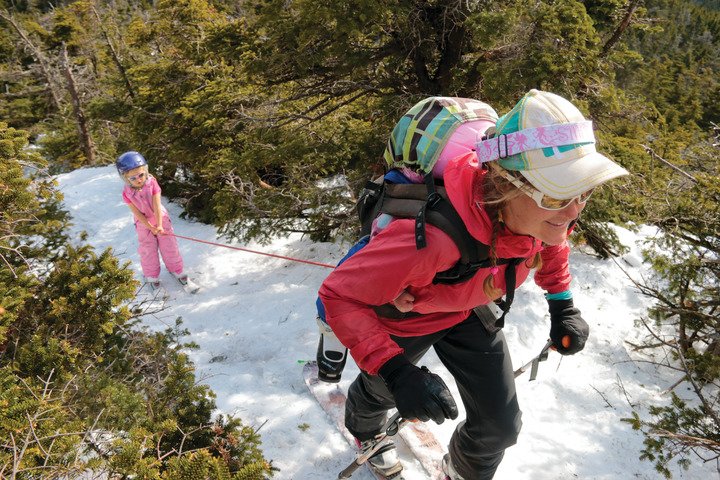 06. In February 2013, with snow in the air, our first daughter, Maiana, was born. She had been skiing with Emily in the womb for months, and just a week after her birth, she was out with us, daily, in the untracked snow of the Green Mountains. Her sister, Lenora, joined us in July 2015, and today we are out exploring the mountains on skis together more days than not. In this photo, while skiing a friendly section of Vermont's Long Trail last April, Lenora enjoys a nap on Emily's back, while Maiana holds on for the ride. Now, both of our girls are beginning to climb on their own, and our family escapades on skis, right here on Mt. Mansfield, continue to be our most treasured adventures of all.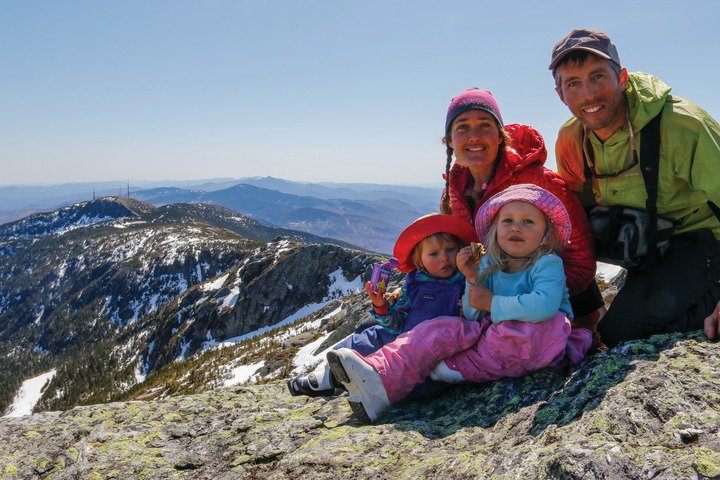 Brian Mohr and Emily Johnson, of Ember Photography, are based in Moretown, VT, where they enjoy fine views of Mt. Mansfield year round. Their work has taken them all over the planet, but they are especially focused today on turning their lenses to adventures, weddings, scenery, people and assignments of all kinds, locally. They recently assembled their own rope tow at home, and consider the "backyardcountry" their favorite place to ski.
Visit: www.EmberPhoto.com
Intagram: @emberphotovt