01
Now Planning Summer 2022
From long days exploring nature to evening celebrations under the stars, relaxing moments by the pool to energizing farm-fresh dining experiences - we're looking forward to the blue skies and endless opportunities that summer brings to the Green Mountains.
Located central to the Spruce Peak Village, stay steps from the adventure at The Lodge at Spruce Peak. Book direct early for the best availability and rates of the season. Call our reservations team at 877.930.2913 for personalized service or book online with your World of Hyatt account.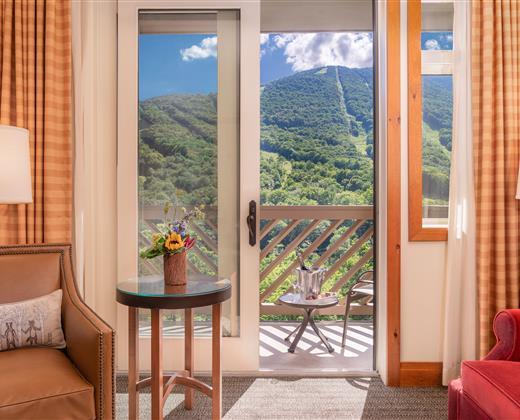 02
Explore Our Accommodations
With over 250 warm and welcoming guestrooms, suites, and residences, The Lodge offers convenience, comfort, and unforgettable experiences with every stay.
We are also proud to welcome any and all canine members of your family at The Lodge. There is a Dog-Fee of $100 per night, which includes welcome amenity of a dog bed and chew toy at check in. We ask for owners to be respectful of other guests and make sure your four-legged friends are properly supervised and not in areas where food is served. (The Penthouses and Luxury Residences cannot accommodate travelers with dogs)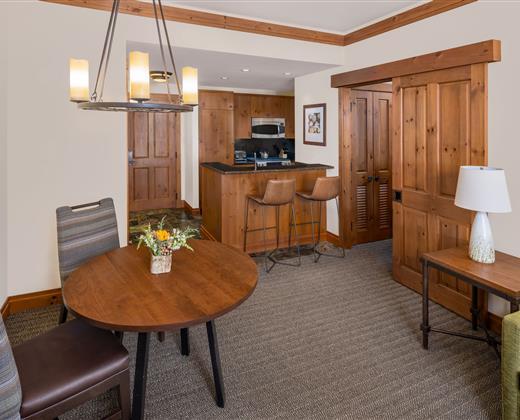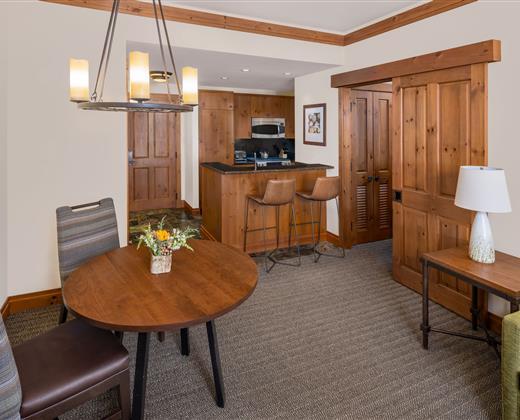 Lodge Guestrooms & Suites
Newly refurbished in Spring 2021, The Lodge offers a variety of lodging options, ranging from cozy Studio Guestrooms to spacious 3-bedroom suites.
Most guestrooms include a gas fireplace, private terrace, and marble-finished bathroom with soaking tub. Suites include full, gourmet kitchens, and in-unit laundry. All guestrooms include luxury bedding, free WiFi, and newly upgraded LED flat-screen TVs.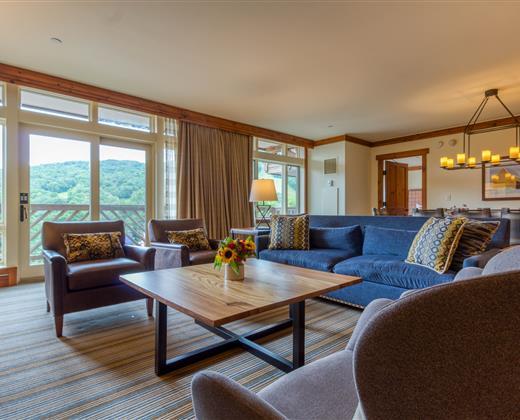 The Penthouses at Spruce Peak
The Penthouses are an exclusive residential offering within the upper floors of The Lodge, offering guests a private check-in and concierge. With up to 2,500 sq. ft., these spacious penthouses can accommodate several families, and feature full gourmet kitchens with living and dining space, private balconies, and floor-to-ceiling windows with sweeping mountain views.
The Penthouses cannot accommodate travelers with dogs. Photos are for illustrative purposes only. Bedding configuration may vary.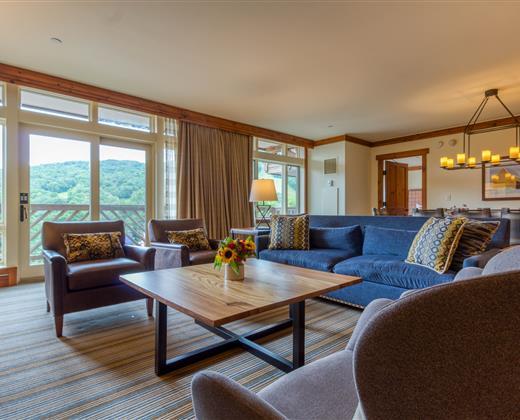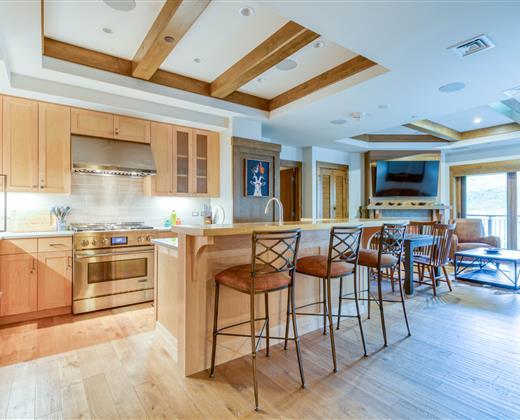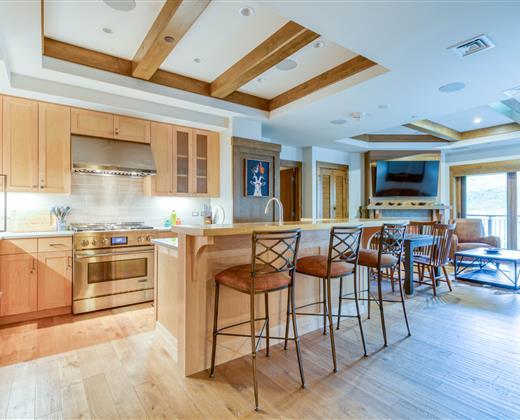 Luxury Rental Collection
When planning the ultimate getaway with large groups, families, or friends, sometimes you just need more options. The Luxury Rental Collection at Spruce Peak offers a variety of 2-, 3-, and 4-bedroom private residences, each with their own beauty and charm.
Luxury units cannot accommodate travelers with dogs. Photos are for illustrative purposes only, each Luxury unit is individually decorated and bedding configuration will vary.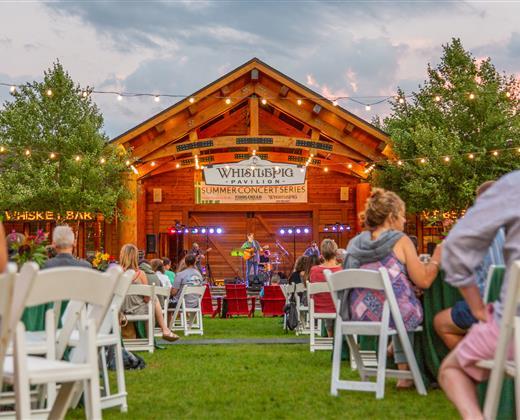 03
Spruce Peak Summer Concert Series

Experience amazing music by celebrated artists in a magical Green Mountain setting. The Spruce Peak Summer Concert Series returns with a full slate of unforgettable performances on the Village Green.
Concert Series Lineup: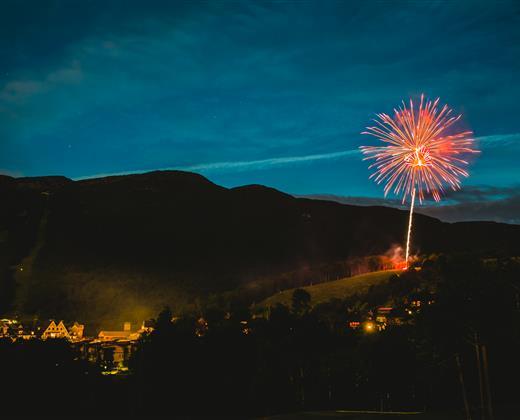 04
Independence Celebration Weekend
Independence Celebration Weekend
July 1-3, 2022
This year, summer starts with a bang with Spruce Peak's Independence Celebration. Join us starting Friday, July 1st for a weekend of elevated BBQ, live music, lawn games, and, more culminating in live music and a fireworks over the mountain on Sunday, July 3rd.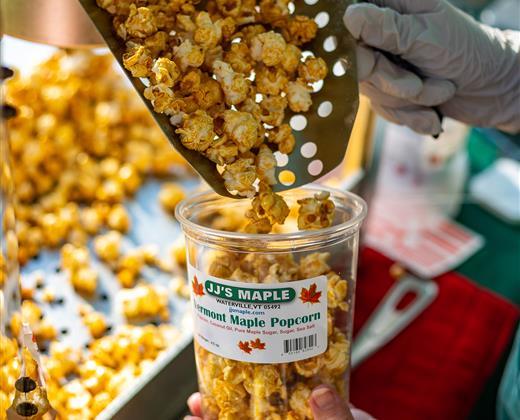 05
Friday Market, Music, & Movies
Friday Market, Music & Movies on the Green
Starting Friday, July 1st
The Village Green comes to life every Friday this summer. Sip local brews while browsing the wares of authentic Vermont artists and artisans at the Spruce Peak Artisan Market. Every market includes live music, lawn games, and interactive educational stations for kids of all ages.
As the evening winds down, the silver screen comes up for complimentary family-friendly movie screenings under the stars.
Both the Artisan Market and Movies are dog-friendly and family-focused.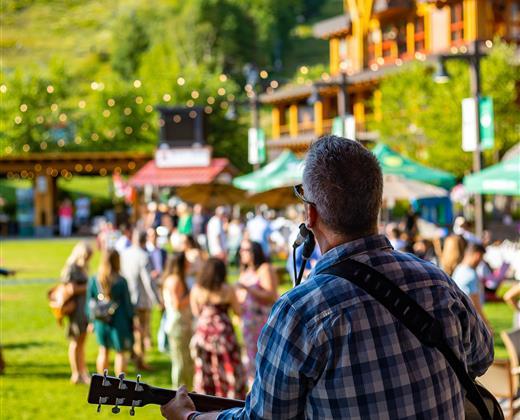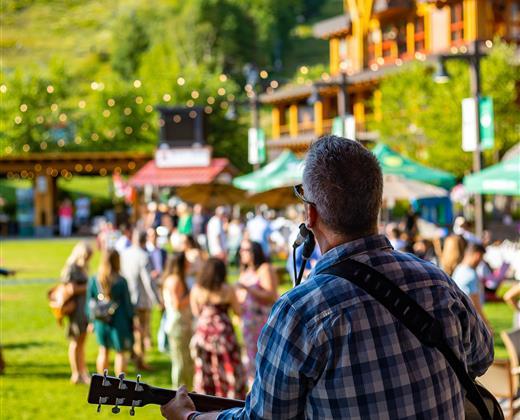 Live Music Schedule
4:00pm - 7:00pm
Subject to Change
July 1: Christine Band - Sugarleaf
July 8: Seth Yacavone
July 15: Zack Dupont
July 22: Troy Millette
July 29: Colin Cope Duo
August 5: Scott Forrest
August 12: Seth Yacavone
August 19: Lowell Thompson
No Music on August 26th due to A Taste of New England
September 2: Collin Cope & Band
September 9: Dave Keller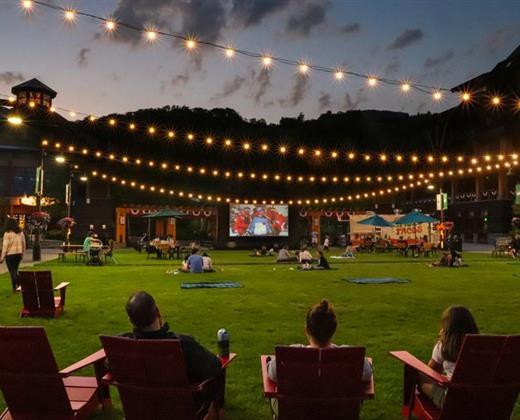 Movies on the Green Schedule
Subject to Change
Grab a blanket and a creemee and settle in for an outdoor movie screening. With a rotating selection of family friendly classics and new favorites, there's something for everyone every week this summer.
July 1: The Mighty Ducks (PG) at 8:45pm
July 8: Luca (PG) at 8:45pm
July 15: Clifford the Big Red Dog (PG) at 8:45pm
July 22: Paddington (PG) at 8:30pm
July 29: Sonic the Hedgehog (PG) at 8:30pm
August 5: Encanto (PG) at 8:30pm
August 12: Zootopia (PG) at 8:15pm
August 19: Mitchell vs The Machines (PG) at 8:00pm
No Movies on August 26th due to A Taste of New England
September 2: Space Jam A New Legacy (PG) at 7:45pm
September 9: Sing 2 (PG) at 7:45pm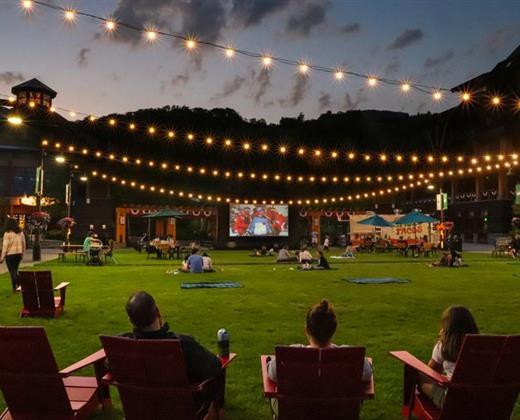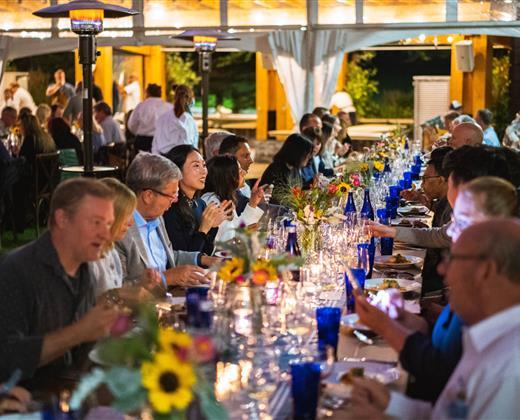 06
A Taste of New England

The region's best chefs come together for a weekend of amazing food, world-class wine & spirits, camaraderie, and more!
Spruce Peak welcomes top chefs, farms, and producers from around New England to showcase their passions, skills, and dedication to culinary excellence. The weekend is highlighted by a 5-course dinner under the stars, featuring courses from each guest chef, and is wrapped up with a Food & Beverage Showcase on the Village Green.
Save the Date: A Taste of New England returns August 26-28, 2022.
Guest chefs and full schedule of events coming soon. Book your stay now for early access to ticket sales!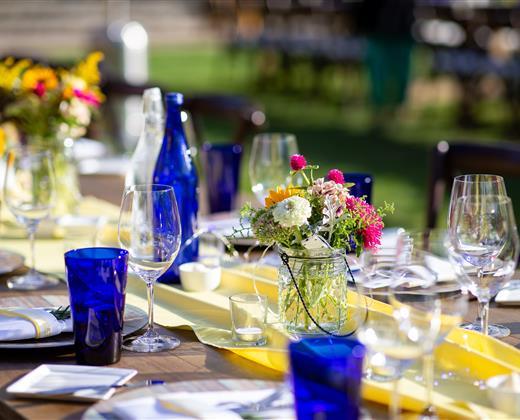 07
Farm Table Dinner Series
Farm Table Dinner Series
June 23, July 21, and October 6
Our signature outdoor dinner series returns this summer. Select Thursdays, Spruce Peak chefs work with our local partner farms and producers to highlight the best fresh flavors and ingredients of the Stowe area and Vermont as a whole.
These dinners feature full course meals, wine pairings, live music, and are aimed at adults 21+.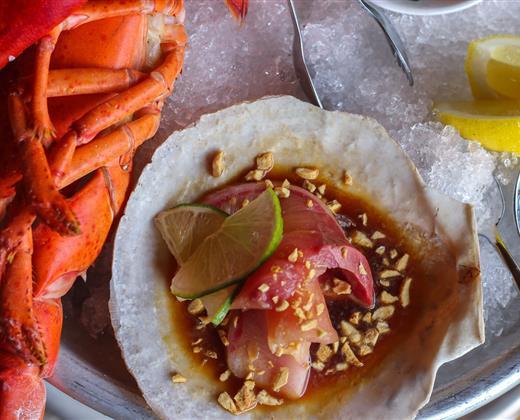 08
Tipsy Trout Guest Chef Series
Tipsy Trout Guest Chef Series
Tuesday, July 12
Featuring Chef Tatiana Rosana | Para Maria | Boston, MA
Tuesday, August 2
Featuring Chef Will Gilson | Puritan & Co. | Cambridge, MA
Experience the best of New England seafood as Spruce Peak invites past Taste of New England Guest Chefs back to highlight their skills and passions in the all-new Tipsy Trout.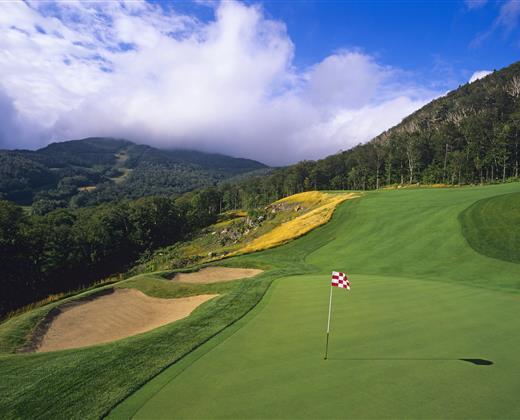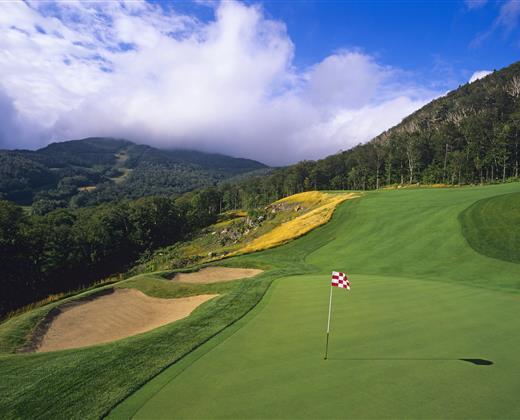 The Mountain Course at Spruce Peak
Rated the #1 course in Vermont by Golf Advisor, the rugged design of The Mountain Course at Spruce Peak reaches an elevation of more than 1,800 feet and features rock outcroppings, wildlife at every glance, and sweeping views of both Spruce Peak and Mt. Mansfield. Enjoy world-class hospitality as you play up, over, and around the Green Mountains.
Reserved exclusively for Club members and guests of The Club at Spruce Peak with a qualifying stay at The Lodge at Spruce Peak.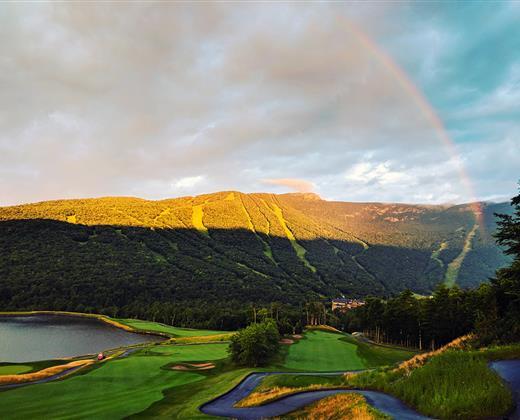 Surrounded by nature and history, golf is the perfect activity for all ages. Blue skies and green mountains set the stage for breathtaking rounds at Spruce Peak. Whether you're looking for a challenging game with sweeping views, or a casual afternoon sipping local brews on the green, Spruce Peak is the premier destination for mountain golf in Vermont.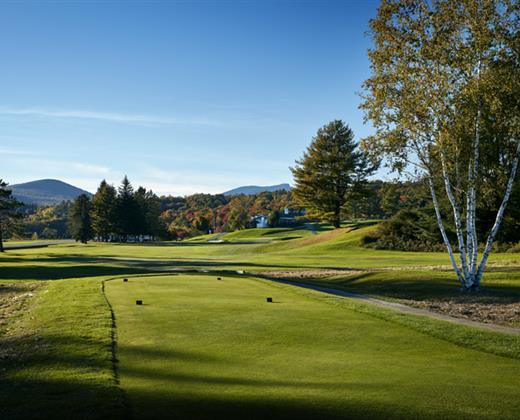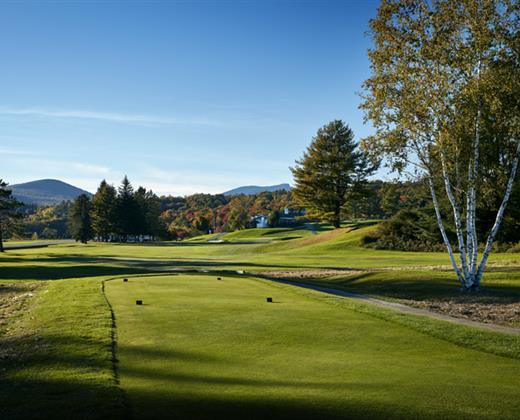 Stowe Country Club
Seasonal and weekly memberships also available.
Our sister course, Stowe Country Club, is located in the heart the Stowe Village and occupies what was once a turn-of-the-century dairy farm and has evolved into a splendid course showcasing beautiful undulating fairways and manicured greens. As a challenging and rewarding test of skill, Stowe Country Club golf course offers 360-degree views of the mountains, long summer days surrounded by nature making each shot a memory to cherish.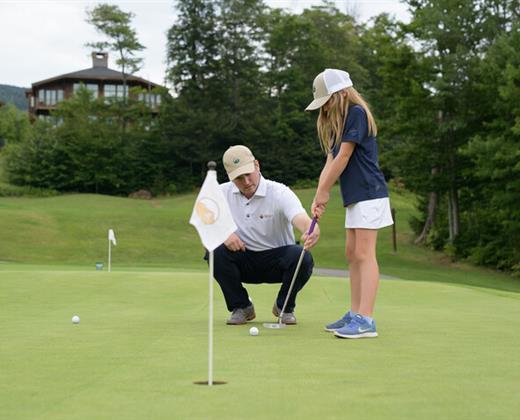 Golf Academy at Stowe Country Club
The world of golf is growing. Whether you're a seasoned player looking to shave a few strokes off your handicap or just curious about trying it out, Stowe Country Club's team of PGA Professionals is here to help.
From private lessons, family classes, or multi-day sessions, our team will work to develop an effective program for your individual goals.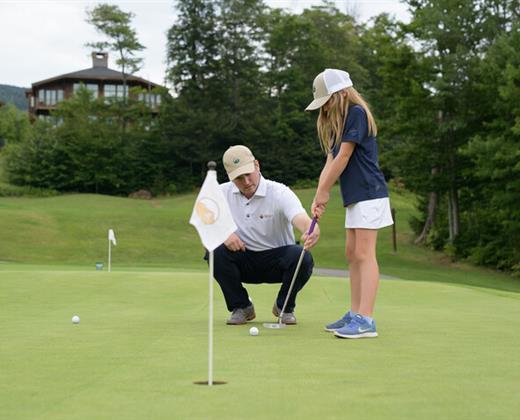 Kirkwoods Pub
Whether you're looking for a spot for your next social gathering, a quick bite between nines or for a comfy spot while you sip craft beer, our dining facilities have a wide range to satisfy every mood. The indoor dining room, patio and breathtaking views from our deck offers seating up to 120 guests and our fully stocked bar and flat screen TVs are the perfect hangout for friends or making new ones.
Open to the public daily!
Pub Open Daily 9:00am-7:00pm
Kitchen Open
Monday-Thursday 10:00am-5:00pm
Friday-Sunday 9:00am-6:00pm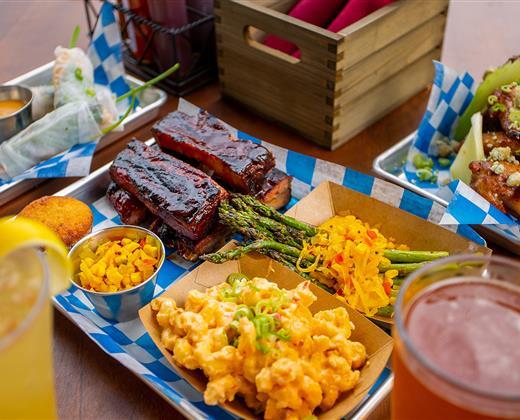 Dining at Spruce Peak is focused on locally sourced ingredients from our network of local farmers, producers, and brewers. Summer brings the best flavors, freshest produce, and inspiring new twists on classic favorites. From refreshing cocktails by the pool, to a five-course tasting menu on our outdoor terrace, you'll be inspired by all the New England has to offer.
Summer menus coming soon.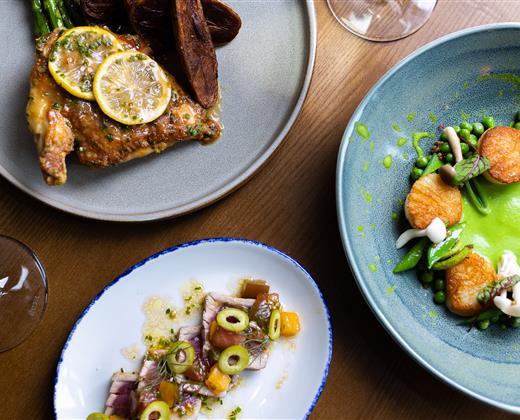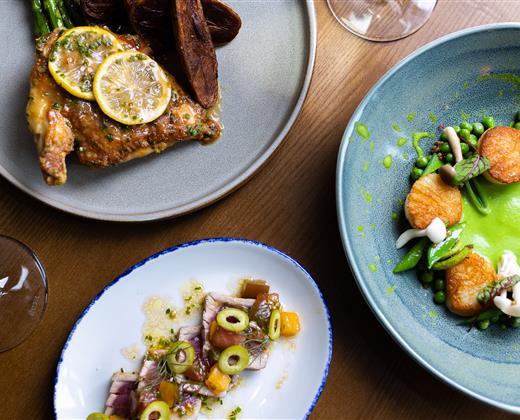 Alpine Hall - Kitchen & Cocktails
At Alpine Hall we celebrate Vermont mountain culture by bringing the work of our region's best growers, farmers, makers and artisans to our family tables and grand bar. Chef Sean Blomgren has crafted a simple, yet highly elevated menu that combines the best ingredients and a hand-crafted ethos. Our purpose is to connect people over memorable food & drink, whether it's a pre-ski family breakfast, a gathering with friends over VT IPAs after a great day on the hill, or sharing stories with family over a communal meal.
Summer Hours
Breakfast: Monday-Saturday 7:00am-10:30am
Lunch: Monday-Saturday 11:00am-3:00pm
Après: Monday-Saturday 3:00pm-5:00pm
Dinner Daily: 5:00pm-10:00pm
Sunday Brunch: 8:00am-2:00pm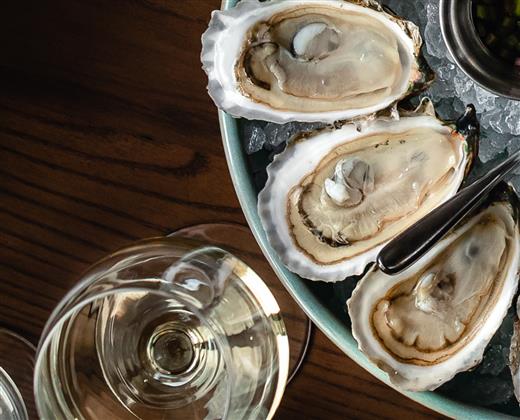 Tipsy Trout - Fins & Fermentables
At Tipsy Trout we combine the region's premium seafood with an unmistakably Vermont culinary approach. Our energetic, cocktail-forward and seafood-rich experience features Vermont's best raw bar, shareable apps, coastal-inspired entrees, and a distinctive wine program. Saddle up at the bar and chat with our talented team of mixologists or settle in to a booth overlooking Mt. Mansfield.
Summer Hours (Starting June 22):
Wednesday-Sunday 5:00pm-10:00pm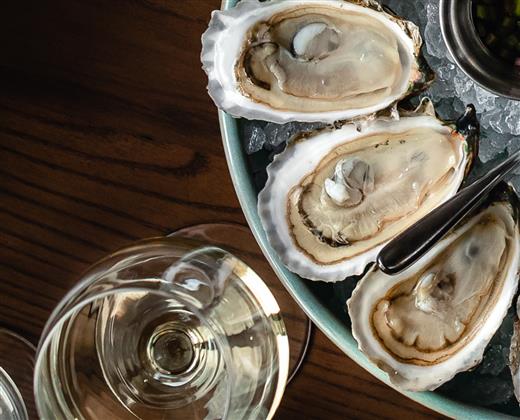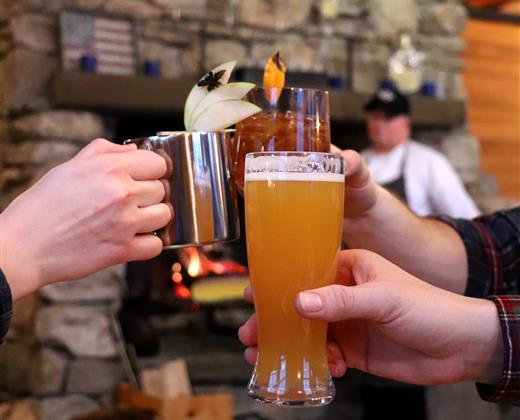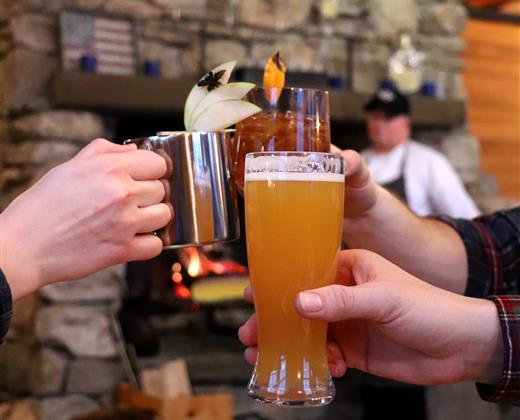 The WhistlePig Pavilion
The hottest après-ski spot takes on a new life in the summer. The doors open wide creating an inviting mix of indoor and outdoor seating, serving up local brews and WhistlePig Rye Whiskey cocktails.
Summer Hours (Starting June 17):
Friday & Saturday: 12:00pm-9:00pm
Sunday: 12:00pm-6:00pm
Special Memorial Day Hours: Open Saturday 5/28 & Sunday 5/29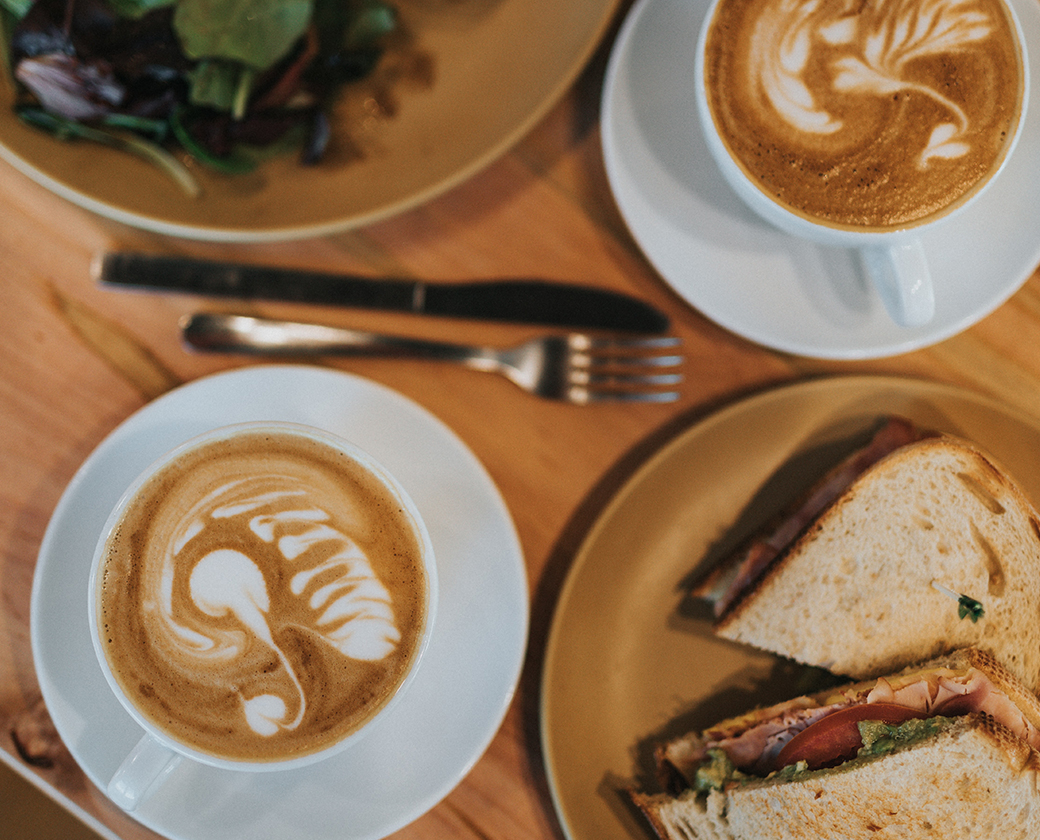 The Pantry & Beanery
Jumpstart your day with a freshly brewed Vermont Artisan Coffee and made-to-order breakfast sandwich, or stock up on grocery essentials for a night spent on your guestroom's balcony. The Pantry & Beanery offers a selection of local snacks, cheese & charcuterie, fresh pastries, and more all day long.
Tuesday-Saturday: 6:30am-9:00pm
Sunday & Monday: 6:30am-3:00pm
Coffee service ends at 3:00pm daily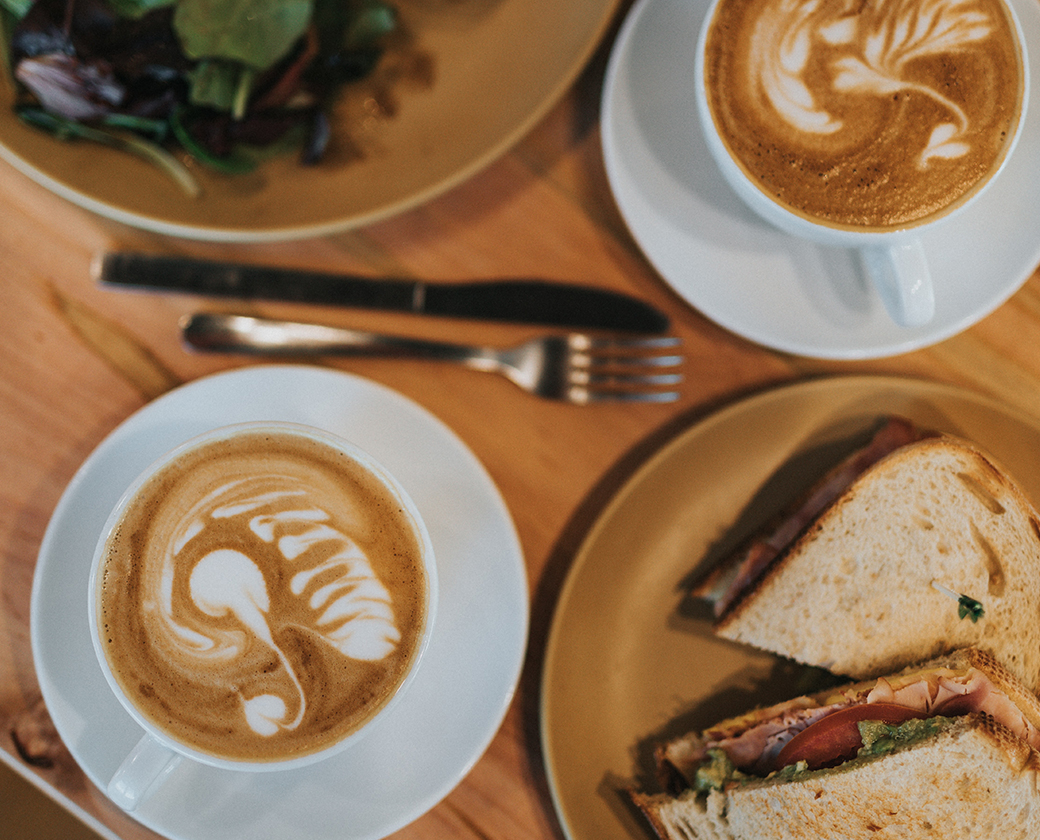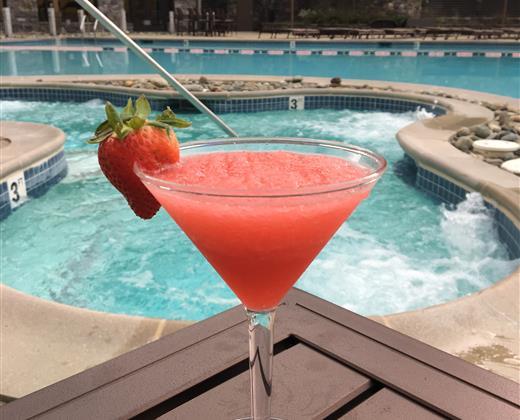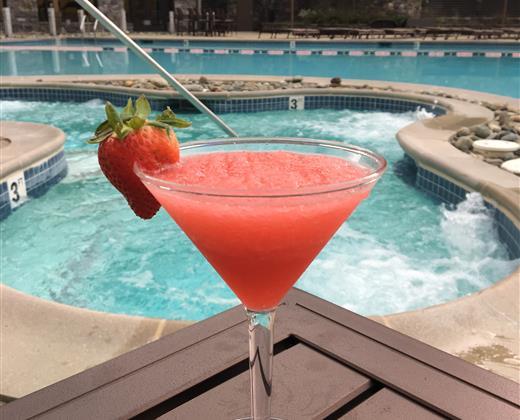 Aqua Pool Bar
Everything tastes better poolside! Enjoy an inspired cocktail or a local brew while you soak in the sun by our outdoor, heated swimming pool.
Summer Hours (Starting May 26):
Bar Service
Monday-Thursday: 11:00am-6:00pm
Friday & Saturday: 11:00am-9:00pm
Food Service
Thursday-Sunday 11:00am-6:00pm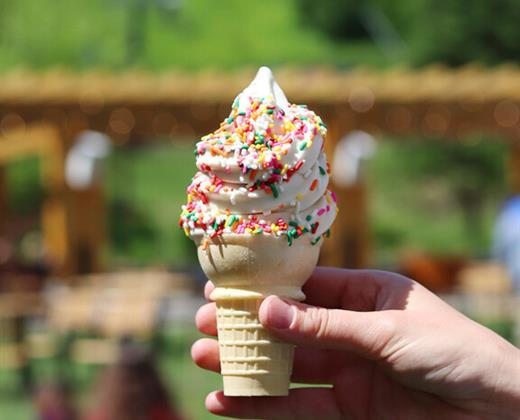 Zamboni's Creemees & S'Mores
Cool down with a classic Vermont treat - a Creemee! A Creemee is soft-serve ice cream with a higher fat content, making it creamier and richer than your traditional soft-serve. Available in cones, cups, and gourmet sundaes, this is a summer treat not to be missed.
Summer Hours (Starting June 24):
Thursday-Saturday: 2:00pm-9:00pm
Sunday: 12:00pm-6:00pm
Special Memorial Day Hours: Open Saturday 5/28 & Sunday 5/29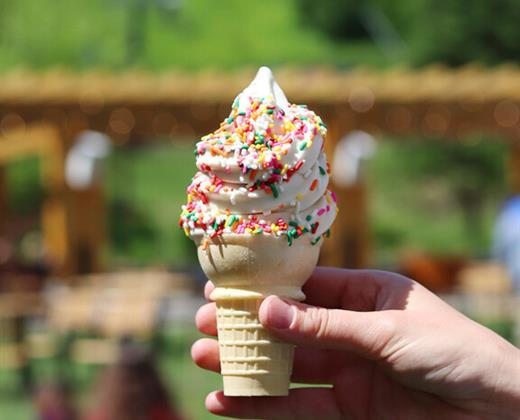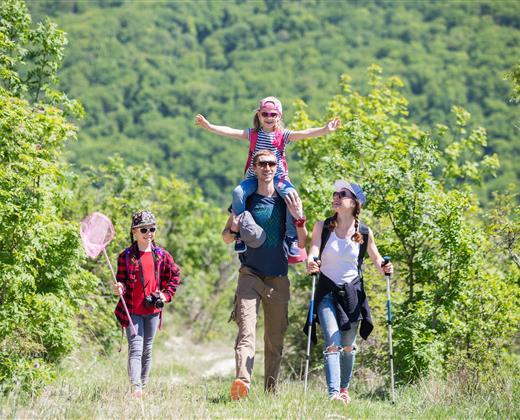 11
Recreation & Adventure
Distant from the crowds, yet close to nature. Spruce Peak is surrounded by over 2,000 acres of preserved wilderness and countless opportunities for exploration and adventure.
From iconic day hikes and unique orienteering seminars, to mountain bike runs and river tubing trips, we partner with local experts to provide a safe and exciting adventure tailored to your skill level.
Spruce Peak Outfitters Calendar - Starting June 20th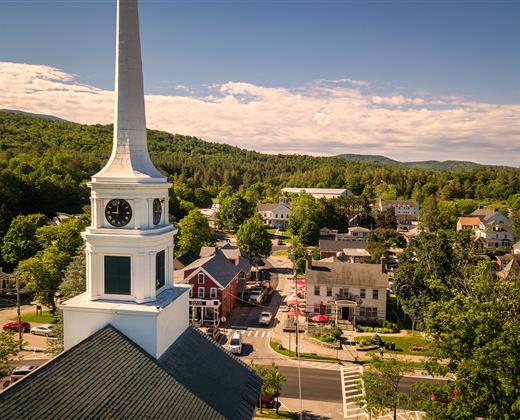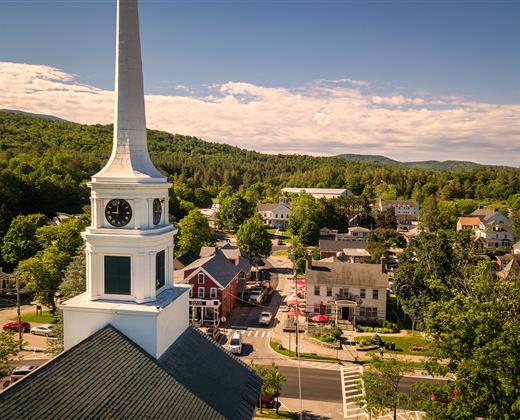 "Live Like a Local" Experiences
This summer, Spruce Peak Outfitters is partnering with the best local adventure experts to offer uniquely Vermont off-site excursions around Stowe. Either sign up for a featured activity through SPO, or explore other options offered by these preferred local vendors.
Estimated times does not include travel to activity.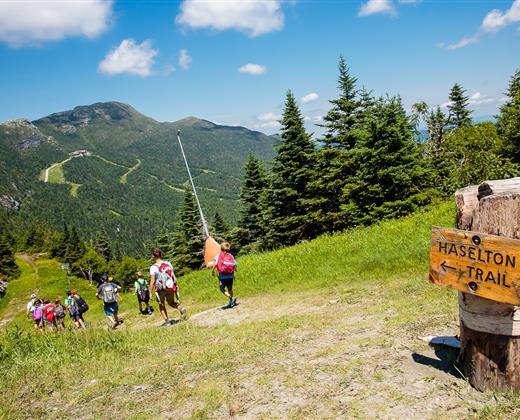 Guided Hikes by Spruce Peak Outfitters
Explore the surrounding woods, streams, and paths that surround Spruce Peak. Pause to experience the serenity of nature, or hunt down the perfect Instagram photo - SPO offers hikes for all skill levels and ages.
Complimentary Spruce Loop Hikes: Tuesdays and Thursdays at 10:00am
Self Guided Hikes
The possibilities around The Lodge are astounding. For guests looking to explore on their own, Spruce Peak Outfitters offers a variety of trail maps and personalized recommendations for all skill levels.
From easy fifteen-minute hikes to full-day excursions, adventure is at your fingertips and within a short walk or drive of The Lodge. Lace-up and enjoy the experience some of the best spots in Vermont.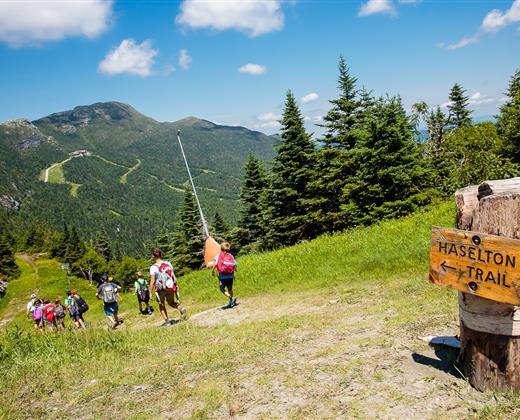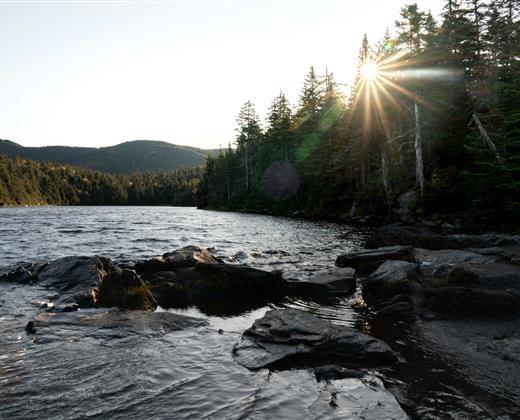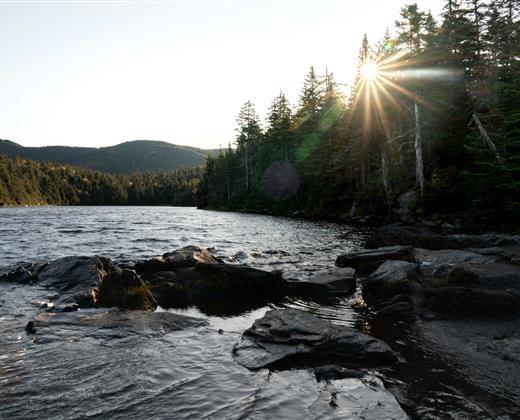 Sterling Pond Hike & Swim
Explore one of the area's best swimming holes - a hike away up Spruce Peak. Pack or order a picnic lunch for the top, where you can dine on the banks of pristine Sterling Pond, the highest alpine pool in Vermont, situated in a valley between three mountains: Madonna, Sterling, and Spruce Peak.
Offered Monday and Saturdays at 12:00pm Starting June 20th
$60/person, lunch extra
Rated Intermediate to Difficult
Call 802-760-4061 or email BTVDH-SPO@Hyatt.com for reservations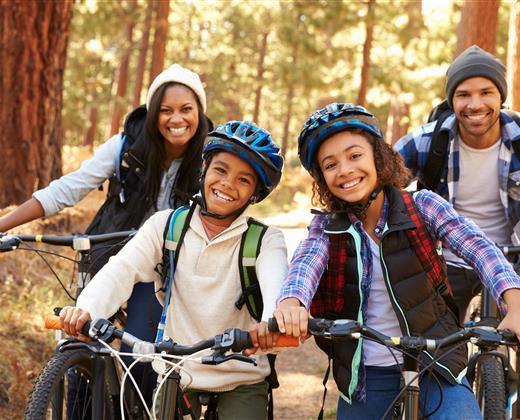 Mountain Biking around Stowe
Stowe is a world-class mountain bike destination, and for good reason. Stowe's large network of trails feature terrain that's fun and challenging, but still offers something for every ability level. Whether you're out for a casual ride with the family, training for enduro, or logging some marathon XC miles, Stowe's got you covered. Join a guided tour or set out to explore on your own.
Bring your own bike! Spruce Peak works with local vendors for bike rentals. For guests who prefer to travel with their own, guests of the Lodge are invited to use our complimentary bike valet service, offering secure indoor storage while you're not exploring.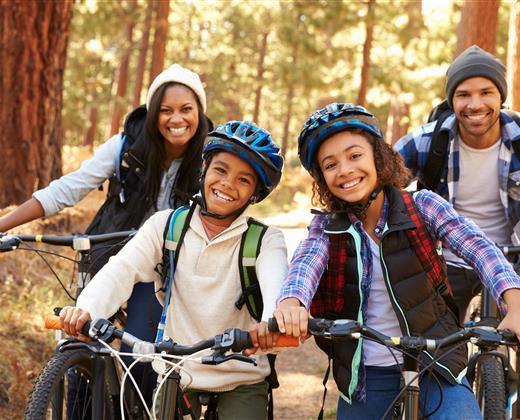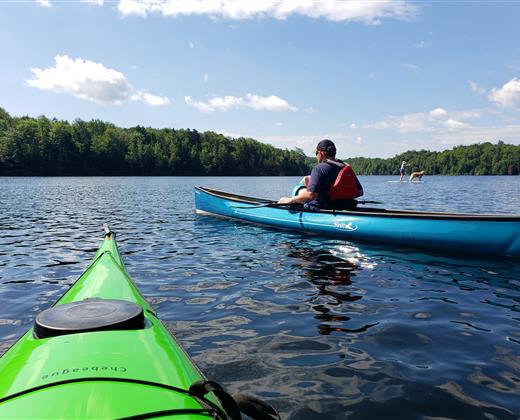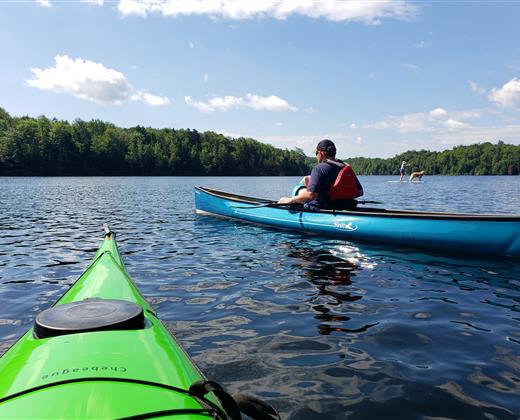 Canoeing & Kayaking around Stowe
The Lamoille River is a scenic wonderland that cuts through the Green Mountains towards Lake Champlain. Explore the scenery and spy on local wildlife at the leisurely pace of a canoe or kayak. Book a tour, or rent your choice and explore on your own.
"Live Like a Local" Experiences Available
Climbing & Bouldering around Stowe
Challenge yourself and take your vacation to new heights with a guided climbing/boldering trip during your stay. Our adventure partners at Sunrise Mountain Guides has a trip for every skill level.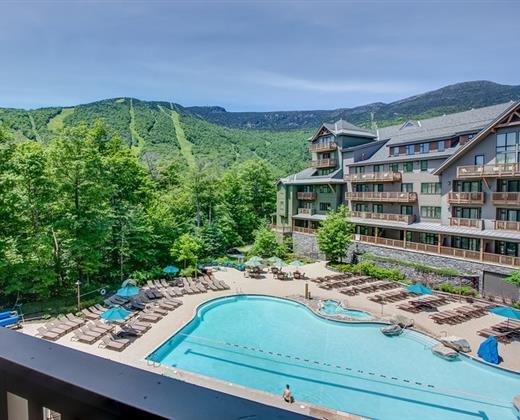 The Pool at Spruce Peak
Featuring a swim-out tunnel and two hot tubs, the pool is the perfect setting for afternoon snacks, water aerobic classes, or just mellowing out at the end of a long day of adventure.
Fitness Center
From cardio to yoga, embrace a little exercise as part of your wellness journey by joining a guided fitness or adventure class. For those looking to work out solo, our expansive fitness center has machines for all targets, including Peloton bikes.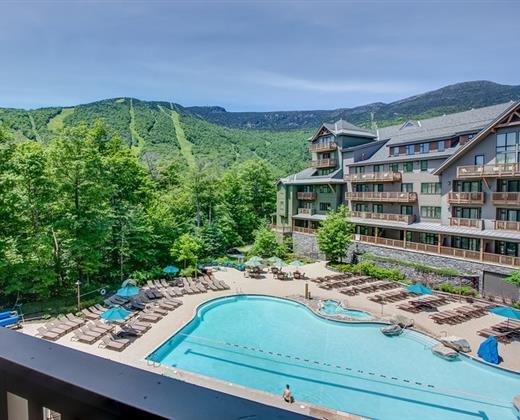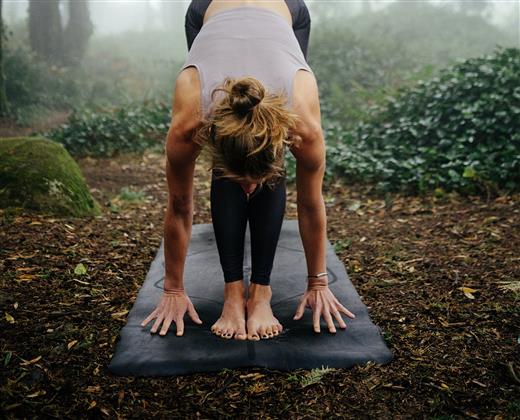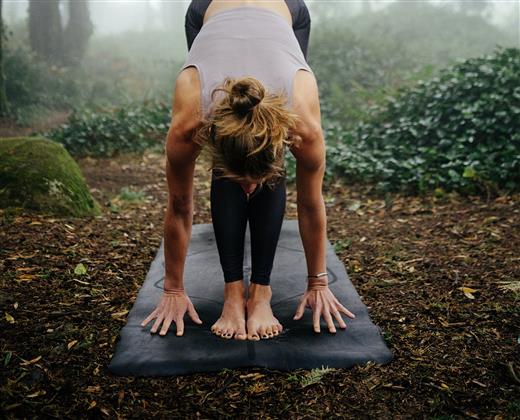 Woods Workout with Vigor Outdoors
Join us for a unique outdoor workout experience guided by Vigor Outdoors. Uses rocks, trees, foam rollers, body weight, and running within a natural environment.
Offered Fridays and Saturdays at 9:00am Starting June 20th
$33/person | 1 hour 15 minutes
For 18+
Call 802-760-4061 or email BTVDH-SPO@Hyatt.com for reservations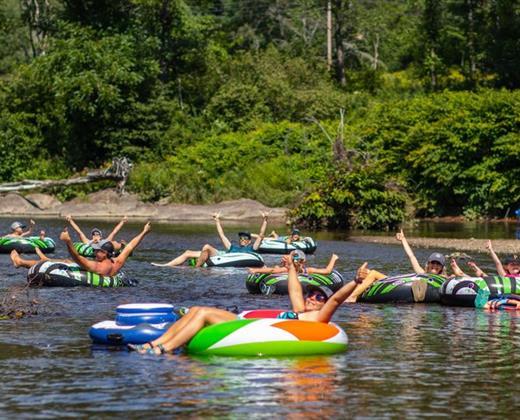 Spruce Peak Outfitters
In addition to all the on-site adventure and recreation activities offered only steps from The Lodge, Spruce Peak Outfitters works with a network of local experts and partners to bring you authentic Vermont experiences of all kinds.
From fishing tours to horseback rides, we will work with you to provide a curated itinerary of all the best Stowe and Vermont has to offer.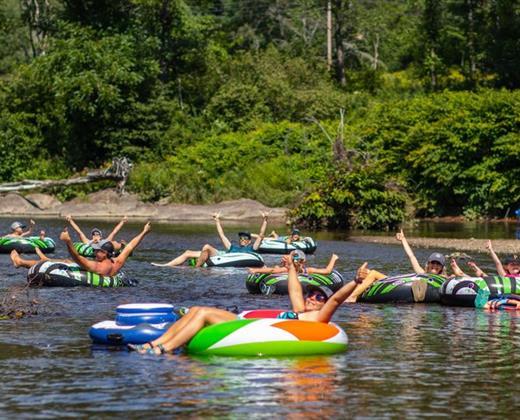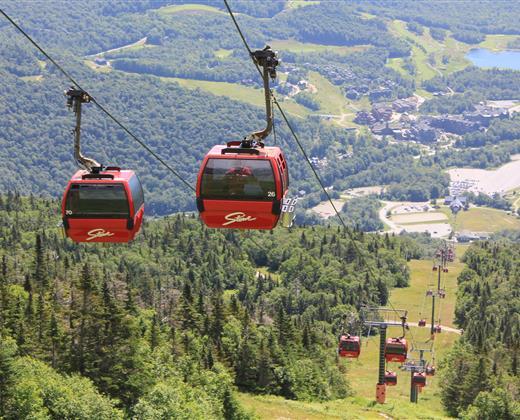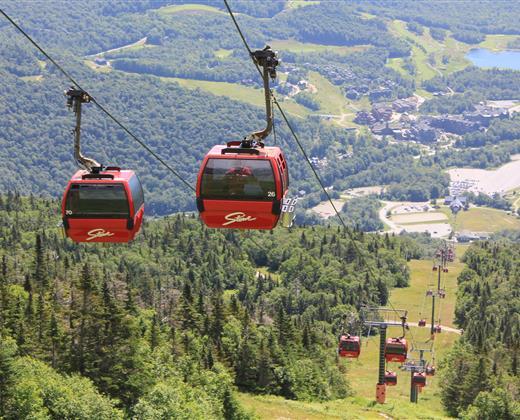 Summer at Stowe Mountain Resort
While best known for skiing & riding, the fun at Stowe Mountain Resort doesn't stop in the summer months! Experience a new season on the mountain for breathtaking views and amazing adventure.
Please Note: Stowe Mountain Resort amenities are owned and operated by Vail Resorts.
Stowe Rocks Indoor Climbing Center

Scheduled to open: Saturday, June 25
Test your skills with this all-weather indoor climbing center, located steps from the Lodge. With a total of 17 climbing stations, there's something for everyone to enjoy at Stowe Rocks.

Gondola Sky Ride

Scheduled to open: Friday, June 17
Spectacular views await you in every direction as you take the easy way up Mount Mansfield. From the top you can access alpine hiking trails, or enjoy lunch at Cliff House Restaurant.

Historic Toll Road

Scheduled to open: Saturday, May 28
Stunning views of Lake Champlain and the Adirondack Mountains await on this 4.5 mile long road which winds its way to an elevation of 3,850 feet.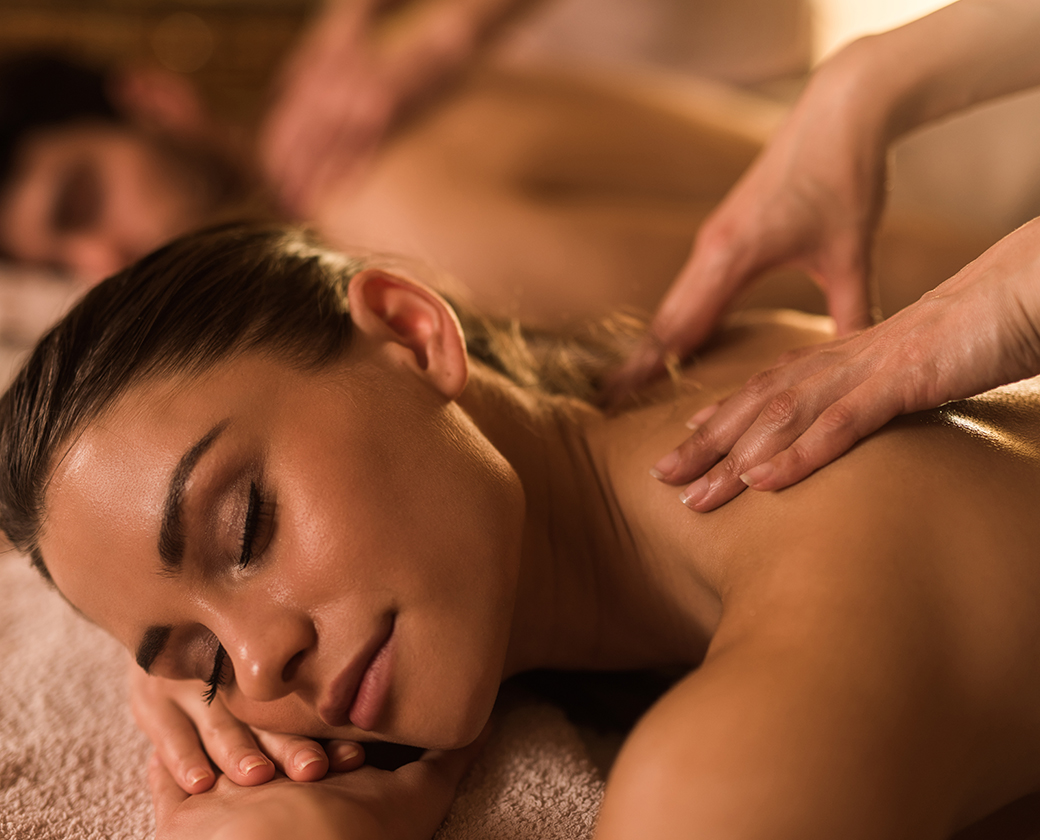 By nature, we all aspire to be healthy. This summer, The Spa at Spruce Peak encourages everyone to discover new experiences by taking the time to relax your mind, heal your body, refresh your soul, and reconnect with yourself.
As part of the Green Spa Network, we partner with local and sustainable companies to bring all-natural relaxation you can feel good about.
Summer Spa Menu, special offers, and more coming soon.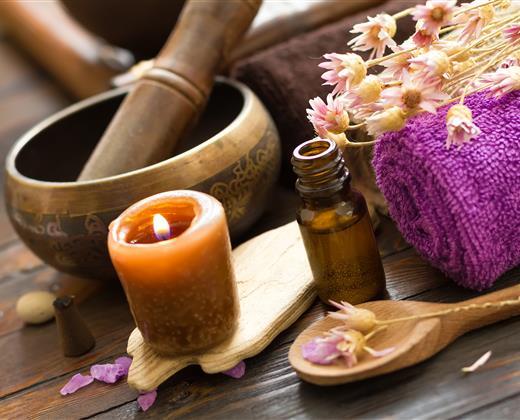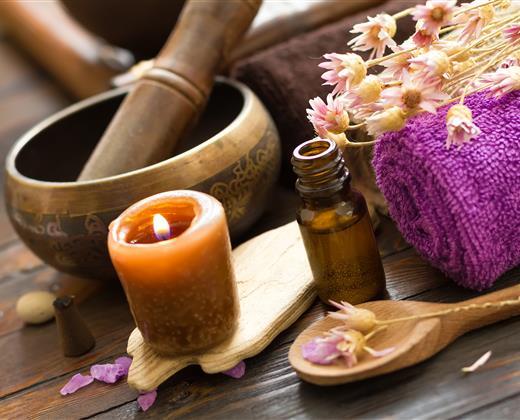 Signature Treatment - CBD Massage
This slow, firm massage uses organic local CBD oil to calm the nervous system and increase circulation. This massage is ideal for calming aches and pains while putting your mind in a meditative state.
Alternative Therapies - Ku Nye Massage
The aim of the Ku Nye is to honor and respect the ancient Tibetan traditions of healing. This treatment begins with Ku Nye massage techniques which work toward awakening the meridians, lymphatic drainage, acupressure, and hot Himalayan salt poultices are incorporated using hot stones.
Offerings and prices subject to change.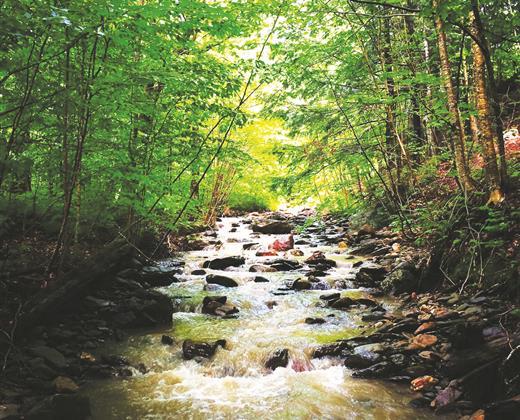 A Deeper Connection with Nature
The crisp mountain streams, sunshine-filtering forests, and rocky outcroppings of the land surrounding Spruce Peak are practically begging to be explored. From grounding & earthing sessions to connect your mind and body to the goodness of the soil, to guided foraging hikes to experience local flora first hand, forge a deeper connection with nature at Spruce Peak.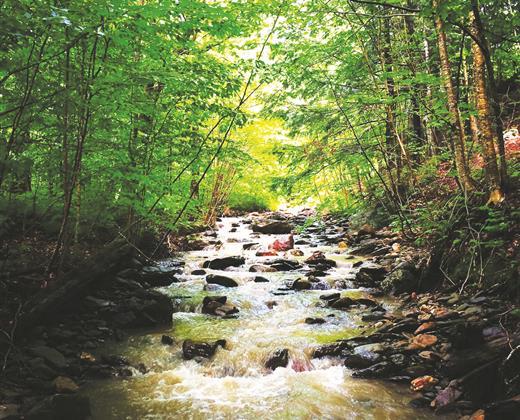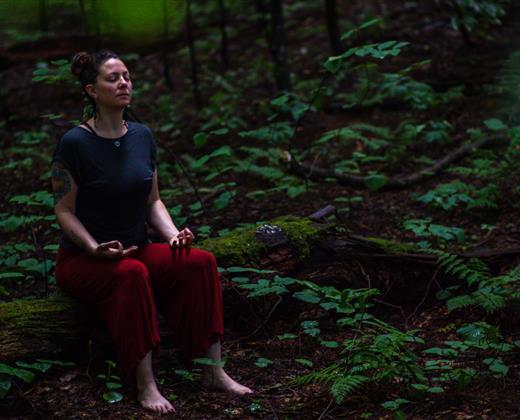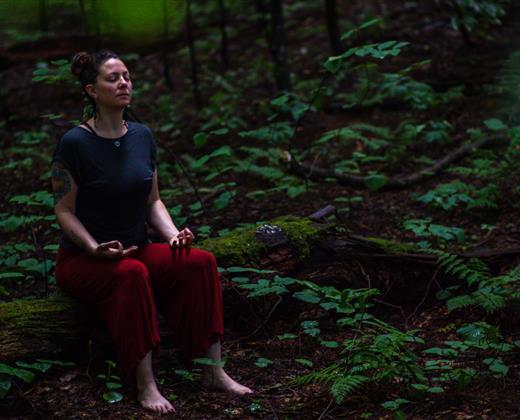 Forest Bathing
Shinrin-yoku, or Forest Bathing, originated in Japan in the 1980s and has quickly become popular for its benefits and ease of access. There is no complicated technique or experience required, simply commit to a quiet, mindful moment among the trees. Benefits include reduced stress, lower blood pressure, boosted energy levels, and heightened creativity.
Reconnect with your inner self while connecting with nature amongst the forests surrounding Spruce Peak. The Spa will provide you with a map, mindfulness exercises, and everything else you need for this wellness activity.
Offered Wednesdays at 2:00pm Starting June 20th
$20/person | 50 minutes
For ages 15+
It is recommended to leave your phone behind
Call 802-760-4061 or email BTVDH-SPO@Hyatt.com for reservations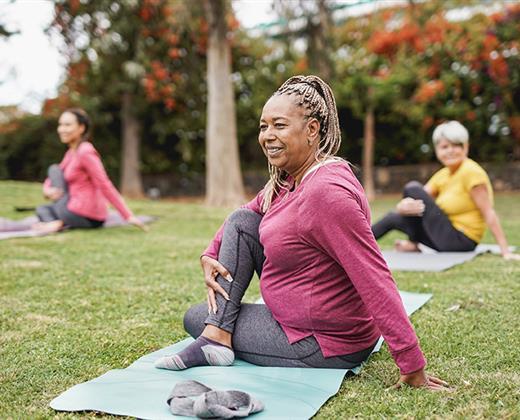 Guided Yoga
This class is designed to re-invigorate the body thru yoga postures suitable for all levels.
Offered Friday-Sunday at 10:00am and 3:00pm Starting June 20th
For ages 15+ | All levels welcome
$20/person | Complimentary Yoga on the Green Wednesdays at 9:00am
Call 802-760-4061 or email BTVDH-SPO@Hyatt.com for reservations

Meditation Workshop
This class will work with breath during meditation. Meditation is an unbroken stream of concentration. Even and smooth control of the breath leads the mind to a state of calm, peace, and joy.
Offered Friday-Sunday at 11:30am Starting June 20th
For ages 15+ | All levels welcome
$10/person | 30 minutes
Call 802-760-4061 or email BTVDH-SPO@Hyatt.com for reservations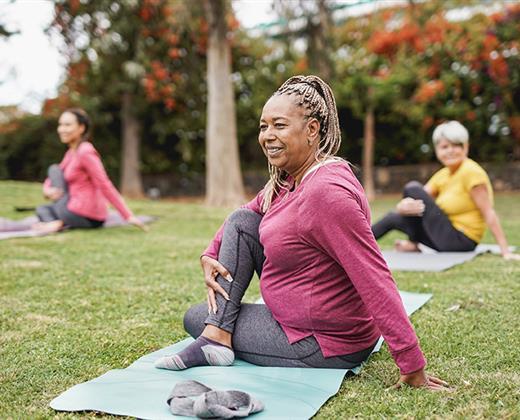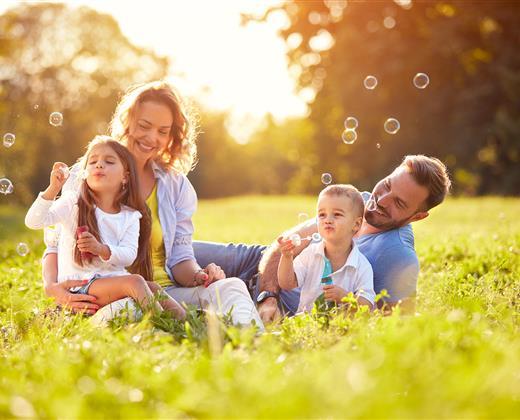 13
Kids' & Family Activities
The memories made during summer vacations deserve to last a lifetime, and Spruce Peak is the place to make them. In addition to all the outdoor adventure and recreation options that summer brings, we also offer a wide slate of activities designed for kids and families to experience together.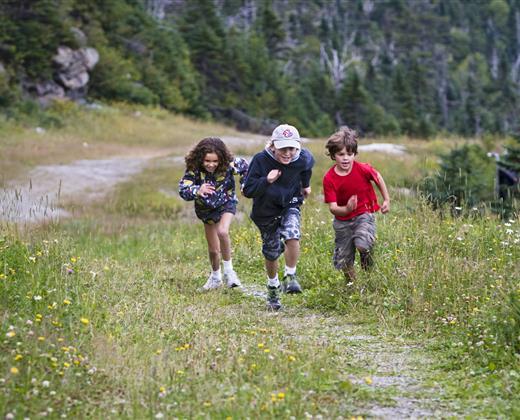 This summer Spruce Peak is welcoming KE Camps for a unique, on-property, day camp experience for ages 4-10. Available for both daily and weekly bookings, these camps combine a range of exciting activities and an experienced staff with the Spruce Peak vacation experience you come to love.

Camps are a perfect way for kids to branch out and explore while making new friends, with the added benefit of giving parents a time to relax on their own.

Spruce Peak Day Camps are held Monday-Friday, 9:00am-2:00pm
Guests of The Lodge are invited for early access to booking these great experiences.

Lodge Guest Daily Rate: $255 + $42 registration fee
Lodge Guest Weekly Rate: $700 + $42 registration fee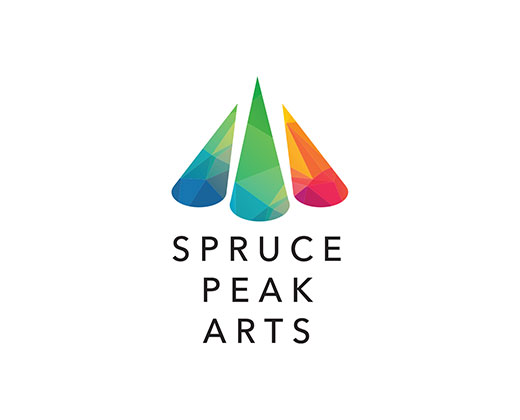 15
Spruce Peak Performing Arts Center
Your day isn't over when you leave the trails. Robust arts and culture programming-concerts from local artists, theater from touring troupes, film screenings, workshops and residencies, acrobats from halfway around the world-brings all of Spruce Peak together for engrossing entertainment.
Sink into your comfy theater seat at the Spruce Peak Performing Arts Center, or enjoy a performance from the comfort of your guestroom with select Livestream availability.
For schedule of performances and to buy tickets, visit SprucePeakArts.org