Thanksgiving at Spruce Peak
Celebrate Thanksgiving at Spruce Peak! Our culinary team is busy preparing this season's delicious holiday menu for our guests and local community alike. View our 2020 Thanksgiving Menu and reserve your complete Solstice dining experience for the 26th today.
The entire menu is available for in person dining or pickup for your guestroom or home.
Accepting orders through Midnight on Wednesday!
Order Thanksgiving To-Go Reserve Thanksgiving in Solstice
---
Create your own holiday specials with Executive Chef Sean Blomgren! Separate from our holiday menu, Chef Sean has created three unique thanksgiving special dishes that are sure to turn heads at your table at home: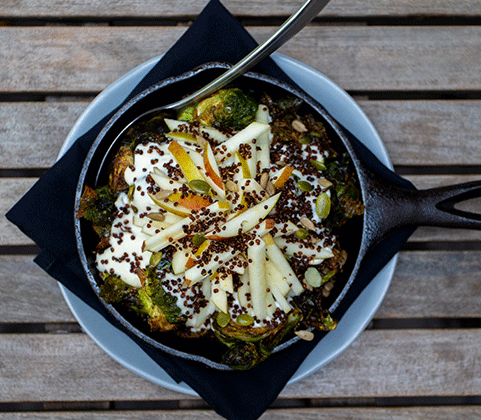 Crispy Brussels Sprouts with Feta Fondue, Maple, & Apples
This is one of my favorite dishes because it manages to incorporate so many contrasting textures and flavors. The sweetness of the maple syrup and the sharp saltiness of the feta fondue play so well off of each other. The nuts and apples provide crunch and freshness to bring everything together. One of our best sellers!
- Chef Sean
Jump to Recipe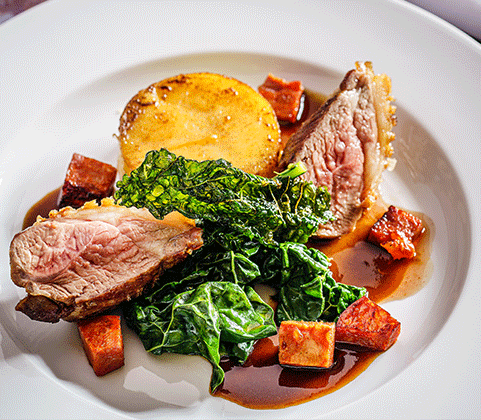 Spiced Roasted Duck
with Smoked Maple Glaze & Raspberry Mustard Jus
A different take on the traditional poultry served for the holidays - roasted duck provides a rich, fatty flavor perfectly paired with smokey maple and sweet raspberry mustard.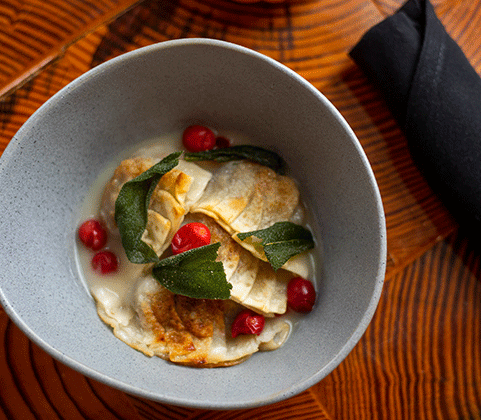 Thanksgiving Dumplings with Gravy & Cranberry
All the traditional flavors of Thanksgiving wrapped into a warm, comforting dumpling. A perfect way to elevate your left overs or impress family this holiday season.
Jump to Recipe
---
Recipes from Chef Sean

Crispy Brussels Sprouts with Feta Fondue, Maple & Apples
Serves 4
Ingredients:
1 pound Brussels Sprouts, Cleaned & Halved
¼ Cup Canola Oil
2 Tbsp Maple Syrup – Smoked if Possible
1 Cup Feta Fondue
Handful of Toasted Pistachios – or Any Nut
1 Apple, Diced
Feta Fondue:
1 Clove Garlic, Chopped
1 Shallot, Peeled & Chopped
2 Sprigs Thyme
¼ Cup Dry White Wine
½ Cup Cream
8oz. Feta Cheese
Method:
Preheat oven to 425. Toss Brussels sprouts in oil, salt, and pepper. Lay out on a sheet tray and roast for 10-15 minutes until just tender. Toss in a large bowl with the maple syrup and transfer to the serving vessel. Top with fondue, nuts, and apples.
For the fondue: Sweat garlic and shallots in a touch of oil. Add thyme and deglaze with white wine. Reduce until almost dry and add cream. Bring to a simmer and remove thyme. Add feta and blend until smooth. Season with salt and pepper. Serve warm.
---

Spiced Roasted Duck with Maple Glaze & Raspberry Mustard Jus
Ingredients:
1ea Whole Duck, Neck & Giblets Removed

2T Salt
1tsp Chinese Five Spice
1ea Orange, Quartered
1ea Lemon, Quartered
1 Nub Ginger, Split
4 Garlic Cloves, Whole
1 Bunch Scallion
Method:Combine salt and Chinese five spice. Score the skin of the duck with a sharp knife, being careful not to cut through the flesh. Rub the duck inside and out with the salt mixture. Let rest uncovered in refrigerator overnight. Stuff the cavity with the remaining aromatics and roast in a 225 degree oven for 2 hours. Bruch with maple glaze and cook at 450 for 3 minutes until the skin is crispy and the internal temperature is 150 degrees. Rest and carve. Serve with raspberry jus.
For The Glaze/Jus
Glaze:
¼ Cup Maple Syrup, Smoked if Available
2T Sherry Vinegar
1T Salt
2tsp Black Pepper, Freshly Ground
Sauce:
½ Cup Stock, Roasted Duck or Chicken
2T Blake Hill Raspberry Mostarda
2T Unsalted Butter, Cubed
2tsp Salt
1tsp Black Pepper, Ground
Method: Bring stock to a boil in a small pot. Reduce slightly. Add jam and butter and reduce into a glaze. Season with salt & pepper.
---

Thanksgiving Dumplings with Gravy & Cranberry
Ingredients:
1# Turkey, Ground

1ea Shallot, Minced
1ea Garlic, Minced
1T Parsley, Chopped
1tsp Rosemary, Chopped
1tsp Thyme, Chopped
1tsp Sage, Chopped
Diced Sweet Potato, Cooked
12ea Dumpling Wrappers
Method: Mix all dumpling ingredients in a bowl. Take 1 spoonful of mix and place in middle of wrapper. Brush the inside edges with water and fold over to create a seal. Steam for 3-4 minutes until cooked through. Serve with your favorite turkey gravy and cranberry sauce.